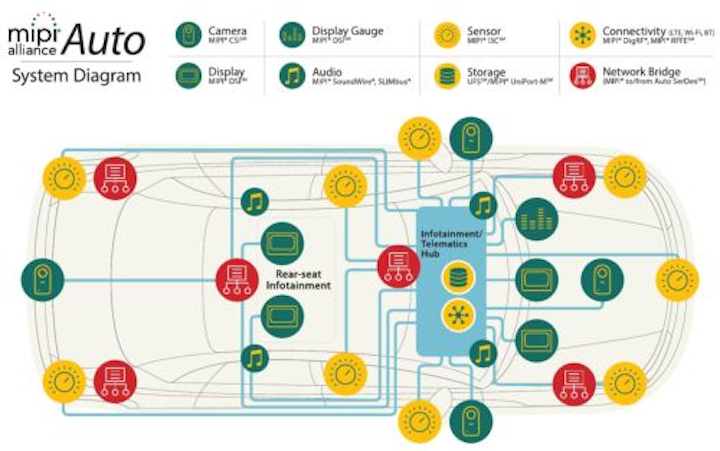 The MIPI Alliance, a global organization that develops interface specifications for mobile and embeddedindustries, has initiated development of a high-speed data interface specification for autonomous driving systems and advanced driver-assistance systems (ADAS.)
With development of the MIPI A-PHY v1.0 physical layer specification already underway to meet 12-24 Gbps, requirements gathering has begun to support higher speeds including over 48 Gbps for display and other use cases.
MIPI A-PHY v1.0will support lidar, radar, and camera integration for autonomous driving, with the MIPI Alliance already working with companies and organizations such as Bosch, Intel/Mobileye, Cadence Design Systems, Samsung, Sony, Toshiba, ON Semiconductor, the Fraunhofer Institute, among many others, to map a course to address the automotive industry's needs for high-speed data interface specifications.
"Automakers around the globe are amid a tremendous wave of innovation related to autonomous driving, ADAS, new fuel-economy standards, vehicle electrification and connectivity, new business models, new forms of in-car infotainment and more," said Ian Riches, Executive Director - Global Automotive Practice with Strategy Analytics. "With so many new applications to be supported in and across the vehicle, the auto industry is under pressure to more simply, efficiently and cost-effectively integrate disparate, high-speed data components from an increasingly large supply base."
MIPI A-PHY v1.0 is expected to be available to developers in late 2019 and its currently anticipated by the MIPI Alliance that the first vehicles using A-PHY components will be in production in 2024.
In addition to automotive, the specification could also be well suited for applications including the Internet of Things and industrial, according to Joel Huloux, chairman of MIPI Alliance.
"MIPI Alliance is uniquely positioned to bring its strong knowledge and expertise of developing low electromagnetic interference (EMI) and low power interfaces in mobile to new environments such as automotive and IoT," he said. "Mature MIPI interface specifications for camera, display, sensors and physical layers are deployed in billions of mobile devices and are already prevalent in mobile-influenced industries such as automotive today. As MIPI's specifications are designed to work together as a complete 'stack,' the addition of the longer reach MIPI A-PHY will provide greater ease of integration, resulting in an even richer solution."
Share your vision-related news by contacting James Carroll, Senior Web Editor, Vision Systems Design

To receive news like this in your inbox, click here.
Join our LinkedIn group | Like us on Facebook | Follow us on Twitter