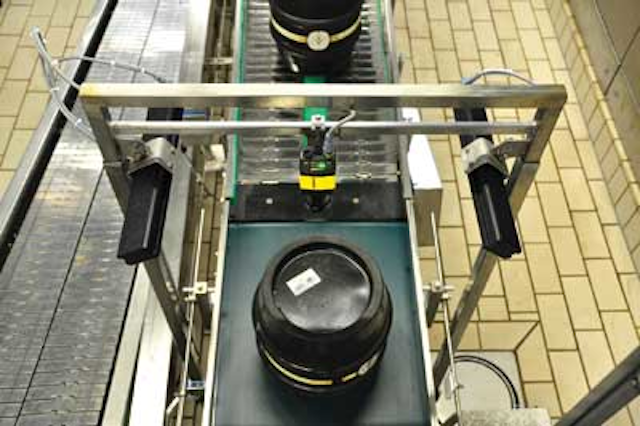 BHV-Automation has developed a system that employs Cognex DataMan barcode readers to track beer kegs through the filling process with the capability of 100% accurate code reading.
To ensure that its beer barrels are filled correctly, Germany's Warsteiner brewery weighs its beer kegs before and after the filling process. The difference between the weight of the filled and empty keg then enables the volume of beer to be determined.
The brewery called upon BHV-Automation (www.bhv-automation.de) to develop a system based on Cognex (www.cognex.com) DataMan barcode readers (see figure) that tracks each keg as it moves along a conveyor through the filling plant.
In the automated process, a label printer first applies an adhesive label with a Data Matrix code to the bottom of an empty keg. After this, a Cognex DataMan 302X ID reader reads the printed label on the keg.
The DataMan 302X allows Data Matrix codes to be read from 10-, 15-, 20-, 30-, and 50-liter kegs that vary in distance from the barcode reader. The reader can also accommodate codes that vary in position as the kegs rotate along the conveyor.
After a precision balance weighs the empty kegs, they are filled with beer. A second DataMan 302X system identifies the keg by reading the now wet and possibly wrinkled barcode using Cognex 2DMax+ code-reading software. The weight of the filled keg is again measured, from which the volume of beer is calculated.
If the volume of beer is within a given tolerance range, the keg is transported down the conveyor for storage. Incorrectly filled barrels are removed from the line where they are emptied, cleaned, and refilled. According to BHV-Automation, the system is capable of identifying the Data Matrix codes applied to the kegs with 100% accuracy.
More Vision Systems Issue Articles
Vision Systems Articles Archives