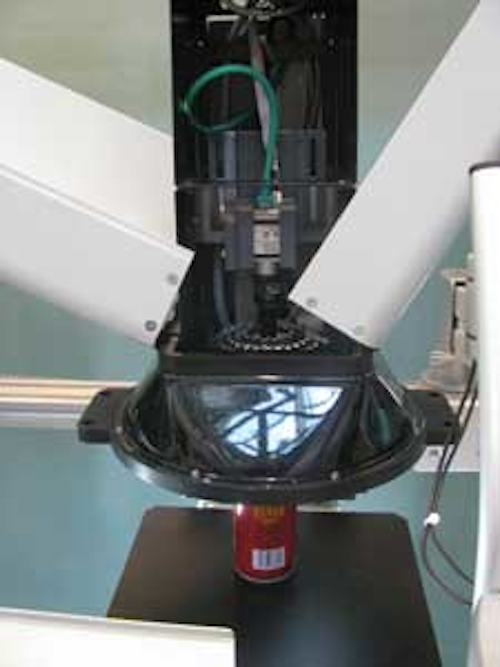 Automated vision systems are now playing a key role in the packaging industry where products such as bottles and cans are produced in the billions each year. To ensure that these products are free of defects, system integrators are often required to configure application-specific systems to inspect any surface and interior defects, verify label verification and perform optical character recognition (OCR).
Recognizing this, Unique Vision, a subsidiary of IBEA, has developed a number of systems that can be easily modified to perform various packaging inspection tasks. First shown at the VISION 2012 tradeshow in Stuttgart, Germany, the company's Compact VIS systems use off-the-shelf components engineered in a modular fashion to perform these tasks.
At the show, Holger Lübcke, president and CEO of Unique Vision, demonstrated one such system that couples a 1300-30gc ace Gigabit Ethernet camera from Basler with a wide-angle, 6.2-mm lens from Pentax (www.pentaximaging.com) to inspect the interior of cans for internal defects. Requiring a source of diffuse, uniform light with which to illuminate the can, the system employs an LED-based dome illumination system so that images of the shiny, curved surfaces within the can will be obtained at high contrast.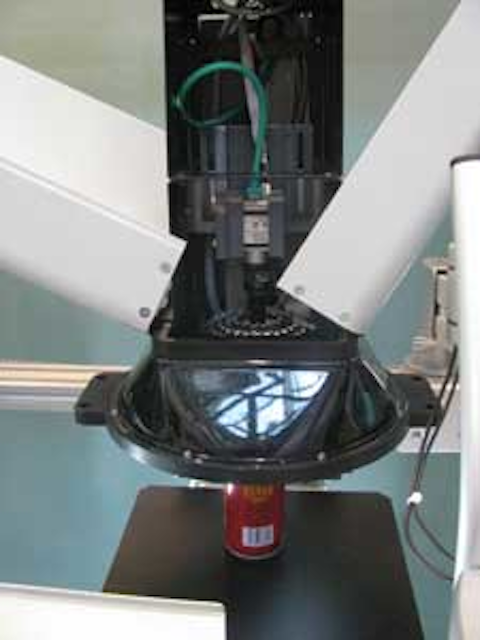 After capturing these images, Linux-based machine-vision software originally developed by IBEA is used to unwrap the image; blob analysis algorithms are used to determine whether any defects exist on the interior surface of the can. If so, the system's internal I/O controller can be used to actuate a reject mechanism to eject the faulty from the production line.
According to Lübcke, the system has already been deployed at The Ardagh Group (www.ardaghgroup.com) to inspect whether any burned lacquer is present on the interior of metal cans. Because the system has been built in a modular fashion, a number of different lighting options can be integrated into the system to perform other inspection tasks.
In bottle cap inspection, for example, a darkfield ringlight may be required to effectively illuminate the part. Costing approximately €10,000, Lübcke believes these types of system will provide a cost-effective alternative to fully custom OEM systems.
More Vision Systems Issue Articles
Vision Systems Articles Archives