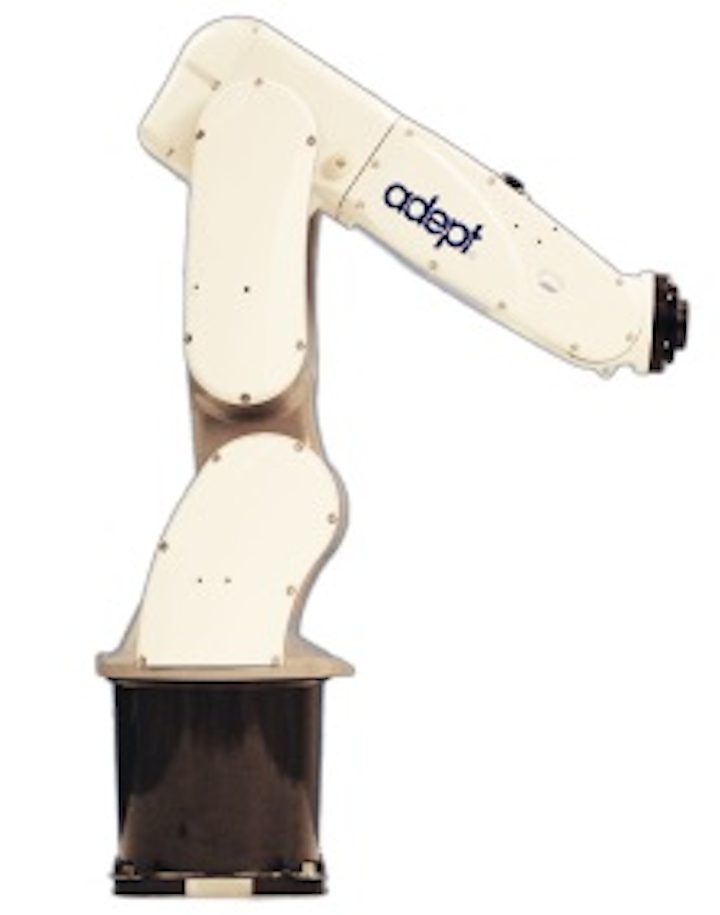 Adept Technology has introduced two new models to its Viper family of six-axis articulated robots—the Viper 700 and Viper 900—which are designed for such industrial automation applications as assembly and packaging. The robots feature a maximum reach of 723 mm and 912 mm, respectively, and can accommodate payloads of up to 7 kg, and feature IP67 enclosures. Both robots are equipped with Adept ACE software, which provides point-and-click application development environment to allow offline programming, 3D process emulation, and optional vision guidance and conveyor tracking integration. Optionally available is Adept's SmartVision MX vision processing platform and industrial cameras for machine vision and guidance, and Intelligent Force Sensing for precision assembly applications.
To Learn More:

Contact:Adept Technology, Inc.
Headquarters: Pleasanton, CA, USA
Product: Viper 700 and Viper 900 six-axis articulated robots
Key Features: Maximum reach of 723 mm and 912 mm, payloads up to 7 kg, hollow wrist that streamlines cabling to the end-of-arm tooling, ACE software.
What Adept says:
View more information on the Viper 700 and Viper 900.

View More Products| Locate a vendor or system integrator | Receive e-mail updates
Share new products that you think are particularly interesting or helpful by contacting James Carroll, Senior Web Editor, Vision Systems Design.
Join our LinkedIn group | Like us on Facebook | Follow us on Twitter | Check us out on Google +