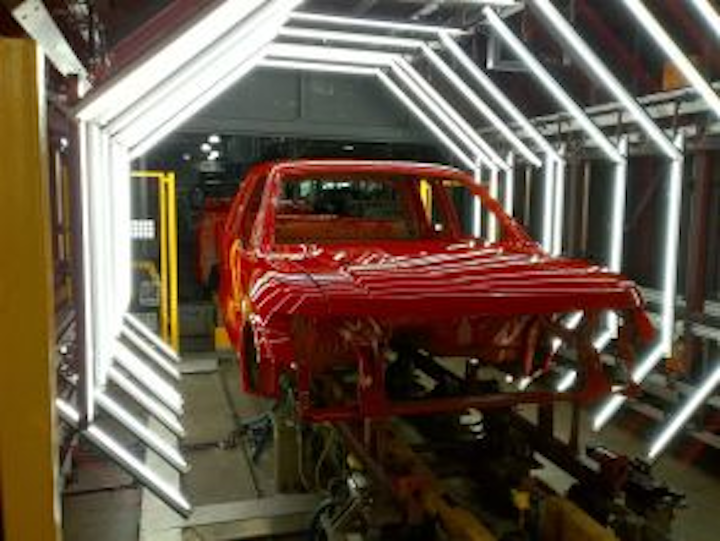 Ford Motor Company has installed automated vision systems in three of its assembly plants throughout the world which have the sole task of identifying dirt particles in the paint jobs of various automobile types.
The system used in Dearborn, Mich., for example, inspects Ford F-Series trucks. Sixteen high-resolution cameras that are run by a computer system take more than 1,000 images of each painted vehicle surface at 15fps. These images are then are used to create a 3D model of the car bodies. From there, the 3D imaging system applies varying degrees and angles of light while scoping the paint surface bodies to identify dirt in paint and other irregular paint conditions.
Though the Ford press release does not state it, the cameras employed in the vision system are almost certainly JAI machine vision cameras, as a screen shot from the Ford video appears to show the logo.
The vision system can detect dirt particles that are smaller than a grain of salt, according to the Ford press release.
"We are trying to find things that are almost beyond the threshold of human detection," said Tom Dougan, project manager, global paint applications at Ford. "The operators used to spend 70% of their time searching the vehicle over, maybe finding something, maybe not.
He continued, "Now, [with these vision systems], they are able to focus 90% of their time on polishing the vehicle and making sure that it meets our standards for quality."
In addition to the Dearborn, Mich. plant, these vision systems are currently used in an assembly plant in Valencia, Spain for Ford C-MAX, and a Louisville, Ky. truck plant for Ford Expedition and Super Duty. Ford will also launch the technology later this year and in 2014 for five additional assembly plants in the United States and Canada.
View the Ford press release.
View more about JAI cameras.
Also check out:
Vision system makes predictive maintenance of machine tools a snap
3D mapping system used to inspect gears for U.S. car maker
HANNOVER MESSE worldwide industrial automation events
Share your vision-related news by contacting James Carroll, Senior Web Editor, Vision Systems Design
To receive news like this in your inbox, click here.
Join our LinkedIn group | Like us on Facebook | Follow us on Twitter | Check us out on Google +