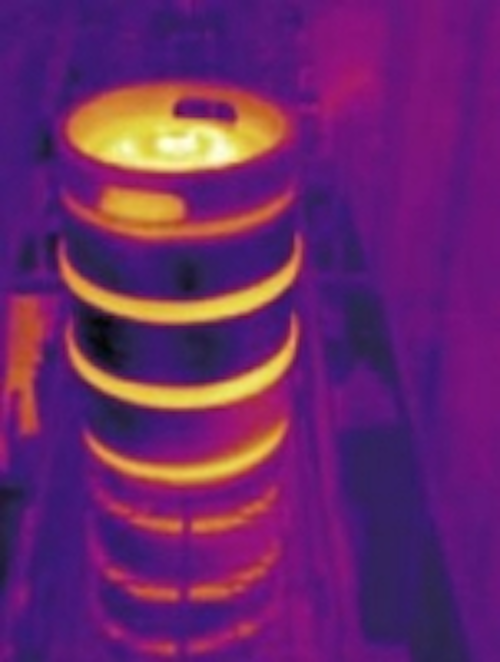 Needing to ensure 100% protection of its keg cleaning and filling process, German beer company Erdinger Weissbräu, the world's largest wheat beer brewery, installed a system that uses infrared cameras to measure the temperature of every keg before it leaves the conveyor belt for filling.
A risk analysis performed by the company alerted them to the fact that it needed an additional control point to ensure that a test keg filled with lye instead of beer could not slip through the conventional control points. As a result, the company decided to install a system that uses infrared imaging to identify kegs that are wrongly filled by measuring their temperature.
FLIR Systems ThermoVision A20-M cameras were installed in protective housing at the plant and used to identify kegs of different temperatures. A20-M cameras feature an advanced, uncooled microbolometer FPA detector technology which delivers longwave images in a multitude of palettes that enable the user to see temperature variations as small as 0.12°. It features a 25° x 19° field of view, a spectral range of 7.5 µm to 13 µm, and a temperature measurement range of -20°C to 250°C (-4°F to 482°F).
The camera is connected to a touch screen monitor via FireWire which shows the size and type of keg that is currently going through the cleaning and filling process. A thermal image of the keg is shown in real time and kegs that are identified as not being filled with beer trigger an automatic alarm and the conveyor belt is halted, and the keg manually removed. The system has been in place at the brewery for six months and has proven to be successful.
"Not one keg filled with lye has left the filling shed. The infrared camera solution is now an established part of our plant", says a spokesman for Erdinger Weissbräu.
View the case study.
Also check out:
Vision system improves ice cream production
High-speed camera helps analyze engine fluid flow
Laser-based vision system ensures accurate welding
Share your vision-related news by contacting James Carroll, Senior Web Editor, Vision Systems Design
To receive news like this in your inbox, click here.
Join our LinkedIn group | Like us on Facebook | Follow us on Twitter