X-Motion machine vision system provides autonomous driving for warehouse vehicles
The X-MOTION system utilizes a video camera, lidar laser scanners, an industrial computer, and 3D imaging software to enable warehouse vehicles to function in both manual and in automatic modes.

Dec 13th, 2013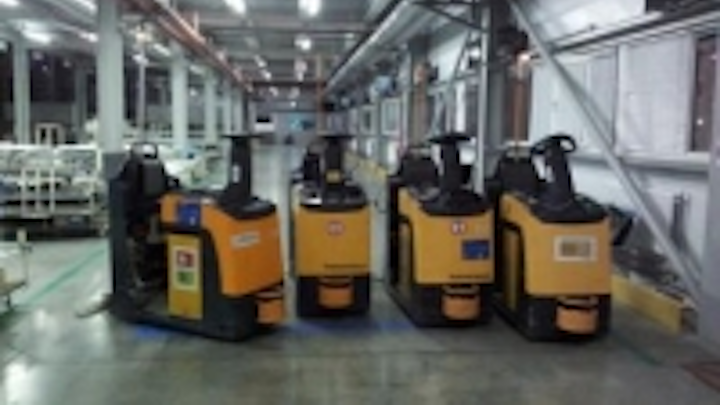 A Russian company called RoboCV has developed a system called X-MOTION, which is described as an "intellectual pilot system"which, with machine vision technology, enables warehouse vehicles to function in both manual and in automatic modes.
X-MOTION autonomous vehicle systems consist of two parts, the first of which is the X-MOTION AUTOPILOT (the vehicle side part). This is a hardware programmable solution which is installed on every vehicle and is connected to its control system. AUTOPILOT enables the vehicle to perform its regular activities using the data from the machine vision system, which consists of a video camera that provides video data acquisition to capture shapes and features in the environment for vision-based navigation.
In addition, X-MOTION features a lidar laser scanner system. Scanners from SICK and Omron are used to scan the environment with lasers and acquire time-of-flight data, which provides information on the environment configuration and depth maps for navigation.
The other part of the X-MOTION system is the server-side part, X-MOTION SERVER. This part is integrated with the warehouse management system and optimizes the distribution of work tasks among vehicles and provides information on system parameters, the location, and work status of every vehicle. X-MOTION's dual parts work concurrently to exchange information about work tasks and statuses via Wi-Fi which enables the integration of these autonomous vehicles into an environment in which they will be working alongside humans.
In addition to the machine vision system, X-MOTION also utilizes an industrial computer which is based on Intel Core i5/i7 and provides the power to run RoboCV's proprietary 3D-PATH imaging software, which performs all the machine vision data processing in the X-MOTION AUTOPILOT section. It also features a guidance controller, which routes instructions from the software to the guidance system of the vehicle to control the vehicle's movements.
Lastly, the system also features an Ethernet switch which switches data streams, a safety relay for emergency shutdown, a touchscreen display, and as previously mentioned—Wi-Fi capability.
RoboCV suggests that X-MOTION can be used on tow tractors, pallet lifers, high-rack stackers, and eventually, forklifts, reach trucks, and stackers. The first X-MOTION system was installed on six vehicles in a Samsung factory in Russia.
View more information on the X-MOTION system.
Also check out:
(Slideshow) 10 innovative current and future robotic applications
(Slideshow) The 12 months of vision: A holiday review of the year in machine vision
Five machine vision applications to keep an eye on in 2014
Share your vision-related news by contacting James Carroll, Senior Web Editor, Vision Systems Design
To receive news like this in your inbox, click here.
Join our LinkedIn group | Like us on Facebook | Follow us on Twitter | Check us out on Google +