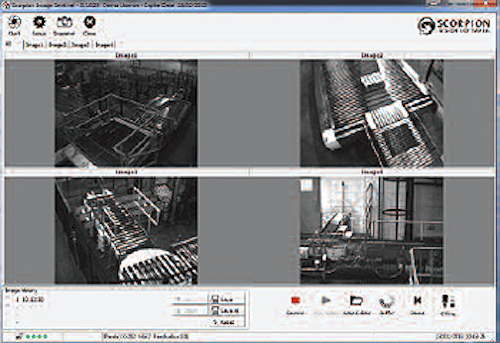 When a large UK canning plant wanted to monitor an unmanned palletizer station in its factory, it turned to engineers at Scorpion Vision (Lymington, UK) for help.

The palletizer is a large machine that receives beer cans at the end of the production line and stacks them automatically onto a pallet before wrapping and making them ready for a forklift.

The canning plant consists of two large warehouses, one containing the palletiser line and the other where the canning process is completed and where most of the staff are located. Unfortunately, the palletizer can stop for a number of reasons that are not always obvious.

Running with a small number of operators to optimize efficiency meant that the canning line required an automated method of monitoring the palletizer to not only view the line remotely, but to also allow historical viewing of its operation.

The system that was employed to do so used a real-time digital recorder with zero image compression that could record at up to 30 frames per second from four Sony XCG-V60 VGA cameras controlled by the palletizer itself.

But with so much data generated, a method was also required to post process the image frames into a video file so that the previous 30 minutes could be reviewed. This need led to the development of the Scorpion Sentinal App which stitches together the images from the four cameras and saves each time- and date- stamped sequence in a video folder ready for preview on demand.

The App is controlled from the palletizer line enabling the recording to be started and stopped in synchronisation with the production line. As the operation of the palletizer involves many periods of inactivity, this feature enables only "live" data to be recorded.

When the palletizer now stops, the time and date stamped sequences in the video file can be reviewed to find the moment when the incident happened and what the possible cause might be.

Source: UKIVA "Vision in Action" newsletter, Spring 2013.

Related news items from Vision Systems Design.
1. Dual cameras inspect oil drums

Scorpion Vision has developed a semi-automated dual-camera system to inspect the interior of new oil drums at the end of a production line. The two cameras chosen to capture images from inside the drum are attached to a small probe that is lowered into and raised out of a 2-in.-diameter aperture on the top of the drum.

2. Vision system clears codes on cans

Checking that batch codes on the underside of beverage containers have been accurately printed might seem like a relatively trivial application for a vision system. However, when the system must inspect alphanumeric dot-matrix batch codes and dates on the shiny concave bases of beverage cans at high speed, the inspection task becomes more challenging.

-- Dave Wilson, Senior Editor, Vision Systems Design