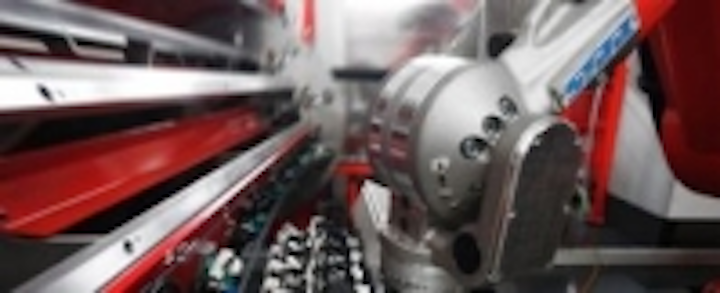 Collaborative robots
Machine vision technologies and applications cover a vast array of industry segments and as a whole, are an astonishingly versatile technology, said Schwarzkopf.

"It [machine vision] analyzes soccer players' movements, recognizes people, discerns crops from weeds in 'precision farming,' or measures the holes in Swiss cheese to ensure that 8 slices of it always weigh exactly 8 ounces," he said.
When it comes to the list of potential new tasks for machine vision, the scope is seemingly endless, but one particular area in which Schwarzkopf sees great potential in the near future is in those applications involving robots working alongside humans.
"Robots are bound to break out of their cages and interact in a very safe and direct way with human workers in a joint work space. This direct human-robot interaction will be found in industrial and service robotics," he said. Robots already milk cows and will be harvesting in greenhouses soon. But they will also increasingly be used to automate laboratories in life science and in operating theaters to perform high-precision surgery."
Google's robots and the future of the industry
As many, if not all, people in the industry are aware; Google has recently acquired a number of robotics and robotic-related companies. In addition, news recently surfaced that Google could be working with contract manufacturing giant Foxconn to develop automation robots. These acquisitions suggest that the bright future seen by the VDMA is shared by Google, a company that has an impressive track record of "betting on the right horses," according to Schwarzkopf. In addition, the news of Foxconn working with Google on robotics dispels the notion that robots are only used in high-wage countries.
Going forward, the robotics and automation industry in Germany is predicted to grow its global sales by 4% in 2014, year-over-year, reaching a turnover of 11 billion euros. Beyond 2014, the VDMA Robotics and Automation Association is optimistic that further growth will be achieved through a number of factors:
A need for efficiency in the use of energy and materials
Increasing quality and safety requirements
Growing world population
View more information on the VDMA.
Also check out:
(Slideshow) Robots and research: Eight examples of innovative imaging applications
Vision guided robot picks and places bobbins
Medical wells scrutinized by high-speed automated vision system
Share your vision-related news by contactingJames Carroll,Senior Web Editor, Vision Systems Design
To receive news like this in your inbox, click here.
Join our LinkedIn group | Like us on Facebook | Follow us on Twitter | Check us out on Google +
Page 1 | Page 2