Page 2: RIA International Collaborative Robots Workshop to highlight current and future industry developments
In an effort to bring together international robotics industry professionals in one place to discuss the latest advancements in the field, the Robotic Industries Association will host the one-day International Collaborative Robots Workshop on September 30 at the San Jose Convention Center in San Jose, California.
Aug 7th, 2014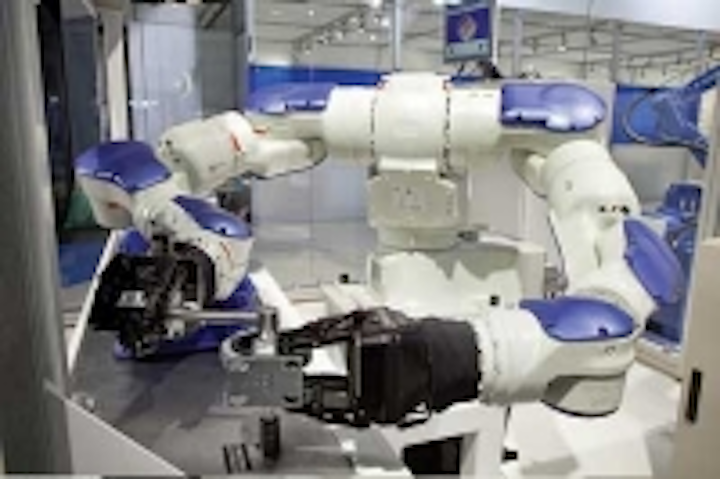 "Collaborative robots are one of the hottest topics in robotics right now," said Jeff Burnstein, President of the Association for Advancing Automation. "We held a sold-out event on this topic in Boston during The Vision Show last April, but felt there was far more to cover in order to better communicate what's happening globally in collaborative robots. Attendees at the April event said they wanted to see today's collaborative robots, so we've added tabletop exhibits."
The workshop covered a number of topics, including the technology, applications, safety implications, and human-work impact of collaborative robots. While I wasn't able to personally attend each of the sessions, I was able to attend the last two, which took a look toward the future of robotics. In "The Future of Collaborative Robots," Chris Jones, Director, Strategic Technology, iRobot Corporation, outlined a number of challenges that these robots present, and explained that if these issues can be overcome, then entire new applications will begin to emerge across different markets.
The second session, "Future research challenges for collaborative manufacturing robots," was given by by Craig Schlenoff, Cognition and Collaboration Group Leader, National Institute of Standards and Technology (NIST.) Schlenoff talked about how the U.S. is losing leadership in manufacturing, and that advanced robots area an opportunity for innovation and progress across multiple industries, but obstacles exist. Read more about both of these sessions here.
The conference seems to have been schedule for an appropriate time, as recent news from the RIA indicates that the North American robotics industry is off to its fastest start ever in 2014. A record 14,135 robots, totaling a value of $788 million, were ordered from North American robotics companies in the first half of 2014, which represents an increase of 30% in units and 16% in revenue, year over year. The second quarter of 2014, in particular, accounted for the majority of sales, as 8,197 robots valued at $450 million were sold. This breaks the previous single-quarter record, exceeding Q4 2012 by 31% in units and 17% in revenue.
View more information on the International Collaborative Robots workshop.
Share your vision-related news by contacting James Carroll, Senior Web Editor, Vision Systems Design
To receive news like this in your inbox, click here.
Join our LinkedIn group | Like us on Facebook | Follow us on Twitter | Check us out on Google +
Page 1 | Page 2