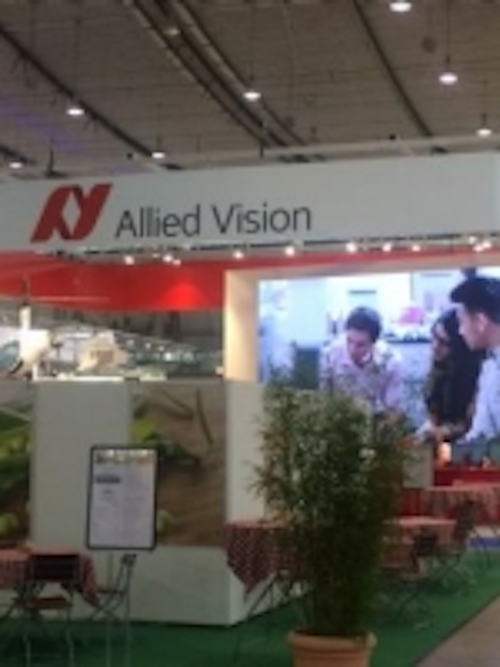 Before I go into the meeting I had at the Allied Vision booth at VISION 2014, I should start with the obvious thing here, which is the rebranding of Allied Vision Technologies into Allied Vision. To me, this news was glaringly easy to notice right off the bat, due to a large advertisement outside of the exhibition hall, and an impressive booth space, which included an actual gyrocopter (pictured on page two) and a massive, impossible-to-miss LED screen.
This was clearly big news for Allied Vision, which was celebrating its 25th anniversary, as they waited to unveil it at the VISION show. The rebranding, according to the company, delivers a message that the change is not simply cosmetic.
"Sure, we're a technology company, but technology is only a means to an end," said Frank Grube, President and CEO. "What matters to us is that we help our customers to realize their vision. This partnership-based approach is wonderfully illustrated by our name Allied Vision."

In short, I think they got everyone's attention. Now, onto the interview, which I conducted with Jean-Philippe Roman, Manager of Corporate Marketing, and Francis Obidimalor, Marketing Manager, Americas.
Industry outlook
Prior to even asking the question, I knew that for Allied Vision, business is strong. For one, the company recently announced plans to expand its headquarters in Stadtroda, Germany. But the news I was most interested in was a recent report which indicated that Allied Vision closed the first half of 2014 with historic sales and volume figures that far exceeded plan. Not only that, but the company shipped 10,000 cameras in one month (May), for just the second time ever.
"There are still a lot of possibilities to expand the use of machine vision across many applications," Roman said. "The quality of requirements (in these applications) is becoming higher and higher, and we all need to adapt to meet these ever-changing needs. Many things need to be inspected for not only things like quality control, but also for safety, which requires 100% inspection."
Page 1 | Page 2