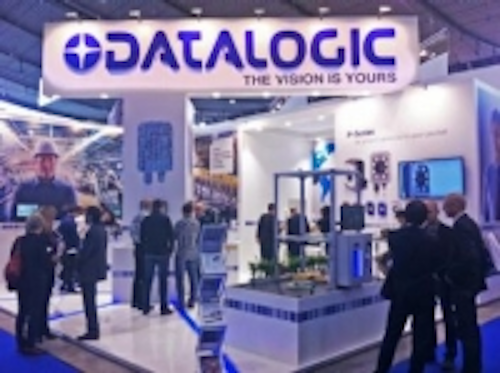 My third appointment on the second day of the VISION show was with Valentina Volta, CEO, Industrial Automation, Datalogic.
Concerning the topic of industry growth, Volta said that Datalogic's entry into the vision industry a few years ago helped has helped the company's sales. Datalogic had primarily focused on identification products, but the company entered vision, a market that they viewed as emerging and one that complimented its existing business well, she explained.
The industry, she explained, isn't all just factory automation.
"The rate of growth in your vision group is high, but vision is more than just factory automation," she said. "For example, we just launched a 360° ID scanner for the consumer industry. The potential for vision is very strong in multiple markets."
As business grows for Datalogic, the company remains focused on its customer needs. Volta explained that they work closely with customers in order to address their problems and needs while balancing price, performance, and flexibility. The new pattern matching tool (shown in the video) within the IMPACT software suite, for example, was developed in order to meet customer needs, but not before the company performed market research beforehand.
When looking toward the future of the industry and possible growth areas, Volta identified the standardization and simplification of vision solutions as something that could help propel sales. As customers demand more cost-effective and quality products, the standardization of vision solutions will be an important factor in growth. This includes food and beverage, factory automation, automotive manufacturing, quality control, pharmaceutical, track and trace, and safety applications.
The simplification of vision and vision components is also something that Volta identified as being a trend to watch for in the coming years. She specifically brought up marking (such as laser marking or digital watermarking), noting that the integration between vision and marking in automation is something that would benefit from this. When a mark is made on a product or part, the system can then inspect the marking in order to ensure its accuracy, she said.
"Simplify the process, but make vision easier with value," she noted.
We then briefly talked about 3D imaging, a technology identified by Volta as one that could be "the next big thing."
View more information on Datalogic.
Share your vision-related news by contacting James Carroll, Senior Web Editor, Vision Systems Design
To receive news like this in your inbox, click here.
Join our LinkedIn group | Like us on Facebook | Follow us on Twitter | Check us out on Google +