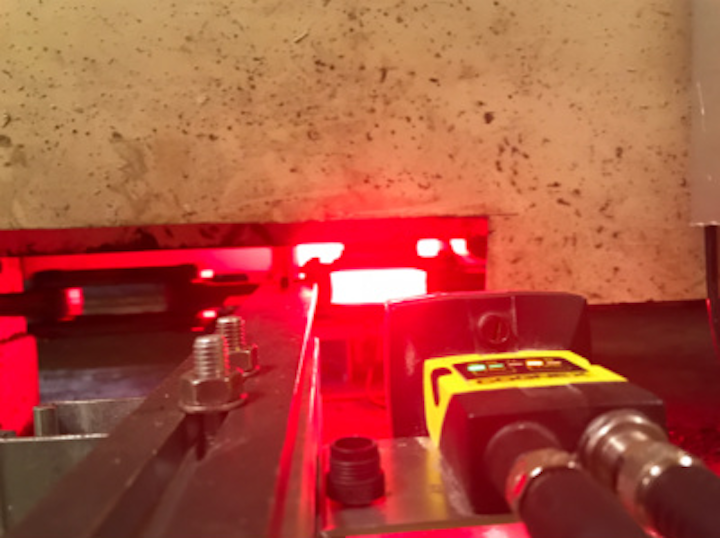 The Cognex In-Sight 2000 vision sensor is the heart of a new system that could automate inspection of one of the automobile manufacturing industry's most important industrial automation elements.
The chain links at the heart of a conveyor belt system inevitably stretch, warp, or break after extended use and require replacement during maintenance cycles. Chain links that break prior to scheduled maintenance cycles required immediate replacement, effectively shutting down the related conveyor system until the replacement is completed.
Identifying problematic chain links is historically a manual process of visual inspection and marking for replacement. Engineers at General Motors of Canada (GM Canada) have partnered with machine vision component manufacturer Cognex to create a chain drive stretching system that doesn't require slowing or stopping production lines.
A Cognex In-Sight 2000 vision sensor uses a red LED illuminator to backlight the chain, and a proximity sensor triggers the camera as each link passes into the camera's field of view. Image processing software identifies the edges of the link and measures the distance between them. If the variation between nominal chain link length and the length of the link being scanned is 4% or more the link is identified as problematic by the vision system. An optional Cognex I/O module also counts how many chain links fall within each category and the number of rotations for a 1,680-foot chain.
"So far, we've tested the system on our fastest conveyor," said Christopher Eid, system designer at GM Canada's Electrical Engineering–Paint Department. "We started at 70% coverage because the camera runs faster than the PLC. Today we're doing most of the analysis on the camera, and we use a 9-frame buffer bit on the Cognex vision sensor, which allows us the ability to cover more coverage per scan."
In the future, the PLC will direct a downstream paint sprayer to mark problematic chain links for replacement during the next maintenance cycle, thus fully-replacing manual inspection methods.
Share your vision-related news by contacting Dennis Scimeca,Associate Editor, Vision Systems Design

To receive news like this in your inbox, click here.
Join our LinkedIn group | Like us on Facebook | Follow us on Twitter