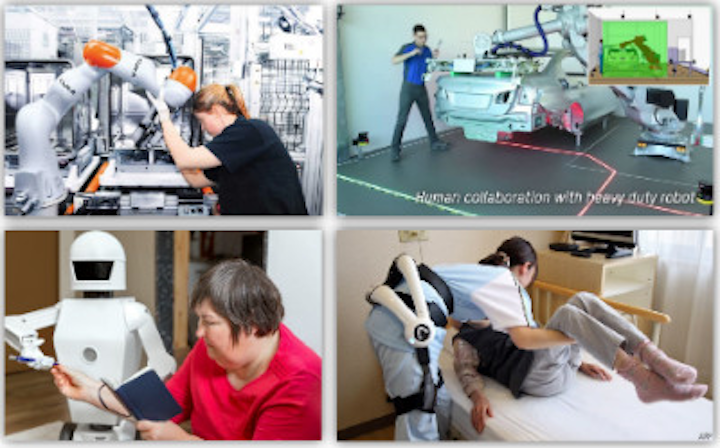 The 2019 Automation Market Update delivered at the A3 Business Forum by Alex Shikany, Vice President of the AIA, gave a snapshot of the robotics, vision, and motion control industries. While slowed growth in the short term is Shikany's prediction for all three industries, he sees success in the long term owing to a rising tide of innovation and the multitude of industries that increasingly are making use of these technologies.
According to the AIA's data, manufacturing companies of all sizes are currently seeing a softening of the market. Attracting and retaining a quality workforce, increasing costs of raw materials, and trade uncertainties rank high among manufacturing companies' concerns. December 2018 saw a significant drop in manufacturing PMI. "Over the next several months we'll get a good indication of whether this is truly slowing to contraction or if it's just slowing to a more temporary, moderate pace," said Shikany.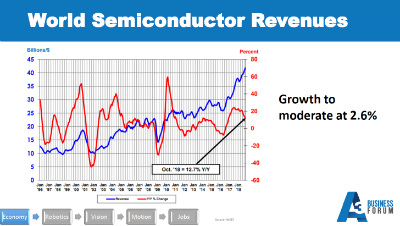 "One key industry we all have to keep tabs on is the semiconductor industry," said Shikany. "Specifically machine vision has been tied closely to the performance of the semiconductor industry." Over the past several years the semiconductor industry has been growing substantially in terms of volume, but toward the end of 2018 the Semiconductor Sector Index (SOX) took a clear drop and year-over-year percentage change began decelerating toward zero. "That's telling you that the e-brake has been pulled in the last month or two on this industry," said Shikany.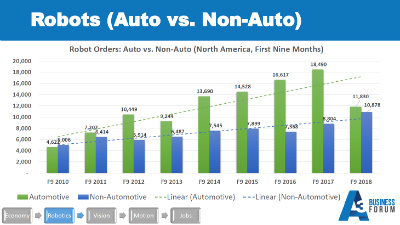 According to the AIA's data, automotive OEMs are the only slice of the robotics industry that has seen a decline. Other industries combined have seen robotics orders grow 24% year-to-date. "We have never been this close in terms of percentage ratio [between automotive and non-automotive robot orders] in all of our years collecting data," said Shikany.
According to an ITIF report presented by Shikany, Korea and Singapore lead the world in robot density - the number of robots installed per 10,000 manufacturing workers - followed by Germany and Japan. When robot adoption rate is controlled for by wages - or when the country is expected to recoup ROI when robots are installed - Asian companies are far ahead of Western developed nations.
While growth may not be a quick as in the past, the robotics industry is still forecast to continue growing steadily. "Technologies like collaborative robots and sensing and vision and mobile robots are getting funding, they're getting inertia, they're getting interest, they're getting stories. They're in the press. They're being tweeted about. They're going viral. It's exciting to be in robotics," said Shikany. "That's not an economic measure you can put on a screen with a graph."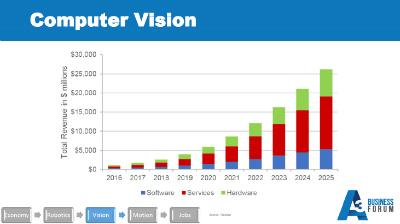 The machine vision industry is also slowing where the pace of growth is concerned, with seven percent growth in 2018 and a predicted growth rate between three and five percent in 2019. However, the industry is vibrant. Shikany presented a long list of recent merger and acquisition activity as companies attempt to broaden the varieties of vision solutions they can offer their customers. The long-term sales predictions for computer vision revenue describe an exponential growth curve.
"Machine vision is going through an interesting transformation," said Shikany. "Machine vision is very mature in regard to factory automation applications. Companies know how to use machine vision. They are familiar with the players typically, but it's almost going through a renaissance with industries outside the traditional factory applications." The combination of AI and vision in particular makes possible powerful applications like smart agriculture.
According to Shikany, among the industries in which vision innovations take place, the embedded and computer vision sector is the one to watch most closely. "This is a significant area of development within the vision and imaging community at large," said Shikany. "Very low cost, very low power consumption hardware can achieve very good results with the proper software stack."
The motion control industry is more tempered and less volatile historically than robotics and vision, according to Shikany, owing in large part to motion control companies having diversified the industries they serve. Shikany saw 2018 as a growth year for the motion control industry, but in keeping with robotics and vision, he sees a slump for motion control coming in 2019.
According to Shikany, the future for all of these industries is collaborative automation, with humans working closely with, repairing, and programming automation systems in a growing number of industries. "This relationship between human beings and robotics, or human beings and machines, is only going to continue to become more important."
Share your vision-related news by contacting Dennis Scimeca,Associate Editor, Vision Systems Design

To receive news like this in your inbox, click here.
Join our LinkedIn group | Like us on Facebook | Follow us on Twitter