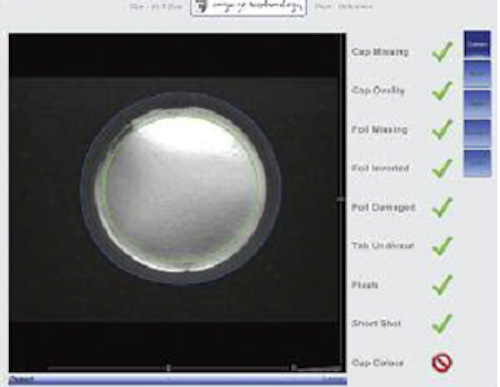 Engineers at MultiPix Imaging (Petersfield, UK) and vision systems integrator Engage Technology (Witley, UK), working with ALS Controls (Cheltenham, UK), have created a vision inspection system which checks bottle caps for a large milk bottle manufacturer.

The manufacturer's production line produces manufacturing plastic milk bottles and injection molded bottle caps twenty four hours a day seven days a week. The 40mm diameter molded caps are produced in three different colors to signify different milk types and must be produced to the correct dimension and shape.

Over half a million caps requiring 100 per cent quality inspection are produced each day at a rate of 20/second with conveyor speeds reaching 50 meters per minute.

Inserted into each cap is a round foil seal complete with a pull tab to ensure that the product stays fresh and airtight. The quality of the cap and the integrity of the inner foil seal are key to preventing any leakage and keeping the milk fresh.

The turn-key inspection system developed by the companies to inspect the caps uses a Basler (Ahrensburg, Germany) ace GigE Vision camera, Microscan (Renton, WA, USA) DOAL lighting and a telecentric c-mount lens together with MVTec's (Munich, Germany) Halcon image processing software.

The main inspection checks performed by the system are to detect 'short shot', when not enough plastic is injected into the mould, 'flashing' when too much plastic is injected, and to determine if the foil insert is present in the cap and placed correctly with no folds, creases or damage.

To cope with the speed of the inspection process, a separate color sensor was used to verify the color of the cap to ensure that the dye in the plastic had not washed out.

Related articles on applications of MVTec's Halcon software you might also be interested in reading.
1. Sample-based identification software spots a Pink Lady

Software engineers at MVTec Software (Munich, Germany) have released details of how the latest version of the company's Halcon 11 software package can be used to recognize objects based on their characteristic features such as size, color or texture.

2. Linescan camera system scores a hole in one

A winning combination of image-processing software from MVTec Software (Munich, Germany), linescan cameras, and a patented feeder/gripper system addresses the challenges of inspecting round objects at high speed.

3. Vision system inspects x-ray dosimeter badges

Engineers at Helmholtz-Zentrum have developed a machine-vision system to automatically inspect the films in dosimeter badges.

Vision Systems Design magazine and e-newsletter subscriptions are free to qualified professionals. To subscribe, please complete the form here.
-- Dave Wilson, Senior Editor, Vision Systems Design