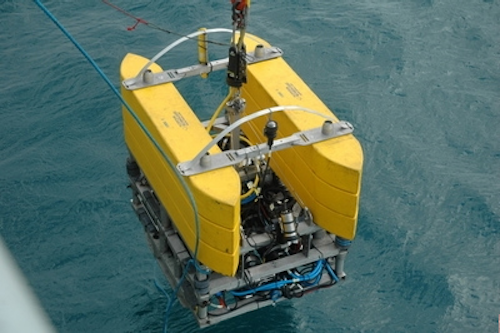 A marine robot designed and built by University of Limerick (UL; Limerick, Ireland) researchers was recently deployed to explore wrecks of The Aud and WW1 U-Boat, UC42 outside Cork Harbor.
The Aud was scuttled by its crew while under Royal Navy escort to Cork harbor after it was prevented from landing guns in 1916. The UC42 sank in 1917 while laying mines.

With the help of the Irish Naval Service, the UL marine robotics team deployed the remotely operated vehicle called Latis to undertake submarine archaeological investigations of the wrecks off the Cork Coast.

"The ROV Latis allows us to explore in detail the wrecks which have been on the sea-bed for nearly 100 years. The ROV Latis brought back high quality imagery which has been used to build a detailed 3-D model of the UC42 UBoat on the seabed," says research leader Dr. Daniel Toal.

The UL marine robotics team is currently commercializing the technology.
Further information can be found here.

-- by Dave Wilson, Senior Editor, Vision Systems Design