Photonics West 2001 sizzles; Imaging Pavilion sputters
Last January, the Photonics West 2001 trade show held at the San Jose Convention Center (San Jose; CA), set records in total attendance—15,362—and number of exhibitors-620.
Mar 1st, 2001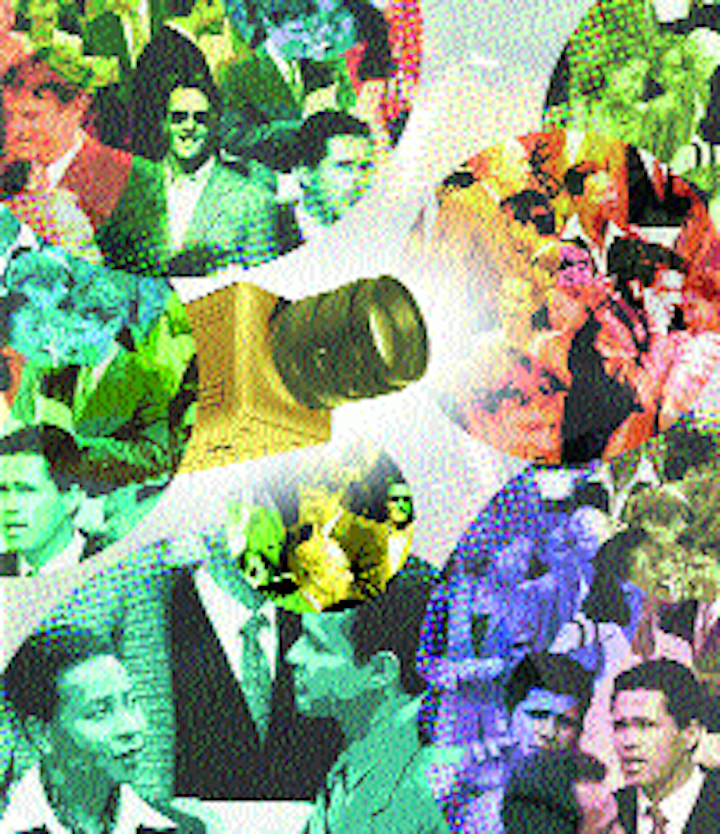 George Kotelly, Editor in Chief
georgek@pennwell.com
Photonics West 2001 sizzles; Imaging Pavilion sputters
Last January, the Photonics West 2001 trade show held at the San Jose Convention Center (San Jose; CA), set records in total attendance—15,362—and number of exhibitors-620. In contrast, the Electronics Imaging Pavilion of the show contained fewer vision/imaging exhibitors than in previous years, but benefited from the increased floor traffic of professional attendees. Due to the large number of exhibitors, some 45 overflow exhibitors were located in the convention center hallways, and nearly 70 exhibitors had to set up across the street in Parkside Hall, part of the Civic Auditorium Complex. Sponsored by SPIE—The International Society for Optical Engineering (Bellingham, WA; www.spie.org)—the event was highly successful based on the high exhibitor and visitor counts and the high quality and inquisitive interest of the attendees.
The Electronic Imaging Pavilion section of Photonics West was populated by fewer than 60 exhibitors, and many of them were not vision- or imaging-based companies. Laser- and photonics-based companies were interspersed within the pavilion. Moreover, many vision/imaging companies did not show new products or technologies; instead, they opted to display their latest products. Among those companies choosing not to attend were Alacron, Cognex, Coreco Imaging, Data Translation, DVT, Matrox, Panasonic, and Pulnix.
In the Electronic Imaging Pavilion, new products were scarce. But of those presented, cameras and sensors dominated. Among the cameras introduced was the small-footprint Piranha 2 linescan camera line fromDalsa Inc. (Waterloo, ON, Canada; www.dalsa.com). It offers resolutions of 1k, 2k, 4k, 6k, and 8k in two- or four-output models. All models deliver a 160-MHz data rate and 8 or 10 bits (selectable) of data with correlated double sampling and programmable flat-field correction at 40 MHz/tap. They also come with the standard Camera Link interface.
Marconi Applied Technologies (Elmsford, NY; www.marconitech.com) launched its novel L3Vision CCD technology for sensors, modules, and cameras. The sensors use an output amplifier circuit that enhances vision at low light levels. This amplifier offers a typical noise level of 1 e rms at high pixel rates and can be switched from high gain to normal mode by controlling the operating voltages. Several scientific and video rate sensor formats, such as those offering 512- and 1024-pixel resolutions, are under development.
ELMO Manufacturing Corp. (Plainview, NY; www.elmousa.com) showed its microcamera line of three-CCD remote-head cameras with 410,000-pixel resolution and a common CC42IE DSP control unit. The QN42H camera provides a 1/4-in. CCD, a 7-mm-diameter housing, and a 3.5-m cable. The MH42H offers a 1/2-in. CCD, a 17-mm-diameter housing, a 51X low-light sensitivity, and cables in lengths to 30 m. The CN42H comes with a 1/2-in. CCD, a 31X low-light sensitivity, and cable lengths to 30 m.
Hamamatsu Photonic Systems (Bridgewater, NJ; www.hamamatsu.com) demonstrated an IEEE-1394-based ORCA-1394 digital camera. It uses a progressive-scan interline 2/3-in. CCD chip with no mechanical shutter. Resolution is 1.3 million pixels, dynamic range exceeds 60 dB, electronic shutter covers 10 µs to 10 s, and 2 x 2, 4 x 4, or 8 x 8 binning scan improves sensitivity and achieves frame rates to 50 Hz. The IEEE-1394 serial bus interface runs at 400 Mbits/s and uses a standard 6-pin connector.
Photron USA (San Jose, CA; www.photron.com) exhibited its FastCam line of high-speed, megapixel cameras that come in color or monochrome versions. The 1024PCI camera provides a 1024 x 1024-pixel CMOS sensor, frame rates to 500 frames/s, electronic shutter speeds less than 10 µs, and a PCI control/memory board. The Ultima 1024 camera comes with an IEEE-1394 interface, a 1024 x 1024-pixel CMOS sensor, frame rates from 60 to 10,000 frames/s, and an IEEE-1394 optical link interface for system operation and control at distances to 2 km.
National Instruments (NI; Austin, TX; www.natinst.com) offered its IMAQ PCI-1409 image-acquisition plug-in board and the latest releases of IMAQ Vision Builder 6.0 and IMAQ Vision 6.0 software. The board provides four video inputs and steady calibration to capture images from standard and nonstandard cameras. It also can acquire color images of stationary objects from NTSC, PAL, and RGB cameras when operating in NI's StillColor mode, as well as images in 8- or 10-bit mode at 60 frames/s using a double-speed progressive-scan camera. Vision Builder 6.0 software automatically launches LabVIEW, and LabVIEW automatically draws the virtual instruments. Vision 6.0 now opens automated visual inspections to color applications and such new tools as calibrating camera optics, preserving image integrity with nondestructive overlay, making measurements with analytic geometric tools, and finding multiple edges along different search areas.
Texas Instruments Inc. (Dallas, TX; www.ti.com) unveiled a single-photon detection (SPD) technology that enables CCDs to see in dim scenes. This technology intensifies the image by multiplying the photon-generated charge using a low-noise-impact ionization process before readout, resulting in a CCD dynamic range of 90 dB and 15 bits of data per pixel. These CCD imagers are expected to detect over a spectral range of 200 to 1100 nm. Engineering samples of a camera based on the TC253 SPD CCD sensor should be available in the second quarter of 2001.
Eastman Kodak Co. (Rochester, NY; www.kodak.com) showed the Kodak KLI-8023 8000-pixel trilinear CCD image sensor with a 15-bit dynamic range. It features 9-µm-square pixels arranged in three rows of red, green, and blue photoelements. Color filter material boosts responsivity by more than 2.5X in the blue region of the visible spectrum. Photoresponse nonuniformity is just 3% across the entire 72-mm sensor length.
The Cooke Corp. (Auburn Hills, MI; www.cookecorp.com) exhibited the SensiCam QE digital 2/3-in. CCD camera system. It comes complete with a PCI interface card, Camware software compatible with Windows 9X/NT/2000, software developer's kit, and drivers for third-party processing software. Key features include 1376 x 1040-pixel resolution, 6.45-µm-square pixels, 12-bit dynamic range at 16 MHz, rate of 8 frames/s, and a two-stage Peltier cooler with forced air.
Quantitative Imaging Corp. (Burnaby, BC, Canada; www.qimaging.com) introduced the Retiga 1300 digital color or monochrome camera built around a scientific-grade sensor with 1.3 million pixels and an IEEE-1394 interface. Key features include 12 frames/s, 12-bit digitization, programmable exposures from 40 µs to 15 min, programmable gain and offset, and 20-MHz readout frequency.
___________________________________________
Management moves
The 1394 Trade Association (Santa Clara, CA; www.1394ta.org) has elected a new set of 18 directors for 2001. The board of directors will be led by returning chairman James Snider of Texas Instruments and vice chairman Max Bassler of Molex. Elected to the board were representatives from Agere, Apple Computer, Canon, Cypress Semiconductor, Hewlett-Packard, Intel, LSI Logic, Matsushita, Microsoft, Molex, NEC Electronics, Philips, Procomp (Taiwan), Sony, Texas Instruments, Yamaha, Yokogawa Electric, and Zayante. The 1394 Trade Association includes more than 165 members worldwide dedicated to the proliferation and advancement of the IEEE 1394 interface standard, also commonly called the FireWire standard.
Panasonic Security Systems Group (Secaucus, NJ; cctv.panasonic. com), a supplier of surveillance and security products and systems, has appointed Neil Heller to group manager, product management.
Mercury Computer Systems Inc. (Chelmsford, MA; www.mc.com), a producer of digital-signal and image-processing computer systems, has elected Russell K. Johnsen and Michael Schneider to the company's board of directors. Johnsen is vice president and general manager at Analog Devices, and Schneider held various senior management positions at Data General before his recent retirement.
Analogic Corp. (Peabody, MA; www.analogic.com), a supplier of OEM medical, industrial, and telecommunication subsystems and systems, has promoted president and chief operating officerThomas J. Miller Jr. to chief executive officer.
Stanford Resources (San Jose, CA; www.stanfordresources.com), a publisher of market-research reports on the electronic display industry, has promoted vice president of market research Paul D. Semenza to executive vice president and chief operating officer.
Lincoln Laser (Phoenix, AZ; www.lincolnlaser.com), a supplier of electro-optic modules for laser scanning applications, has been purchased by its officers from Westwind Airbearings Ltd.
TheUS Display Consortium (San Jose, CA; www.usdc.org), an industry-led public/private partnership that provides a common platform for flat-panel display manufacturers, users, and suppliers, reports that two more companies have become members: E Ink Corp. (Cambridge, MA; www.eink.com) as a first-time member and Displaytech (Longmont, CO; www.displaytech,com) as an upgraded general member.
___________________________________________
Contracts committed
DRS Technologies Inc. (Parsippany, NJ; www.drs.com) has been awarded approximately $40 million in contracts from theUS Army Communications-Electronics Command (Ft. Monmouth, NJ) to supply additional horizontal technology integration second-generation forward-looking infrared sighting systems for incorporating night vision technology into land vehicles.
Cognex Corp. (Natick, MA, www.cognex.com), a supplier of machine-vision systems, has installed a SmartView ICN web-inspection system for Daishowa Paper Manufacturing Co. Ltd. (Quebec City, Canada) in a paper mill to inspect newsprint.
BodyScan Imaging LLC (Irvine, CA; www.bodyscanimaging.com) has opened a BodyScan Imaging Center in Kansas City, MO, using the Imatron Inc. (South San Francisco, CA; www.imatron.com) Electron Beam Tomography scanner. The center is offering early detection of coronary artery disease, colon cancer, and lung disease, among others, using the diagnostic x-ray, scanner-based system to produce two- and three-dimensional images.
___________________________________________
Alliances accelerate
FLIR Systems Inc. (Portland, OR; www.flir.com), a supplier of infrared imaging systems, has formed an alliance with Scott Health and Safety Inc. (Monroe, NC; www.scottaviation.com/healthsafety), a manufacturer of firefighting equipment, to develop new thermal imaging products and distribute FireFLIR thermal imaging systems.
Edmund Optics Inc. (EO; Barrington, NJ; www.edmundoptics.com) has agreed to sell the assets of Edmund Scientific, the consumer science catalog component of EO, to Science Kit & Boreal Laboratories (Tonawanda, NY). The primary optical and imaging component supply and manufacturing business will remain with EO, operate under the name of Edmund Industrial Optics, and target semiconductor, telecommunications, and medical markets.
Pixelworks Inc. (Tualatin, OR; www.pixelworks.com), a provider of display ICs, has completed the acquisition of Panstera Inc. (San Jose, CA), a fabless semiconductor company. The Panstera team will form a new division of Pixelworks and develop a broad line of mixed signal ICs for XGA-resolution, liquid-crystal-display monitors.
Intel Corp. (Santa Clara, CA; www.intel.com) and Analog Devices Inc. (Norwood, MA; www.analog.com) have jointly introduced a Micro Signal Architecture (www.dspjointdevelopment.com) that incorporates digital-signal processor and microcontroller features in a single platform that provides improved programmability, performance, and power consumption.
___________________________________________
Technology trends
Eastman Kodak Co. (Rochester, NY; www.kodak.com/go/ccd) has introduced the Kodak KLI-8023 CCD image sensor. This sensor provides 8000-pixel resolution, 15-bit dynamic range, and 9-µm-square pixels arranged in three rows of red, green, and blue photoelements.
ClairVoyante Laboratories (Sebastopol, CA; www.monitor.net/~pentile) is licensing its patented PenTile Matrix diamond-shaped pixel architecture and ClairVoyante subpixel rendering algorithms. This proprietary technology doubles the display resolution on both axes while using fewer display data drivers than conventional RGB stripe panel arrays.
Fujitsu Microelectronics Inc.(San Jose, CA; www.fujitsumicro.com) has unveiled the MB86061 digital-to-analog converter (DAC) for high-resolution imaging systems. Fabricated in 0.35-µm CMOS triple-well process, the DAC offers a 12-bit, 400 million-samples/s sampling rate.
ImEdge Technology Inc. (Yorktown Heights, NY; www.imedge.com) has received a US patent for "Grazing incidence holograms and method for making the same." Edge-lit holograms are illuminated by shining light through the edge of a rigid substrate that the thin hologram is applied to. This approach allows the hologram to change the direction of the light so that the line of light entering the edge of the substrate gets emitted through the face of the hologram as a broad area of light.
___________________________________________
Market vision
According to Semiconductor Equipment and Materials International (SEMI; Mountain View, CA; www.semi.org), North American-based manufacturers of semiconductor equipment reported a drop from the November 2000 book-to-bill ratio of 1.12 to the December 2000 ratio of 1.03; that is, $103 in orders were received for every $100 worth of products shipped. The three-month average of worldwide shipments in December 2000 was $2.4 billion, which was 10% lower than the November 2000 shipments level but 49% higher than the $1.6 billion shipments level of December 1999.
Market researcherGartner Group Dataquest (Stamford, CT; www.dataquest.com) estimates that PC sales in the United States for 2000 increased by 10.3% over 1999 sales to 49.4 million units. Worldwide PC sales in 2000 climbed 14.5 % over 1999 sales to 134.8 million units.
Industry market research and financial analysts attending the recentSEMI Industry Strategy Symposium downgraded their projections for 2001. IC Insights (Scottsdale, AZ; www.icinsights.com) forecasts a negative growth of 4% for the first half and a positive growth of 7% for the entire year. Gartner Group Dataquest sees capital expenditures decreasing 6% in the first half but increasing 6% for the whole year. VLSI Research Inc. (San Jose, CA; www.vlsiresearch.com) projects a 1% uptick for the first half and a 5% rise for the entire year. Goldman, Sachs, and Co. (New York, NY; www.gs.com) predicts a 5% climb for 2001.
In its annual Product of the Year Competition,Plant Engineering Magazine has named the ThermaCAM PM 695 hand-held thermal and visual imaging system for predictive maintenance from FLIR Systems (North Billerica, MA; www.flir.com) as the 2000 Gold Award winner in the Instruments category.
Imaging Dynamics Corp. (IDC; Calgary, Alberta, Canada; www.imaginedynamics.com) has sold four Xplorer 1700 digital radiography detector systems for human diagnostic imaging to Medisend Inc., a US distributor of teleradiology network platforms, for approximately $900,000.