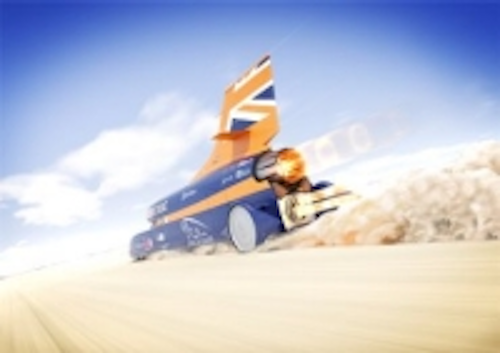 Image credit: Flock and Siemens
With the ultimate goal of attaining a world land speed record, the Bloodhound Project has seen its Bloodhound SSC supersonic car's (future) vision system tested and updated in the recent months, in an effort to prepare for live video transmission during the car's 1,000 mph record run.
Recent tests in the desert at Hakskeen Pan, South Africa, where video from the vision system installed on a Jaguar F-type vehicle was transmitted to a jet aircraft, have shown successful video and audio communication transmissions at closing speeds of up 650 mph, in readiness for the next phase, which is integration of the system into car itself, according to STEMMER.
Three compact ADLINK EOS embedded vision systems, which feature Intel multi-core processors can accept up to four independent HD feeds from GigE cameras in any of the 25 camera locations around the car, meaning that data from 12 cameras can be acquired on any one run. Each recorder also provides a single H.264 video stream from any of its four inputs for live transmission to the control center.
The video data stream output will be connected to the Bloodhound's cockpit instrument panel computer and the vehicle's radio modems via a router. The independent channels from each recorder can be simultaneously transmitted in real time and the cockpit instrument panel computer can also display one of these channels on one of the cockpit instrument displays.
Five of the car's 25 camera locations are safety-critical locations, and camera feeds from these will be used on all runs. These cameras monitor the instruments and controls, forward facing and rear facing fin tops, the rocket fuel connection hose and the rocket plume.
Page 1 | Page 2