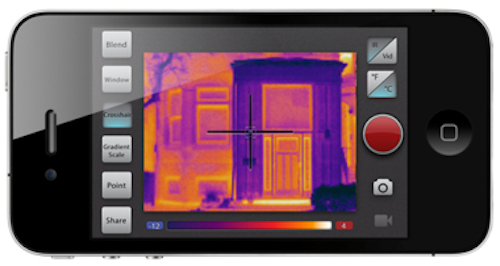 Entrepreneur John McGrath has founded a new company called Mu Optics (Chicago, IL, USA) with the aim of bringing affordable thermal imaging to the mass market.
McGrath claims that his new Mµ thermal camera will be the first affordable -- under $350 -- thermal imager with the resolution and software capabilities to make it useful to DIY homeowners as well as construction professionals.

The 160 x 120 pixel 30fps imager in the camera sees in the infrared spectrum of 7 to 14 micrometers which allows users to visualize the temperature of objects in the range of -86F to 285F (-66C to 140C).

In use, the camera is attached to a smart phone or tablet via a USB port. After downloading an "app" from the app store of the device, the screen of the phone or tablet will then fill with the live video thermal image from the camera.

To fund the development of the new camera, McGrath and his colleagues turned to crowd-funding web site Indiegogo where they have raised almost $120,000 of their $200,000 funding target. But, McGrath says, even if that target is not reached, his company has various venture capital options open to it to fund the project through to completion.

Although customers can currently pre-order the camera from the Indiegogo web site, eventually, Mu Optics intends to sell it in stores.

More information on the camera can be found on the Indiegogo web site here.

Related articles from Vision Systems Design that you might also find of interest.

1. Thermal imaging detects material failure in carbon-based bicycle frames

To identify hidden stress defects in carbon-based bike frames, Carl Messtechnik (Dinsladen, Germany) has employed a pulse thermographic method to trigger a thermal pulse through the material and then used a thermal imaging camera to trace the heat flow.

2. Infrared camera detects pollutants

Sensia Solutions (Leganés, Spain) has developed what it claims is the first infrared camera for detecting sulfur dioxide (SO2), a gas that is considered one of the greatest causes of the acid rain generated by the energy, metallurgy, food and paper manufacturing sectors.

3. Butterfly-inspired thermal imager under development at GE

Researchers at General Electric (Fairfield, CT, USA) have demonstrated that by doping the butterfly scales of Morpho butterflies with single-walled carbon nanotubes, they can create new highly-sensitive thermal imaging sensors.

-- Dave Wilson, Senior Editor, Vision Systems Design