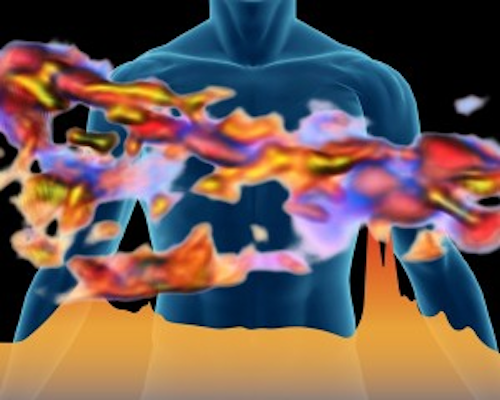 By combining Fourier transform infrared (FTIR) spectroscopy with computed tomography (CT scans), researchers have created a non-destructive 3D imaging technique that provides molecular-level chemical information of unprecedented detail on biological and other specimens with no need to stain or alter the specimen.
A collaboration between the U.S. Department of Energy's Lawrence Berkeley National Laboratory and the University of Wisconsin-Milwaukee resulted in the creation of the technique, which produces colors in a 3D reconstructed image.
"The notion of having the colors in a 3D reconstructed image being tied to real chemistry is powerful," said Michael Martin, an infrared imaging expert at Berkeley Lab's Advanced Light Source, a DOE national user facility, in the press release. "We've all seen pretty 3D renderings of medical scans with colors, for example bone-colored bones, but that's simply an artistic choice. Now we can spectrally identify the specific types of minerals within a piece of bone and assign a color to each type within the 3D reconstructed image."
Infrared spectroscopy can be used to identify the chemical elements of a sample and the application of the Fourier-transform algorithm allows all infrared fingerprints to be simultaneously recorded. With FTIR spectroscopy, imaging proteins and other biological samples is possible because it is non-destructive and can be performed without altering the sample. By combining FTIR with CT scans, Martin and his team have achieved what they believe to be the first demonstration of FTIR spectro-microtomography.
Martin and team were able to successfully apply this method using a zinnia flowering plant, from which they obtained 3D images of the molecular architecture of the cell walls. They did this in order to gain a better understanding of the chemical composition and architecture of plant cell walls, which is critical to the ultimate success of making biofuels from plants, according to the press release.
The method was also applied to study human hair—which has a distinctive biochemical construction—and an intact grouping of pluripotent mouse stem cells. FTIR spectro-microtomography will also be applicable to imaging 3D structures in biofuels, plants, rocks, algae, soils, agriculture, and possibly even art history, where different layers of paint could be revealed, according to Martin.
View the Berkeley Lab press release.
Also check out:
Researchers hoping to mimic vision of dragonflies in robots
3D imaging technology could improve colonoscopy procedures
Thermal imaging system protects whales from underwater noise pollution
Share your vision-related news by contacting James Carroll, Senior Web Editor, Vision Systems Design

To receive news like this in your inbox, click here.
Join our LinkedIn group | Like us on Facebook | Follow us on Twitter | Check us out on Google +