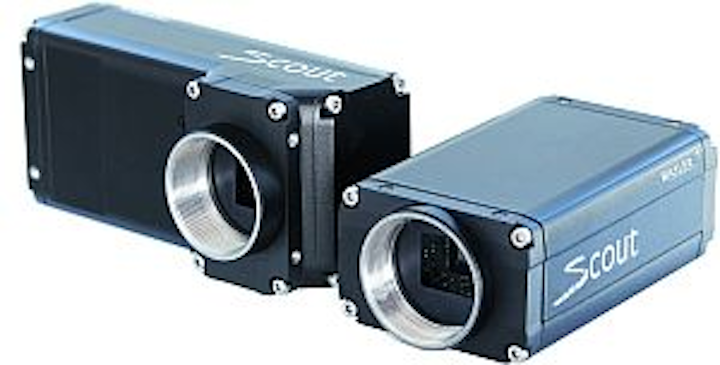 New scout series models, scA1600-28, deliver 28 frames/s at 2-Mpixel resolution, targeting intelligent transportation systems, medical imaging, and other industrial applications. The newer models double the frame rate over the previous scA1600-14 versions. The cameras employ the Sony ICX274 CCD sensor in both monochrome and color. Cameras are available with either a GigE or IEEE 1394b (FireWire) interface, as well as in a 90° housing version. Characteristics such as noise level, dark signal nonuniformity, and photo-response nonuniformity are comparable to other cameras by the company.
Basler
Ahrensburg, Germany
-- Posted by Vision Systems Design

---
NEW PRODUCT PRESS RELEASE
Basler Launches "scout" GigE and IEEE 1394b Cameras with 28 Frames per Second at 2 MP Resolution
Ahrensburg - Basler is launching new models in the successful scout series – the scA1600-28 models that deliver 28 frames per second (fps) at 2 megapixel resolution. The cameras feature the popular Sony ICX274 CCD sensor in both monochrome and color. They are available with either a GigE or IEEE 1394b interface, as well as in a 90 degree housing version.

The combination of a 2 megapixel sensor, a wide range of features, excellent image quality, and 28 fps speed makes this camera extremely attractive for a variety of markets such as ITS (Intelligent Traffic Systems), medical imaging, and several other industrial applications.
These new cameras are a faster version of the popular scA1600-14 models, which deliver 14 fps. The scA1600-28 now doubles that frame rate to 28 fps while maintaining the same excellent image quality as the older version. Other important camera characteristics such as the noise level, DSNU (Dark Signal Non Uniformity), and PRNU (Photo Response Non Uniformity) are kept at the same low levels typical of Basler cameras.
Michael Schwaer, the Basler scout product manager, comments: "We are confident that the new 28 frame versions will gain ground very quickly, especially in the ITS market. They are a perfect fit for traffic applications. The 2 megapixel resolution, 28 frames per second speed, and superior image quality exactly meet the ITS market's demands."
Basler Vision Technologies is a leading global manufacturer of digital cameras for industrial applications, medical devices, traffic systems, and the video surveillance market. Product designs are driven by industry requirements and offer easy integration, compact size, and a very strong price/performance ratio. These characteristics are the decisive factors allowing Basler to hold a leading position in the GigE Vision arena today. Founded in 1988, Basler has more than 20 years of experience in vision technologies and offers one of the broadest product portfolios in the industry. The company employs about 300 people at its headquarters in Ahrensburg, Germany, as well as in international subsidiaries and offices in the U.S., Singapore, Taiwan, Korea, and Japan.
For more information, please contact us at +49 4102 463-500, e-mail us at bc.sales.europe@baslerweb.com.
SOURCE: Basler