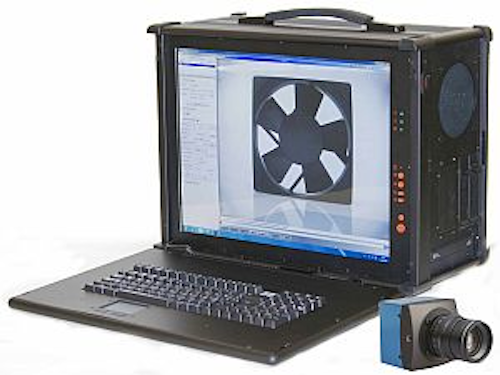 MotionBLITZ LTR1 portable (Long Term Recording) is a mobile, user-friendly high-speed video system with long-term recording capability. The integrated PC uses a Windows 7 64-bit operating system, MotionBlitz Director2 operating software, and a Full Camera Link frame grabber interface. The 63 × 63 × 47-mm EoSens camera can handle video recordings up to 110 minutes at full image resolution of 1280 × 1024 pixels and 506 frames/s. Recording time may be extended by a factor of 4 by reducing the amount of data.
Mikrotron
Unterschleißheim, Germany
-- Posted by Vision Systems Design

---
NEW PRODUCT PRESS RELEASE
Mobile High-Speed Video with Long-Term Recording
Unambiguous Analysis of Complex Events
Throughout the field of industrial fabrication, research and development, the optimization of multilayered processes is increasingly important. Detailed, unambiguous high-speed video recordings can be used to provide reliable analysis of fast, sporadic, but longer-lasting events. The combination of long-term recording and particularly mobile system technology with simple usage provides other benefits, too. The performance of this highly modern analysis system is capable of opening up a number of heretofore unused options with a short amortization time.
The MotionBLITZ LTR1 portable (Long Term Recording) from Mikrotron GmbH is an extremely mobile, easy-to-use, complete high-speed video system with long-term recording capability. Possible applications include the observation of the behavior of turbulence in fluids and gases, of fine dust in vacuum, observations in medical diagnostics, and motion studies in sports. Mobile long-term high-speed recordings are also increasingly necessary for the optimization of processes in industrial fabrication and quality control, too. Earlier attempts at long-term recording of high-speed video generally encountered the fundamental problem that the quantities of data generated by long-term recording could not be stored quickly enough. Thanks to the latest in technology, high-speed recordings from minutes to hours in length are possible today.
Due to the elimination of long download times resulting from the readout of data from the camera, the MotionBLITZ LTR1 portable is continuously available. This is particularly beneficial in costly test series. Here, long waiting times due to downloads are particularly problematic.
The PC is integrated into a robust housing and has a Windows 7 64-bit operating system, very fast hard drive storage, Mikrotron's MotionBlitz Director2 operating software, and the high-performance Full Camera Link frame grabber interface. The compact (63 x 63 x 47 mm) light-sensitive camera from the EoSens series can handle video recordings of up to 110 minutes at a full image resolution of 1280 x 1024 pixels and 506 fps (frames per second). It is possible to extend the recording period by a factor of 4 by reducing the amount of data. The integrated RoI function (Region of Interest) – with variable layout of the image field in terms of position, resolution, and speed – offers recording frequencies of up to 35,000 fps. The extremely high light-sensitivity of 2500 ASA monochrome or 2000 ASA for RGB color meets complex requirements and minimizes the need for lighting. The optionally engaged non-linear dynamic adaptation can extract very precise image details even under extreme conditions of light/dark differences. The Full Camera Link interface, with data transmission rates of up to 680 MB/sec, stores images from the camera in real time to the PC's ring memory hard drive system (1.6 TB). Images can be stored in BMP, AVI, TIF, DNG, JPG, PNG, and REC (Mikrotron's own RAW) formats.

The Director2 operating software is a particularly easy-to-use operating interface with a whole series of convenient functions. The ImageBLITZ intelligent trigger systems records the important time period before and after the trigger signal. The LTR1 portable is available as a ready-to-operate complete system, together with one of the compact 1.3 megapixel high-speed CMOS digital cameras of the EoSens series, Full Camera Link frame grabber, Camera Link cable, and operating software. If desired, the system is now also available with a 3 megapixel camera.
MIKROTRON GmbH in Unterschleißheim near München develops, produces, and markets digital high-speed cameras, image processing components, and high-speed recording systems for industry, research, and development worldwide. As a specialized activity for industrial image processing, MIKROTRON also markets industrial cameras of leading manufacturers, as well as image processing software.
SOURCE: Mikrotron