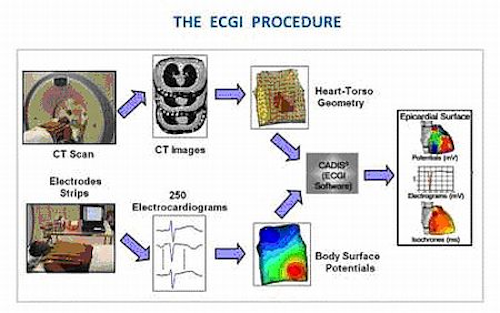 A noninvasive functional medical imaging technique called electrocardiographic imaging (ECGI) can help locate the source of a dangerous cardiac arrhythmia called ventricular tachycardia (VT).
VT is an abnormal, fast beating of the heart; if ignored, this condition can lead to ventricular fibrillation (VF), which causes around 400,000 cases of sudden death a year in the US alone.
The ECGI technique, developed at Washington University (St. Louis, MO, USA), combines images captured by computed tomography (CT) with data from 250 electrocardiograms recorded by electrodes placed on a vest across a patient's torso that together can be used to map the source and pattern of VT in the heart and determine the kind of VT irregularity.
From that data, an algorithm is then used to generate movies of the distinctive electrical waves responsible for causing VT excitation from recordings of multiple heartbeats. While a wealth of information can be deduced from the ECGI analysis of just one heartbeat, multiple heartbeats up to minutes long are often imaged using the technique to reveal even more about the nature of the arrhythmia.
Current noninvasive diagnosis of heart rhythms relies on conventional ECG techniques, which employ 12 electrodes placed on the surface of the body. But the ECG can only provide general information about the heart's electrical activity.

To locate the actual source of VT in the heart, a patient must then endure up to several hours of invasive mapping using an electrode-carrying catheter that is inserted into the heart and moved around to obtain sequentially electrical recordings from many points. Once the source of arrhythmia has been located, ablation is performed to eliminate that source to correct the problem.
The ECGI technique, on the other hand, can find the source and type of VT far more quickly, saving hours of mapping. Not only is it faster, but it can locate the source of cardiac excitation in the heart with an accuracy of about 6 mm.
-- Posted by Vision Systems Design