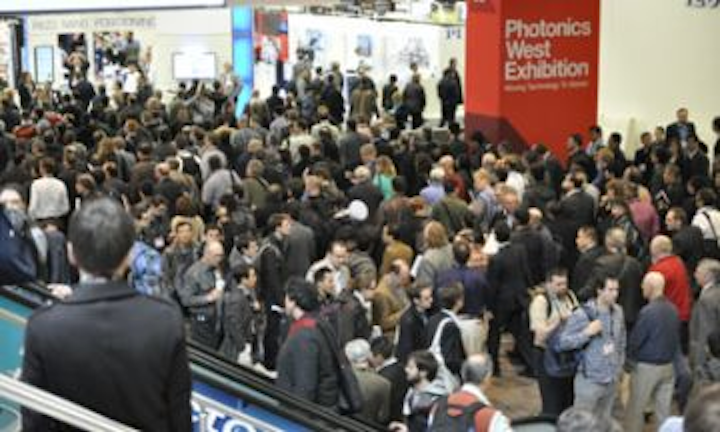 North America's leading optics and photonics conference and exhibition SPIE Photonics West 2015 is set to take place this February at The Moscone Center in San Francisco. The conference will bring together presenters, exhibitors, and attendees to discuss and learn about the latest products, market insights, and technical presentations on the industry.
On the whole, the conference runs from February 7-12, with the Photonics West exhibition running from February 10-12. The exhibition will feature more than 1,250 companies, more than 250 of which will debut new products on the show floor. Vision-related technologies that are expected to be prominently featured and discussed at the event, according to SPIE, are as follows:
CCD cameras and components
Electronic imaging components
Laser systems and accessories
Fiber optic components, equipment, systems
High-speed imaging and sensing
Optical components, detectors, materials, substrates, and coatings
Infrared sources and detectors
Positions and mounts
The show will feature many educational courses that cover 22 different program tracks, including such vision-related topics as biomedical imaging, nonlinear optics, optoelectronic materials and devices, photonic integration, imaging and augmented reality, metrology, optical engineering and fabrication, optical systems and lens design, and optomechanics.
Photonics West will also have a number of industry events, including panels and presentations that explore the business side of the optics and photonics industries, as well as a number of special events, including plenary sessions and hot topics, technical events, social and networking events, SPIE membership events, student events, professional development events, and a "Photonics Industry Update" presentation.
The following is our coverage of the companies that will be showcasing vision-related technologies at the exhibition:
In addition, the Prism Awards will once again be presented at Photonics West. The Prism Awards for Photonics Innovation is an international competition which honors the best new photonics products on the market. Nine Prism Awards are given out, three of which relate directly to the machine vision industry: The award for detectors and sensors, the award for imaging and cameras, and the award for optics and optical components. View information on the finalists here.
View more information on SPIE Photonics West 2015.
Share your vision-related news by contacting James Carroll, Senior Web Editor, Vision Systems Design
To receive news like this in your inbox, click here.
Join our LinkedIn group | Like us on Facebook | Follow us on Twitter | Check us out on Google +