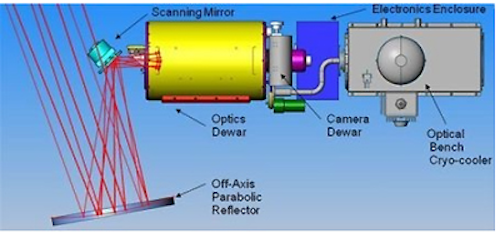 Bodkin Design and Engineering (Newton, MA, USA) has been awarded a contract from the US Air Force to develop a high spatial resolution hyperspectral sensor operating in the longwave infrared (LWIR) spectral band.
A prototype system will be demonstrated as part of the Air Force Research Laboratory's efforts to improve target acquisition and threat assessment to protect both civilian and military assets.
Hyperspectral imaging combines a spatial image with spectral analysis to build up a three-dimensional data-cube (two dimensions of the data-cube are spatial and the third dimension is wavelength). There are several methods currently available for acquiring hyperspectral images, but they are limited in their ability to satisfy the military's need for speed, accuracy, and data rate.
The company says that the system will capture spectral and spatial information with unprecedented data-cube size and speed. This will improve standoff target detection, materials identification, and the quantification of atmospheric constituents and effluents.
The nine month-long project has been funded under the Small Business Innovation Research (SBIR) program.
Recent articles on hyperspectral imaging from Vision Systems Design.
1. Unmanned aircraft to capture hyperspectral images
Engineers working on the TerraLuma Project at the University of Tasmania, Australia are bringing hyperspectral capabilities to their fleet of unmanned aircraft systems (UAS).

2. Hyperspectral imaging helps diagnose ulcers
Researchers at the UCLA Henry Samueli School of Engineering and Applied Science (Los Angeles, CA, USA) have developed algorithms that can analyze hyperspectral images of the foot to identify ulcers associated with diabetes weeks before they are visible to the eye.

3. Hyperspectral imaging system sorts seeds
A Swiss company has developed a hyperspectral imaging system that can transport, analyze and sort grains, seeds or beans at over 50 per second according to their biochemical composition and/or external traits such as color.
4. Hyperspectral imaging system detects defects on apples

A researcher at the University of Maryland (College Park, MD, USA) has shown that a hyperspectral image processing system can identify accurately 95 percent of the defects on the surface of Red Delicious apples.

-- Dave Wilson, Senior Editor, Vision Systems Design