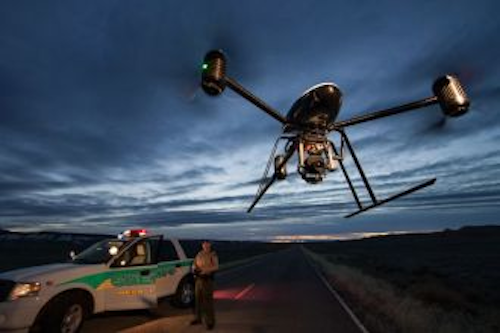 About a month ago, we covered a story on how unmanned aerial vehicles (UAV), or drones, might be used by scientists for research purposes. Recent headlines like this suggest that drones may see more civilian, non-military usage by 2015, when the Federal Aviation Administration is set to further open the skies to commercial UAVs.
Aside from scientific research, plenty of opportunities for civilian drone usage exist, and it is likely that we'll see those unfold in coming years. In the meantime, however, here are five civilian areas that National Geographic says are already in use and thriving:
Hurricane hunting. NASA, the National Oceanic and Atmospheric Administration and Northrop Grumman teamed up on a three-year, $30-million experiment to use long-range UAVs to spy on storms as they evolve.
3D mapping. Smaller drones can survey landscapes with thousands of digital images that can be stitched together into 3D maps. Switzerland-based software company Pix4D, creates these 3D maps from images collected by drones.
Wildlife protection. The U.S. Government uses UAVs to monitor wildlife populations or map roads and wetlands for land management purposes. The drones can also chart land use changes like deforestation, which threatens many wildlife species. In addition, the WWF plans to launch surveillance drones in the skies over Africa to stabilize areas where gangs of poachers have become a security concern.
Agriculture. In Japan they've been flying the Yamaha RMAX for 20 years which allows farmers to treat an acre of land—which may be on steep hillsides—in just five minutes, according to the article. The drones can spot areas where nitrogen levels are low, reveal plant health with infrared light cameras, monitor the growth of a specific field section, and more.
Search and rescue. Last month in Saskatchewan, Canada, a person that was in an automobile accident was found using a Dragan Flyer X4-ES drone with heat sensing equipment. This is believed to have been the first rescue that a UAV has made, and will likely not be the last, says Ben Gielow, a spokesman for the Association for Unmanned Vehicle Systems International.
View the National Geographic article.
Also check out:

UAV tracks growth of maize
UAVs image volcano
Share your vision-related news by contacting James Carroll, Senior Web Editor, Vision Systems Design
To receive news like this in your inbox, click here.