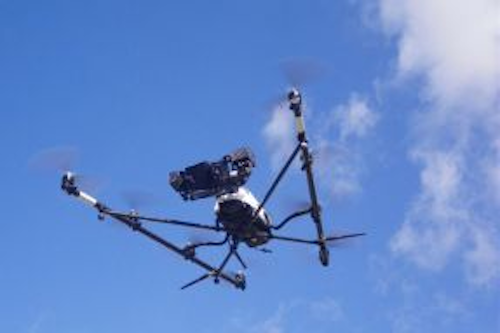 An unmanned aerial vehicle (UAV) system using lightweight miniature spectrometers from Ocean Optics is assisting researchers with the inspection and investigation of plant and crop parameters in a New Zealand grassland area.
An STS spectrometer is used both on the ground unit and aboard the UAV, both of which are making synchronized hyperspectral measurements of barley and sugar beet crops to assess plant characteristics for more effective crop management, according to the Ocean Optics press release.
STS is a compact CMOS detector-based spectrometer that is less than two inches square and weighs a little more than two ounces. It contains 1024 pixels and has a wavelength range of 350-800 nm (VIS), and 650-1100 nm (NIR). The STS's optical resolution is 1.5 nm FWHM and has a signal-to-noise ratio of 1500:1 at maximum signal.
The STS-equipped UAV enables fast and reproducible measurements over any terrain. In this particular application, the UAV measured various segments on a section of a New Zealand pastureland to assess information on the growth of live vegetation.
View the Ocean Optics press release.
Also check out:
Five ways UAVs are being used by civilians
UAV tracks Scottish sheep
UAVs image volcano
Share your vision-related news by contacting James Carroll, Senior Web Editor, Vision Systems Design
To receive news like this in your inbox, click here.