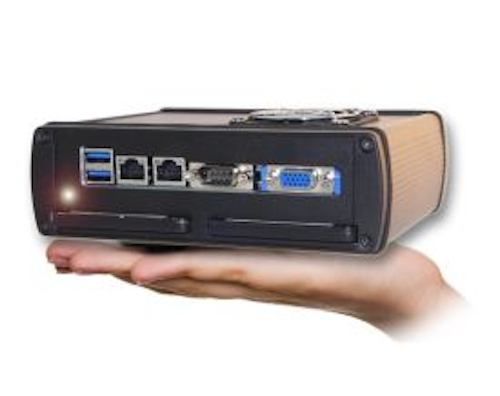 The SPIE Defense, Security+Sensing conference will take place between April 29-May 3, 2013 at the Baltimore Convention Center, Baltimore, MD, USA. An associated exhibition will feature 500 suppliers of optics, lasers, sensors, image processing, spectroscopy, infrared (IR) systems, and optoelectronic components. Here are some of the offerings from vendors that are exhibiting from the machine-vision components and systems community.
COMPANY LISTINGS (in alphabetical order)
1stVision
1stVision (Andover, MA, USA; www.1stvision.com) will be showing its newest digital video recording system -- Streams Grabber DVRe -- on Booth 1671. Streams Grabber DVRe provides a turnkey digital video recording, processing, and analysis solution for a variety of engineering and scientific disciplines, such as motion analysis and tracking, and medical imaging and research.
Designed for use with USB 3.0 and GigE Vision cameras, Streams Grabber DVRe eliminates the process of configuring and programming computers and digital imaging components. High-speed image sequences can be streamed to the recorder's onboard SSD at rates up to 550 MBytes/sec.
Adimec
On Booth 1931, Adimec (Eindhoven, the Netherlands; www.adimec.com) will be displaying its TMX6-DHD series of COTS cameras that are optimized for use in a variety of global security systems that require optimal detection, recognition, and identification capabilities.
The TMX6-DHD series features Adimec's Video Enhancement Module (VEM) that eliminates the effects of a hazy atmosphere due to fog, sunlight or shade scattering. The TMX6-DHD cameras are available in 30 and 60 frames/sec versions, both with up to full HD resolution (1920 x 1080 pixels) or XSGA (1600 x 1200 pixels). They are based on a 2/3-in. interline CCD image sensor and have Camera Link Base or HD-SDI interfaces. Color versions are also available.
Applied Image
On Booth 2033, Applied Image (Rochester, NY, USA; www.aig-imaging.com) will announce its newest product offering from its ImagingQC division -- the Imaging Gauge Quality Analysis System. The system, which has been developed to address the need for standardizing digital imaging systems, includes software and test targets.
In addition, Applied Image representatives will be on hand to discuss the company's latest capability to custom-manufacture precision ball lenses that can focus or collimate light in complex optical systems such as endoscopes and barcode scanners. Sizes can range from 1 to 35 mm in diameter.
BitFlow
Industrial frame grabber and software developer BitFlow (Woburn, MA, USA; www.bitflow.com) now offers three CoaXPress (CXP) frame grabbers -- the Karbon CXP2, Karbon CXP4 and Cyton CXP4 -- that will be displayed at the show on Booth 813.
CoaXPress is a standard for moving high-speed serial data from a camera to a frame grabber. Video is captured at speeds up to 6.25 Gbits/sec. Simultaneously, control commands and triggers can be sent to the camera at 20 Mbits/sec (with a trigger accuracy of +/- 2 nsec). In addition, up to 13 W of power can be supplied to the camera over an industry standard 75-Ohm coaxial cable. Multiple CXP links can be aggregated to support higher data rates (e.g., four links provide 25 Gbits/sec of data).
Deposition Sciences (DSI)
On Booth 921, DSI (Santa Rosa CA, USA; www.depsci.com) representatives will be on hand to discuss the company's capability to produce optical thin-film coatings for precision optics. The company's thin-film filter coating capabilities range from the ultraviolet (UV), through the visible (VIS), near-infrared (NIR), shortwave-infrared (SWIR), midwave-infrared (MWIR) and out to the far-infrared (FIR), or the longwave-infrared (LWIR) spectral wavelengths.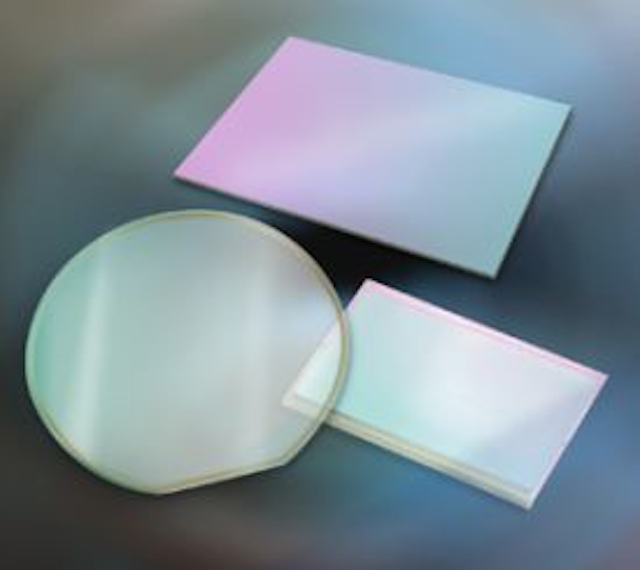 Special coating specifications for low-temperature-shift IR bandpass coatings, angle-shift filters, IR beamsplitter-compensators, MWIR bandpass filters, and very longwave-infrared (VLWIR) coatings (both bandpass and longwave pass) can be accommodated. Coatings are produced using the company's MicroDyn reactive sputtering deposition and IsoDyn low-pressure chemical vapor deposition (LPCVD) systems. DSI is ITAR registered and operates a classified facility. It has been a vendor for aerospace programs such as NPOESS, BSTS, MES, MSTI-3, Warfighter, and SBIRS-High, among others.
Imaging Solutions Group
Imaging Solutions Group's (Fairport, NY, USA; www.isgchips.com) LightWise IQ smart cameras that feature dual GigE Vision and CoaXpress interfaces will be on display on Booth 1565. The LightWise cameras, which use imagers up to 29 Mpixels, combine TrueSense Imaging KAI series CCD sensors with a low-noise analog frontend for high image quality. An onboard processor, FPGAs, and image buffers enable the smart camera to be customized for use in OEM and military applications.
The company also custom-designs vision systems for military imaging, surveillance, and reconnaissance, incorporating multi-windowing and video analytics inside one camera. Custom OEM imaging systems have are used in covert surveillance cameras operating in hostile environments.
IMPERX
On Booth 1431, IMPERX (Boca Raton, FL, USA; www.imperx.com) will be showing its new HD-SDI PCIe x1 PCI Express video capture card that enables users to view and store in real time megapixel video images from any standard SD or HD-SDI video source onto desktop PC computers.
The card is capable of capturing single or multiple frames and standard AVI clips. Each captured frame can be stamped with a user message along with date and time of capture. The card is supported by a full software suite that includes drivers, an SDK, and an application program.
InfraTec
InfraTec (Dresden, Germany; www.infratec.de) will be displaying a complete line of IR cameras for thermography applications on Booth 803.
The company's modular ImageIR camera series features detector formats up to (1280 x 1024) IR pixels, frame rates up to 4500 Hz, thermal resolution up to 0.02 K, and measuring accuracy up to 1%. ImageIR cameras are available with MWIR (1.8-5.5 μm) or LWIR (8.0-10.2 μm) detectors. The cameras come with the company's IRBIS 3 thermographic software.
IO Industries
IO Industries (London, ON, Canada; www.ioindustries.com) will be showcasing its latest products for imaging and video recording on Booth 1134. A camera with 12-Mpixel resolution and more than 120 frames/sec streaming output will be demonstrated with a DVR Express recording system. Also on display will be an end-to-end solution for high-definition 1080p60 video and mission-critical metadata using the IOI Flare 2KSDI camera, DVR Express Core 3G-SDI recorder/simulator and a GPS timestamp embedder.
The new IOI Flare cameras with CoaXPress also will be shown with the new DVR Express Core CoaXPress direct-to-disk video recorder. Applications include military testing, scientific imaging, commercial research and development, and motion capture.
ISVI
Camera supplier ISVI (Oxford, CT, USA; www.isvi-corp.com) will premier its 25-Mpixel, 53 frame/sec and 12-Mpixel, 175 frames/sec quad-channel CoaXPress cameras on Booth 1940. Each channel can transmit up to 6.25 Gbits/sec for a maximum data transfer rate of 25 Gbits/sec.
ISVI's CXP cameras are supported by the following frame grabbers: Matrox Radient CXP, Bitflow Carbon CXP, and Active Silicon's FireBird CXP. With lower-speed applications, one frame grabber will support up to four CXP cameras.
JAI
In Booth 1133, JAI (San Jose, CA, USA; www.jai.com) will be showing its SP-5000 5-Mpixel CMOS camera capable of running at up to 250 frames/sec. The version being demonstrated at the show is a monochrome camera with a 2X CoaXPress interface and a full-frame (2560 x 2048 pixels) speed of 209 frames/sec. Additional interface choices include Mini Camera Link, GigE Vision with link aggregation, USB3 Vision, and 4X CoaXPress. Color models support RGB or YUV interpolated output, as well as raw Bayer format.
The SP-5000 features capabilities such as an auto-scaling analog frontend gain section for low-light situations, and four-channel gain control for adjusting image quality and color balance. JAI has added in-camera pattern correction algorithms to provide lower noise and better low-light performance than with standard on-chip pattern correction alone. The company will also demonstrate its latest Spark series camera, the SP-20000, providing 20-Mpixel video at 30 frames/sec.
Kappa
On Booth 1936, Kappa (Gleichen, Germany; www.kappa.de) will be displaying a test instrumentation camera that can be used to capture images of aircraft during test flights. An aviation qualified product, the camera is housed in a IP67 housing, and offers protection against ice and fog.
One camera can be fitted with three different CCDs and comes with an HD-SDI and SD-SDI or optical fiber interfaces. The camera has a field of view from 17 degrees to 95 degrees. It can be used to monitor wing icing, wing distortion, monitoring landing gear, and nose wheel steering.
KEYENCE
By integrating advanced zoom optics with a CCD camera, 17-in. LCD monitor, light source, electronics and analysis/reporting software, the VHX Series of digital microscopes from KEYENCE (Itasca, IL, USA; www.keyence.com) streamline testing and improve the speed and efficiency of the inspection process.
With a magnification range from 0.1-5000X, the VHX Series enables a range of microscopic observation from macro-scale stereoscopic imaging to the detailed analysis of a scanning electron microscope (SEM). KEYENCE will display the digital microscopes, including its new VHX-2000 model, on Booth 2019.
KiloLambda Technologies
On Booth 2021, KiloLambda Technologies (Tel-Aviv, Israel; www.kilolambda.com) will be showing its Dynamic Sunlight Filter (DSF) element that is designed to automatically vary its transparency in accordance to the amount of incident light without the need for electronic circuitry.
In the normal state, when incident light is below a predefined level, the DSF is highly transparent, so light just passes through. As the light level gets increasingly more intense, the transmission decreases, and the DSF eventually reaches a darkened state. The darkening effect is selective and is limited only to the areas illuminated by intense light. The process is reversible; the filter returns to its transparent state once the amount of light decreases.
Laser Components USA
Laser Components USA (Hudson, NH, USA; www.lasercomponents.com/us/) will be highlighting its IAG series of InGaAs photodiodes that detect in the spectral range from 1000 to 1650 nm with a peak of 1550 nm.
Similar to photomultipliers, avalanche photodiodes are used to detect extremely weak light intensities. Compared to germanium APDs, they feature improved noise ratio and a higher bandwidth in relation to the active area. The company's IAG series exhibits a damage threshold of >200 kW/cm2 and the active area is available in diameters of 80, 200, and 350 µm. They can be seen at Booth 1237 at the show.
Midwest Optical Systems
Midwest Optical Systems (Palatine, IL, USA; www.midopt.com) will be exhibiting its dual-bandpass filters on Booth 1963. MidOpt Dual Bandpass Filters DB850 and DB940 are suitable for applications where a color camera is necessary for acquiring accurate color images during the day, while simultaneously transmitting IR illumination during the night.
The MidOpt DB850 is a 385-650 nm visible/820-880 nm IR filter, while the DB940 is a visible 385-650 nm visible/910-970 nm IR filter.
New Imaging Technologies (NIT)
New Imaging Technologies (NIT; Verrières le Buisson, France; www.new-imaging-technologies.com) will be showing its WiDy swir camera, integrating an ultrawide-dynamic-range InGaAs sensor operating from 900 nm up to 1700 nm on Booth 911. WiDy swir uses a 320 x 256-pixel InGaAs photodiode array sensor coupled to the NIT NSC0803 wide-dynamic-range readout circuit. The InGaAs photodiodes provide a QE signal response from 900-1700 nm.
When used with the NIT WDR ROIC technologies the InGaAs photodiodes deliver more than 140 dB of dynamic range in a single image without any external control. WiDy swir has a USB digital output and is delivered with WiDyWiew software operating under Microsoft Windows. The frame rate is software controllable from 1 to 150 Hz and can be synchronized from an external IO signal.
NorPix
On Booth 1546, NorPix (Montreal, QC, Canada; www.norpix.com) will be displaying its StreamPix 5 high-speed video recording software. StreamPix 5 provides a complete management console for cameras, simplifying the setup, control, and acquisition from any number and type of cameras over GigE Vision, HD-SDI, Camera Link, USB2, analog, and FireWire interfaces.
StreamPix 5 can also capture video from multiple cameras synchronized simultaneously. Images can be acquired in an AVI or MOV format, either uncompressed or compressed when a Windows or Apple compatible CODEC is installed. Individual images are time-stamped with a computer clock, and GPS positioning or IrigB timing can also be added.
Optikos
Optikos' (Wakefield, MA, USA; www.optikos.com) LensCheck LWIR lens measurement instrument will be featured on Booth 1118. Featuring a broadband IR emitter and an uncooled microbolometer LWIR camera, the instrument is intended to be operated by a technician and can be used to measure the modulation transfer function (MTF), effective focal length, astigmatism, field curvature, distortion, and line of sight.
Use of the instrument enables manufacturers to qualify incoming products quickly and reliably, thereby minimizing the risks of sub-standard complete assemblies.
Precision Glass & Optics (PG&O)
On Booth 2070, representatives from Precision Glass & Optics (PG&O; Santa Ana, CA, USA; www.pgo.com) will be on hand to discuss the company's range of standard or customized thin-film coating solutions.
With an in-house glass inventory and fabrication services, the company offers quick turnaround on a wide variety of optics including precision cutting, assembly, and scribing on thin flat substrates up to 24 x 24 in. Its optical products include windows, mirrors, beamsplitters, prisms, and assembled optics from square, rectangular, and circular parts to complex shapes and precision optical prisms.
Photron
Photron (San Diego, CA, USA; www.photron.com) will introduce its the Fastcam SA-X2, a light-sensitive, high-speed camera system on Booth 1832. The camera features a 20-µm2 pixel CMOS sensor and a 293-nsec shutter time, enabling users to image high-velocity events with effectively no motion blur.
The new camera uses dual onboard SD memory cards that eliminate the need for customized technology that normally requires special replay/off-load hardware. The commercial SD cards, which are now available in the 128-Gbyte range, can be inserted into the back of the Fastcam SA-X2 camera for direct memory download.
Pleora Technologies
An alternative to traditional frame grabbers, iPORT external frame grabbers from Pleora Technologies (Kanata, ON, Canada; www.pleora.com) that will be shown at Booth 1242, enable high-throughput, ultrareliable, real-time Gigabit Ethernet (GigE) connections between Camera Link cameras and PCs, using the popular GigE Vision and GenICam standards. iPORT external frame grabbers use the GigE ports built into most laptops, desktops, and small-form-factor PCs; overcome the distance limitations of Cameral Link; and provide distribution of video to multiple computers simultaneously using off-the-shelf hardware. They also allow Camera Link cameras to be treated identically to native GigE Vision cameras, dramatically simplifying software integration.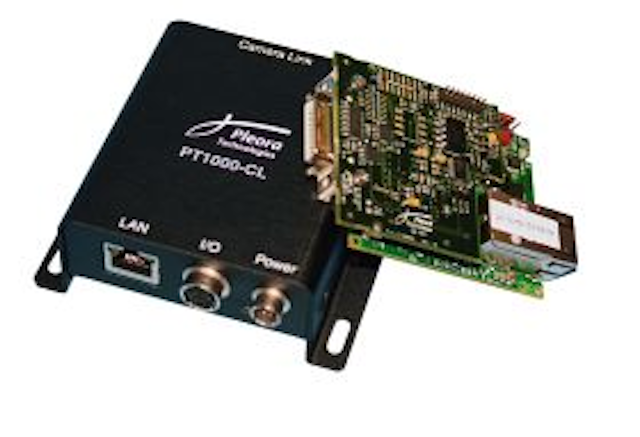 Compatible with Pleora's vDisplay IP engines, as well as the company's application development toolkit, the eBUS SDK, Pleora's suite of iPORT external frame grabbers enable Camera Link cameras to become part of a complete networked video connectivity application over Gigabit Ethernet.
Point Grey
Point Grey (Richmond, BC, Canada; www.ptgrey.com) will showcase a live demonstration of its 360-degree Ladybug5 spherical imaging camera system on Booth 5216. Designed for situational awareness, the Ladybug5 streams 30-Mpixel, 12-bit panoramic video in real time and captures 90% of the sphere using 6 x 5-Mpixel Sony CCD sensors.
Highlighting its lineup of cameras using the latest in Sony CCD EXview HAD CCD technology, Point Grey will also be showing a variety of multi-megapixel cameras ranging from 2.8- to 9.1-Mpixel resolutions and pixel sizes ranging from 3.69 to 4.54 µm.
Qioptiq
Qioptiq (Fairport, NY, USA; www.qioptiq.com) will be highlighting its ability to design and manufacture photonic products and solutions for medical, industrial, aerospace, and defense applications on Booth 1771. Qioptiq's custom modules are used in image intensified and uncooled thermal surveillance, target acquisition, and engagement sights including equipment for specialized sniper applications, homeland security, and counter-terrorism.
Through a series of acquisitions, Qioptiq benefits from having integrated the knowledge and experience of Avimo, Gsänger, LINOS, Optem, Pilkington, Point Source, Rodenstock, Spindler & Hoyer and others.
Raptor Photonics
Raptor Photonics (Co. Antrim, Northern Ireland; www.raptorphotonics.com) will be exhibiting its rugged, high-sensitivity OWL 640 digital VIS-SWIR camera on Booth 1954. Using a 640 x 512-pixel InGaAs sensor from SCD with a 15 x 15-µm pixel pitch, the OWL enables high-sensitivity imaging from 0.4 to 1.7 µm.
Available with a 14-bit Camera Link output, the OWL 640 will run from 10 to 120 Hz. Automated gain control (AGC) enables clear video to be captured in all light conditions. The OWL 640 is a low-power (<5 W) camera, which makes it suitable for handheld, mobile, or airborne systems.

SRI International Sarnoff
On Booth 1624, SRI International Sarnoff (Menlo Park, CA, USA; www.sri.com) will be showing the Acadia ILS-5000-SD video stabilization interface board designed for Sony FCB-EX and FBB-EX-E standard-definition block cameras. This embedded electronic image stabilizer (EIS) improves video clarity by counteracting the effects of camera shake and vibration.
SRI's stabilization module corrects for unwanted vertical, horizontal, and rotational motion across a wide range of shake frequencies, improving overall system performance. It supports Sony's VISCA camera control protocol, including ILS-5000-SD specific extensions, providing an interface for both video and stabilization control.
SPECIM, Spectral Imaging
On Booth 1917, SPECIM, Spectral Imaging (Oulu, Finland; www.specim.fi) will be showing its AisaFENIX full spectrum hyperspectral imager that collects data in the entire 380-2500 nm region and keeps all wavebands spatially co-registered independently of the distance to a target.
Its sensor is temperature stabilized and meets MIL-specification for vibration and shock. It fits to pan and tilt platforms, ground vehicles, and stabilized airborne turrets and UAVs. It can also be used in industrial production environments.
Sofradir EC
Sofradir EC (Fairfield, NJ, USA; www.sofradir-ec.com) will demonstrate its MiTIE-640LW miniature thermal imaging engine on Booth 1516. Unique to the MiTIE engine is its cryogenically cooled IR detector that operates in the longwave 8-10-µm spectral band.
The MiTIE camera engine includes an integrated detector/dewar/cooler assembly (IDDCA) based on a 15-µm pitch, mercury cadmium telluride (MCT) LWIR focal plane array. The unit produces both analog NTSC/PAL video as well as 14-bit digital data (Camera Link and HDMI). The camera control interface is either USB or Camera Link.
Teledyne DALSA
On Booth 1317, Teledyne DALSA (Waterloo, ON, Canada; www.teledynedalsa.com) will be displaying a range of visible wavelength CMOS and CCD imagers, as well as UV detectors based on the backside-illuminated (BSI) detector concept that can sense wavelengths down to 193 nm, and a range of NIR sensitive detectors that work in the 800-1000 nm range.
Teledyne DALSA representatives will be at the show to discuss the company's capabilities to develop bespoke detector, camera, and image module solutions for LWIR applications for customers.
Telops
The Telops (Quebec, QC, Canada; www.telops.com) FAST-IR 1500 allows the capture and analysis of dynamic events by providing extremely detailed IR information. Operating in the MWIR, it offers 1500 frames/sec at full frame (320 x 256 pixels).
Additional features such as real-time automatic exposure control, real-time enhanced high dynamic range, advanced synchronization and its multispectral capabilities make the camera suitable for scientific or research applications. Visitors to the show can see it in action on Booth 1112.
UTC Aerospace Systems (Sensors Unlimited Products)
UTC Aerospace Systems (Sensors Unlimited Products) (Princeton, NJ, USA; www.sensorsinc.com) will be showing its GA1280JS high-resolution snapshot shortwave-infrared (SWIR) camera on Booth 1217. Using an indium gallium arsenide (InGaAs) sensor, the mil-rugged digital video camera sports a 30-Hz full-frame rate and adds snapshot mode capability to Sensors Unlimited's high-definition SWIR product range. The camera is lightweight (less than 120 g or 4 oz without lens) and compact (less than 4.5 in.3 or 74 cm3), allowing it to be integrated into aerial, mobile, and handheld imaging systems.
Suited to low-light imaging and covert surveillance requirements, the SWIR camera is able to capture images through smoke, fog, and haze. It has been tested to MIL-STD-810G for functional shock, vibration, thermal shock, storage temperature, altitude, humidity, and acceleration.
Vision Systems Technology
Vision Systems Technology (Vista, CA, USA; www.visionsystech.com) will be exhibiting the Vieworks VX-29MG 29-Mpixel camera on Booth 2035.
The VX camera is suitable for aerial imaging and surveillance applications which require photographic quality resolution. It sports features such as an electronic shutter, 12-bit digital output, high dynamic range, high sensitivity, low noise, autofocus, auto exposure, auto gain, FFC (flat field compensation), and a 1000Base-T Ethernet connection. It is supported with a software development kit (SDK).
VST America
VS Technology America (Arlington Heights, IL, USA; www.vstamerica.com) will be showing its VS-50085 lens on Booth 2150. Claimed to be the first CCTV lens to achieve f/0.85, it enables users to deploy it to capture images of fast-moving objects, or objects in which lighting is limited and inconsistent.
VST designs and manufactures a full line of lenses for NIR/IR surveillance, vibration-resistant CCTV, and UV/IR applications, and can also build and manufacture custom lenses. Founded in Tokyo Japan, VS Technology is now a global company with research and development subsidiaries in America, Europe, China, Taiwan, and Southeast Asia.
-- Produced by Dave Wilson and Carrie Meadows, Vision Systems Design