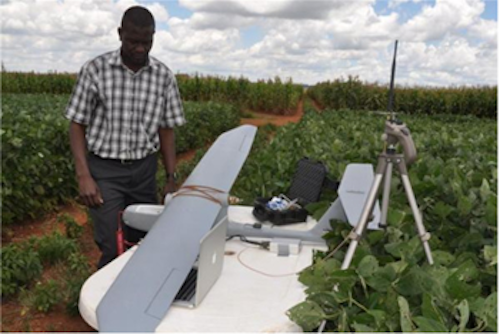 Spanish researchers are using an Unmanned Aerial Vehicle (UAV) fitted with cameras to help determine varieties of maize which are best suited to adverse environmental conditions.

The international project is being led by Josep Lluís Araus, a professor from the Department of Plant Biology at the University of Barcelona (Barcelona, Spain).

The so-called "Skywalker" UAV has been fitted with visible and near infrared and thermal imaging cameras. The cameras capture images that are then used by the researchers to evaluate the growth of a different maize varieties and how they are affected by environmental conditions, such as temperature and water in the soil.

The data will be used to improve the efficiency of maize breeding and speed up the development of drought and low nitrogen tolerant maize varieties.

Further details of the system can be found here.

Related items from Vision Systems Design that you might also find of interest.
1. UAV captures 3-D images of buildings

Unmanned aerial vehicles (UAVs) equipped with all manner of cameras are now being put to use in a variety of applications for monitoring vegetation, assessing power grid damage and helping soldiers to spot suspicious activity.

2. Cameras capture bird motion to aid with development of UAV

Researchers at the Office of Naval Research (ONR; Arlington, VA, USA) are studying the flight of birds in the hope of using what they learn to help with the development of small unmanned aerial vehicles.

3. Unmanned aircraft to capture hyperspectral images

Engineers working on the TerraLuma Project at the University of Tasmania, Australia are bringing hyperspectral capabilities to their fleet of unmanned aircraft systems (UAS).

-- Dave Wilson, Senior Editor, Vision Systems Design