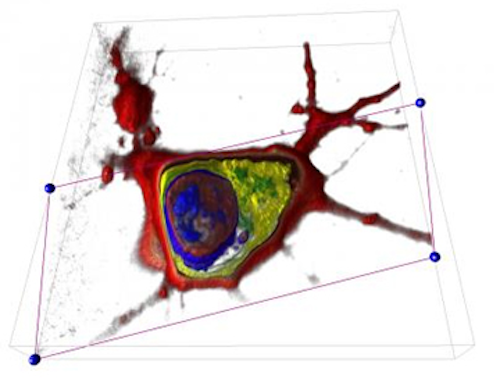 TwoEPFL (Lausanne, Switzerland) researchers have designed an image processing system to observe living biological tissues at the nanoscale.

Using the system, Yann Cotte and Fatih Toy have obtained 3-D images of living cells in just a few minutes at a resolution of less than 100 nanometers. Because they are able to image the tissue without using contrast dyes or fluorescents, the experimental results do not run the risk of being distorted by the presence of foreign substances.

"We can observe in real time the reaction of a cell that is subjected to any kind of stimulus. This opens up all kinds of new opportunities, such as studying the effects of pharmaceutical substances at the scale of the individual cell," says Cotte.

The researchers have demonstrated the potential of their system by capturing images at a rate of one image per minute that show the growth of a neuron and the birth of a synapse.

The assembled 3-D image of a cell can also be virtually "sliced" to expose its internal elements, such as the nucleus, genetic material and organelles.

In collaboration with the startup Lyncée SA (Lausanne, Switzerland), Toy and Cotte are now forming a company to develop a system that could be used to observe cells in vivo.

Yann Cotte and Fatih Toy's research is being performed under the supervision of Christian Depeursinge, head of the microvision and microdiagnostics group in EPFL's school of engineering.

Recent articles from Vision Systems Design that you might also be interested in reading.
1.Imaging helps team to detect cancerous cells

Scientists from The Scripps Research Institute (La Jolla, CA, USA) have demonstrated the effectiveness of a blood test for detecting and analyzing circulating tumor cells (CTCs) -- breakaway cells from patients' solid tumors -- from cancer patients.

2.Non-invasive method images cells in 3-D

Researchers at the University of Illinois' Beckman Institute for Advanced Science and Technology (Urbana, IL, USA) have created a non-invasive 3-D method for visualizing, quantifying, and studying cells without the use of fluorescence or contrast agents.

3.Image processing program detects tumor cells

A researcher at the University of Twente's MIRA Research Institute (Enschede, The Netherlands) has developed image processing software that can count the circulating tumor cells in a blood sample and identify them by type.

-- Dave Wilson, Senior Editor,Vision Systems Design