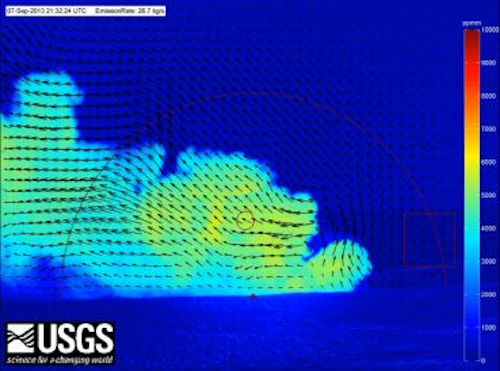 The U.S. Geological Survey's Cascades Volcano Observatory is teaming withJAI to develop a rapidly-deployable UV-camera based vision system that is capable of continuous, real-time monitoring and evaluation of sulfur dioxide emission rates in volcanic eruptions.
The project, which is being funded by the U.S. Geological Survey's Innovation Center for Earth Sciences (ICES), is being developed in order to allow for theimaging of volcanic emissions in the event of a volcanic crisis. These emissions represent the precursor to a potentially hazardous volcanic eruption, and the monitoring of the gases could provide a tool for forecasting these eruptions and improving the safety measures for the surrounding population.
JAI's CM-140GE-UVGigE Vision cameras will be used for the imaging system. These cameras feature a 1/2" progressive scan Sony CCD image sensor that is sensitive to wavelengths below 200 nm. The sensor has a 4.65 µm x 4.65 µm pixel size and a maximum frame rate of 16 fps over a GigE Vision interface.
By recording a series of images of the sulfur dioxide gas clouds emitting from volcanic vents at multiple UV wavelengths and tracking their movement withcomputer vision algorithms, the system will be able to measure the characteristic absorption of sulfur dioxide in scattered solar UV radiation in the real-time images of the volcanic plumes, according to JAI.
Project leader Christoph Kern, of the U.S. Geological Survey's Cascades Volcano Observatory had previously used a JAI camera to build a permanent sulfur dioxideimaging system for the monitoring of emissions from the Kilauea volcano in Hawaii (pictured). In this project, however, Kern is developing a rapidly-deployable version that aims to aid scientists in risk assessment and help advance the understanding of shallow subsurface volcanic processes by correlating degassing with other observable geophysical parameters, such as seismicity.
View more information on theCM-140GE-UV.
Share your vision-related news by contactingJames Carroll, Senior Web Editor, Vision Systems Design
To receive news like this in your inbox,click here.
Join ourLinkedIn group | Like us on Facebook | Follow us on Twitter| Check us out on Google +