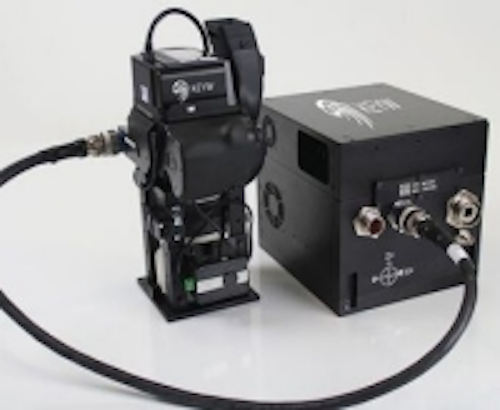 KEYW Corporation unveiled its new Aeroptic Aerial Mapping System at the 2014 National Guard Association (NGAUS) Conference & Exhibition in Chicago. Aeroptic is a fully-integrated airborne solution that captures images with its Electro-Optical (EO) Mapping Camera 3.0. The EO camera features an 80 MPixel color CCD image sensor with a bit depth of 16 bits per band and a 1.5 fps frame rate. In addition to the camera, the Aerial Mapping System features the Aeroptic GeoProcessor, which provides image and spatial processing capabilities and performs a range of data enhancement capabilities, including lens distortion correction, radiometric effects, exposure compensation, and color balancing.
The Aeroptic Aerial Mapping System is suitable for use in military and civilian applications, including disaster response, reconnaissance, construction site progress survey, oil and gas environmental baselining, port security, or general area of interest mapping.
To Learn More:
Contact: KEYW Corporation
Headquarters: Hanover, MD, USA
Product: Aeroptic Aerial Mapping System
Key Features: Electro-Optical (EO) Mapping Camera 3.0. (80 MPixel color CCD image sensor, 1.5 fps frame rate), Aeroptic GeoProcessor (Image and spatial processing).

What KEYW says:
View more information on the Aeroptic Aerial Mapping System.

View More Products| Locate a vendor or system integrator | Receive e-mail updates
Share new products that you think are particularly interesting or helpful by contacting James Carroll, Senior Web Editor, Vision Systems Design.
Join our LinkedIn group | Like us on Facebook | Follow us on Twitter | Connect on Google +