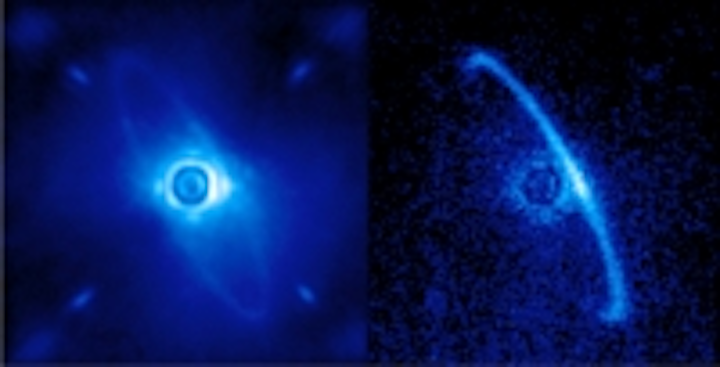 GPI's initial observations were carried out in November of last year, when the team targeted the previously known Beta Pictoris system. In the first observation, GPI obtained the first-ever image of the young planet Beta Pictoris. The team involved in the observation used the instrument's polarization mode, which can detect starlight scattered by tiny particles, to study a faint ring of dust orbiting the star HR4796A.
The imaging capabilities of the GPI could have a significant impact on the way that planets and stars are imaged. Specifically, it cuts the amount of time required for imaging down significantly.
"Even these early first-light images are almost a factor of 10 better than the previous generation of instruments. In one minute, we are seeing planets that used to take us an hour to detect," said Macintosh.
In addition to studying planets and stars, GPI will be used to study dusty, planet forming disks around young stars. In addition, it can be used to observe objects in our solar system, as it was used to capture test images of Jupiter's moon Europa. GPI is the most powerful exoplanet imager created, and is deployed on one of the world's largest telescopes – the Gemini South telescope in Chile, according to the Gemini Observatory.
View the Gemini Observatory press release.
Also check out:
Telescope discovers asteroid, asteroid still hits Earth
NASA's asteroid hunting spacecraft transmits first post-reactivation images
2013 highlights in vision: Aerospace imaging
Share your vision-related news by contacting James Carroll, Senior Web Editor, Vision Systems Design
To receive news like this in your inbox, click here.
Join our LinkedIn group | Like us on Facebook | Follow us on Twitter | Check us out on Google +
Page 1 | Page 2