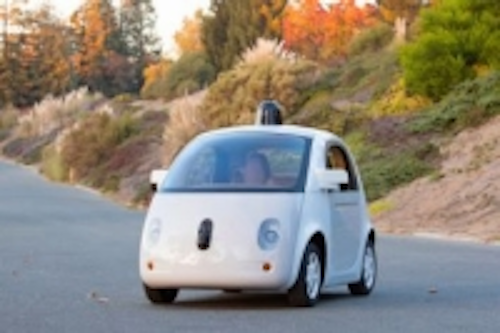 After unveiling what was essentially a mockup of its first self-driving car in May, Google has announced that its first fully-functioning self-driving vehicle has been produced and is set to hit the streets of California in 2015.
The vehicle that was "released" in May didn't have functional headlights and needed additional work done on its computer and sensors. With the latest version, Google is touting the vehicle as its first complete prototype for fully autonomous driving. The car's vision system features a number of different components. Perhaps the single most distinguishable part of the vehicle is the LIDAR laser remote sensing system from Velodyne Lidar, which is on the top of the roof. The LIDAR system bounces a 64-beam laser off of surfaces of objects and measures the reflection to determine distance. The device can also rotate 360° and take up to 1.3 million readings per second with accurate readings at distances up to 100 meters, according to ExtremeTech.
Secondly, the car utilizes regular cameras that are mounted around the exterior of the vehicle in pairs in order to provide stereo vision. This allows the system to track an object's distance in real time, and as long as it has been spotted by more than one camera, the car will know where it is. The stereo cameras have a 50° field of view and are accurate up to 30 meters.
In addition to the LIDAR and stereo vision technologies, the car also utilizes radar to adjust the throttle and brakes continuously, essentially acting as adaptive cruise control while taking into account the movement of cars around the vehicle. Software from Google integrates the data from the vision system at a rate up to 1 GB/s to build a map of the car's position on the road.
Prior to its testing in the streets of California, Google is using the vehicle on a test track using a safety driver. Eventually, Google will develop 100 prototype cars that operate with only two buttons: Go and stop.
View the Google announcement.
Share your vision-related news by contacting James Carroll, Senior Web Editor, Vision Systems Design
To receive news like this in your inbox, click here.
Join our LinkedIn group | Like us on Facebook | Follow us on Twitter | Check us out on Google +