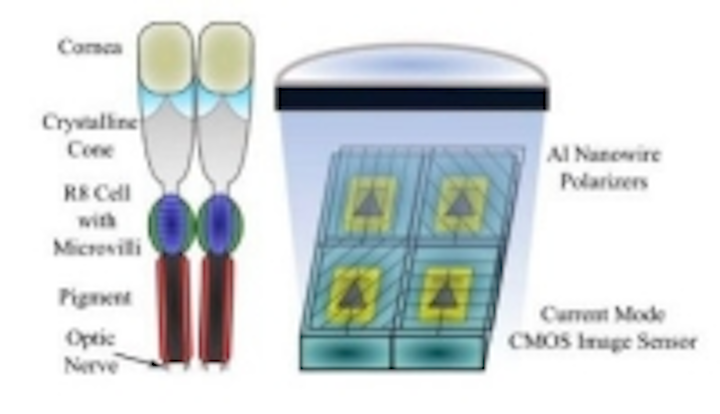 Researchers from the University of Queensland have determined that mantis shrimp eyes are tuned to detect polarized light that can detect cancer, and are using this framework to develop image sensors that can do the same.
The image sensor mimics that of the compound eye of the mantis shrimp, which contains a group of individual photocells called an ommatidium. Each ommatidium has a cornea that focuses external light, and focused light is filtered through a pigment cell for color sensitivity and passes through a series of photosensitive retinular cells. In the mantis shrimp, explains the research paper on the project, these cells contain an array of microvilli that can act as polarization filters. The photosensitive retinular cells will signal the brain via the optic nerve, and the brain extracts visual information based on input from the array of ommatidia.
Professor Justin Marshall from the Queensland Brain Institute at the University of Queensland, said in a press release that cancerous tissue reflected polarized light differently to surrounding healthy tissue and a number of animals use that polarized light to detect and discriminate between objects.
"Humans can't see this, but a mantis shrimp could walk up to it and hit it," he said. "The camera that we've developed in close collaboration with US and UK scientists shoots video and could provide immediate feedback on detecting cancer and monitoring the activity of exposed nerve cells."
In the research paper, signal processing algorithms tailored for these image sensors, such as those for calibration and interpolation, are also described.
While there are current imaging systems that use polarized light to detect cancer, this shrimp-inspired technology aims to improve upon these, while reducing the need for biopsies and guiding surgical procedures.
"Nature has coming up with elegant and efficient design principles, so we are combining the mantis shrimp's millions of years of evolution – nature's engineering – with our relatively few years of work with the technology."
The research team is currently developing ways to improve upon the technology, with the idea that the image sensor could eventually be made publicly available, perhaps in a smartphone camera, which would allow people to self-monitor for cancer and reduce the burden on health systems, according to Marshall.
View the IEEE research paper.
View the University of Queensland press release.
Share your vision-related news by contacting James Carroll, Senior Web Editor, Vision Systems Design
To receive news like this in your inbox, click here.
Join our LinkedIn group | Like us on Facebook | Follow us on Twitter | Check us out on Google +