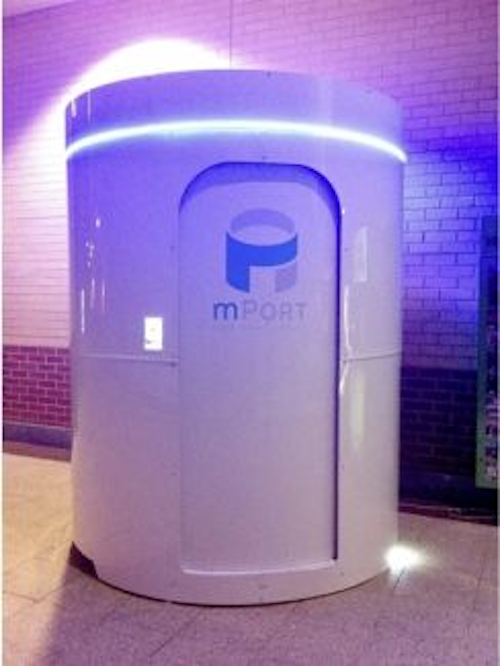 An Australian company called mPort has developed a 3D imaging pod designed to capture near-naked body scans and data for custom-made clothes and fashion. While the concept is novel, the issue of privacy is being called into question.
Concerning the technical side of the 3D scanners, minimal information has been made available, but mPort indicates that the booth uses infrared technology to perform the scan. This suggests that the pod works in a similar fashion to the Microsoft Kinect camera to take measurements. Users can sign up and log into the nearest booth, and then take a look at their 3D avatar and measurements online.
However, in order to provide accurate data and measurements, it is recommended that users remove all clothing down to their undergarments. From there, a "naked avatar" is produced, and the personal information collected is stored within the company. (Ray does note that unlike airport scanners, this 3D imaging booth cannot see through clothes.) Understandably, this is where the privacy issue is being raised.
Australia's Privacy Act, which went into effect in March, has tightened the law around how business and government agencies collect, store, and use personal information. Businesses who do not comply with the new law face penalties of up to $1.7 million. So from the standpoint of wondering whether or not mPort will share this sensitive and personal information with others, one can assume that they would remain compliant with the law to avoid such steep penalties. But what about the issue of hackers?
Dipra Ray, mPort's managing director, said in a Sydney Morning Herald article that the data is encrypted to prevent hackers from breaking in and accessing it, and that when you get scanned, nobody sees the avatar except you. On the other side of that, an IT specialist is quoted in the article as saying that no data storage is impenetrable and security vulnerabilities and private information are two main hacker targets.
I can understand the privacy concerns here, but think about it, these scanners are designed to give people the best possible measurement for tailor-made clothing. So unlike the scanners at airports, where people are forced to use, the use of these 3D scanners is made at the user's discretion. So if you don't want a naked 3D avatar of yourself created, go buy your suits the old-fashioned way.
View other articles from our July 2 3D imaging e-newsletter.