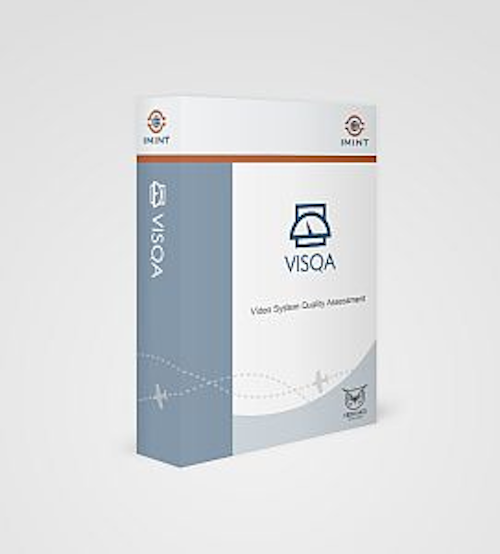 Imint – Image Intelligence AB (Uppsala, Sweden) has announced VISQA, a software product enabling easy and low-cost tests of video generating systems, such as unmanned aerial vehicles (UAVs) with EO/IR payloads. VISQA analyzes the received video and supports a top-down test model for all components in the image capture and retrieval chain, and provides objective, quantifiable and reproducible metrics for visual quality.
VISQA assesses vision quality for any moving video capturing surveillance system that delivers full motion video, such as aerial platforms with EO/IR sensors. Based on a simple test process with preset flight- and filming patterns, VISQA analyses the video stream, extracts comprehensive metrics on vision quality from a human perception point of view, and outputs these metrics in clear reports. VISQA is available on three levels, matching the scope of tests to be performed.
The method is novel in the way that contributions to vision quality in the whole video capture chain get tested in one go; in the case of airborne systems: From the airframe, the gimbal, the sensor and the data link down to the ground. VISQA test the key capability of most UAV systems with optical and infrared sensors in ISR missions -- which is to deliver clear and actionable intelligence in the form of full motion video to the ground.
Historically, attempts have been made to quantify usability of still images for surveillance purposes, such as the grading of level of details according to the NIIRS scale. The media industry has quality metrics for motion images, but their purpose is to assess visual quality effects of codec's and compressions. However, assessing usability of video streams for surveillance purposes requires other metrics. The real-time aspects is more important, both in terms of making correct time-critical detections of information that is visible for only a short time, but also in terms of promoting endurance of the operators, who needs to stay focused for long periods of time.
Andreas Lifvendahl, Sales and Marketing Director at Imint, commented, "If you look at typical requirements in a RFQ for a UAV system, there will be sections detailing precise requirements on all the components, such as the airframe and the sensors. However, the ultimate goal of having as good situation awareness as possible from the system -- in operation -- has not been sufficiently quantifiable. There has simply not been a straight-forward method to extract reproducible, and thereby comparable, metrics for overall vision quality from a UAV system. Well, not until now."
In addition to providing governmental bodies with objective metrics, the VISQA also provides plentiful of useful information to the component makers, as well as it provides system integrators with useful comparative metrics when selecting payloads.
Bofors Test Center in Karlskoga, Sweden, is one of the first UAV test centers turning to this model. Carl Arnesson, Technical Development Manager at Bofors Test Center, comments: "We provide a vast array of test methods and relating instrumentation to our customers, but the system test through video analysis now made available from Imint adds a highly relevant and simple method to determine -- and put figures on -- the end result of the filming capabilities of a UAV system. Introducing tests with VISQA in our service portfolio will further increase our attractiveness as UAV test facility."
Harald Klomp, Managing Director at Imint, also added: "We are working hard to establish this method as a de facto standard for all public UAV tenders. This would support the ambition to have an even playing field for all UAV providers meeting their potential customers."
SOURCE: Imint

-- Posted by Vision Systems Design