Wilson's Websites
STORAGE SEARCH; STORAGE SOLUTIONS; OS SUPPORT; MORE...
Apr 1st, 2003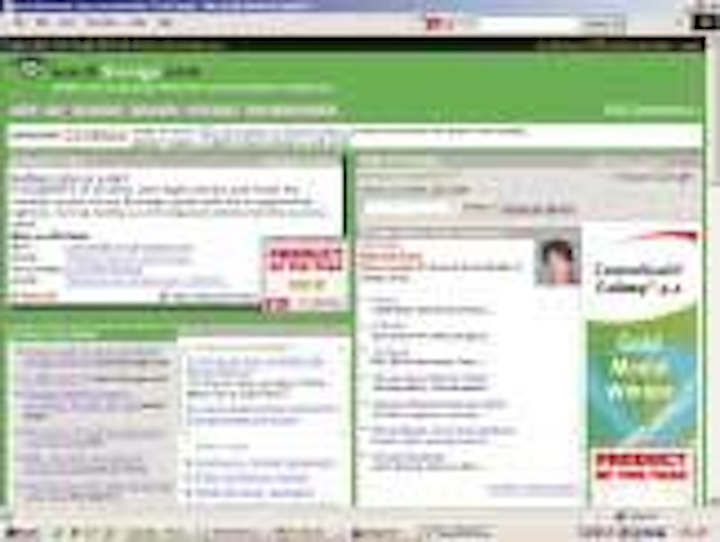 Fueled by increased demands of medical-imaging and remote-sensing developers who require low-cost, high-capacity image-storage systems, optical-memory-media and drive manufacturers are incorporating multiple layers and surface-array recording techniques into their latest generation of products. The results are very-high-density drives and subsystems that can be linked over high-speed networks. This month, we look at some of the latest disk drives and storage systems.
STORAGE SEARCH
searchstorage.techtarget.com/
Stay current with storage news, trends, and emerging technologies with SearchStorage.com. Using this site's targeted storage-specific search engine, you can gain access to storage news updated daily, best storage links across the Web, technical advice, and weekly storage e-mail newsletters.
STORAGE SOLUTIONS
www.storage.ibm.com/
Disk storage, tape and optical storage, storage networking, and storage software and media are all featured on the storage-systems Web site of IBM Corp. (Armonk, NY). To find out how to test-drive these products, IBM has set up a series of Solution Centers that you can access from the site. These centers allow developers to test for proof of concepts and benchmark storage systems. In addition, the Web site includes white papers, success stories, product literature, and the latest news and technology developments.
OS SUPPORT
www.seeksystems.com/
Seek Systems (Woodinville, WA) makes RAID storage arrays and SSD controllers that support Unix, NT, Windows 2000, Mac OS, Novell Netware, and Linux servers. On this Web site, you'll find descriptions of these products, typical applications, and late company news.
AUTOMATED STORAGE
www.emc.com/
The Centera line from EMC (Hopkinton, MA) provides access and petabyte storage for x-rays and electronic documents. Software, servers, and networked solutions are also documented on this Web site, along with company news, industry solutions, customer contacts, and company services.
DISK ARRAYS
www.winsys.com/index.php
FlashDisk RAID disk arrays from Winchester Systems (Burlington, MA) are designed for use with any open server in either a LAN or SAN environment. With a single controller, the sustained data throughput is 121 Mbytes/s and 177 Mbytes/s with a dual active/active controller option. Specifications on all the company's RAID products can be found here along with white papers, company news, and application stories.
MANAGING IMAGES
www.ciprico.com/
Range of disk arrays and hardware RAID solutions from Ciprico (Plymouth, MN) are designed for computing applications that require high-speed image capture and display, high-resolution playback, sustained performance, and data protection. On its site, the company features its range of products, late company news, and customer-service information.