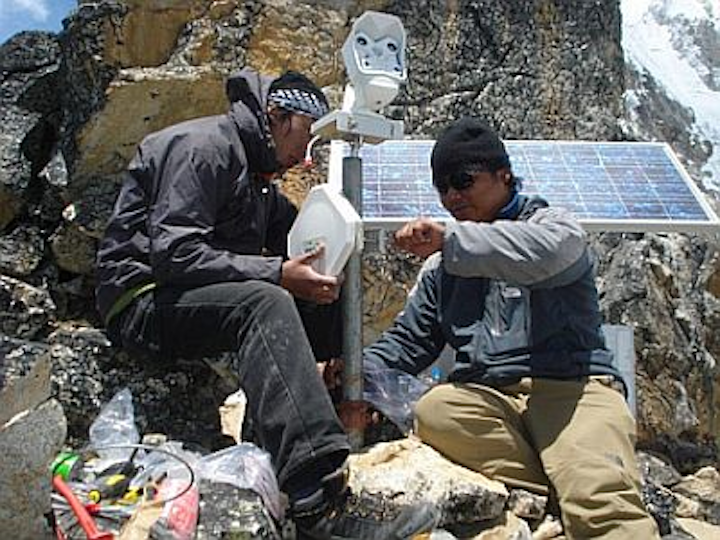 A camera has set a new world height record after being installed on a mountain in the Himalayas where it will transmit images of Mount Everest back to environmental researchers.
The solar-powered M12 camera, which will operate at a height of 5675 m at temperatures below -30 degrees Centigrade, was developed by Mobotix (Langmeil, Germany). It points at Everest from a location on a somewhat smaller mountain named Kala Patthar.
Researchers from the Ev-K2-CNR scientific committee (Bergamo, Italy) -- a nonprofit association that promotes scientific research in mountain areas -- selected Kala Patthar because it offers an excellent view of the western side of Mount Everest, including the north and southwest faces of the mountain and the West Ridge.
This camera is currently capturing images of the 8848-m tall Mount Everest every five minutes so that the researchers can track the changing weather conditions around the mountain's summit.
Once captured, the images are wirelessly transmitted to the Ev-K2-CNR Pyramid Laboratory located at an altitude of 5050 m where they are analyzed and sent to Italy for further evaluation.
Using the images, researchers hope to learn more about climate change and global warming, in conjunction with meteorological data -- such as temperature and humidity, wind speed and direction, sunlight, and precipitation -- gathered by the world's highest weather station at 8000 m on Mount Everest itself.
Images from the camera can be seen at www.evk2cnr.org/WebCams/PyramidOne/everest-webcam.html.
-- By Dave Wilson, Senior Editor, Vision Systems Design