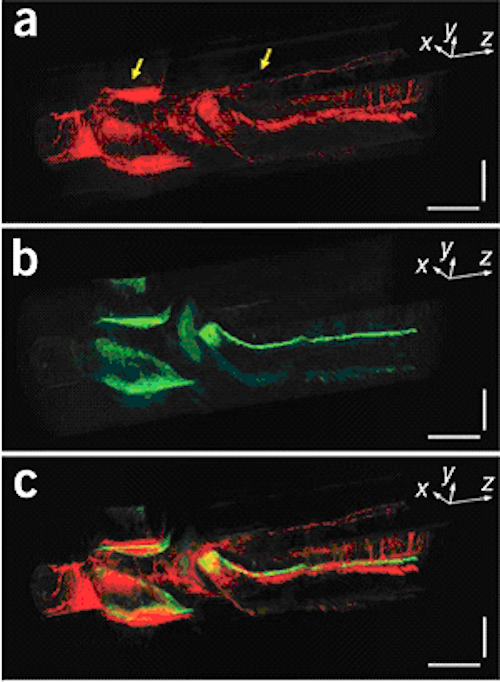 Scientists from the University of Southern California (Los Angeles, CA, USA) and Washington University (St. Louis, MO, USA) have developed a new type of medical imaging system that gives doctors a new look at live internal organs.
The imaging combines two existing forms of medical imaging -- photoacoustic and ultrasound -- and uses them to generate a high-contrast, high-resolution image that could help doctors spot tumors more quickly.
"Photoacoustic endoscopy provides deeper penetration than optical endoscopy and more functional contrast than ultrasonic endoscopy," says Washington University Professor Lihong Wang.
Currently, doctors routinely employ ultrasound endoscopy to study internal organs. This technique places an ultrasound camera, similar to ones used to create images of fetuses, on a flexible scope that can be inserted internally. Though these images are typically high-resolution, they are also low-contrast.
To address the problem, a photoacoustic imaging device was added to the ultrasound endoscope. The resulting camera illuminates organ tissue with a light. When the light is absorbed by tissue, the tissue gets slightly hotter and expands. That expansion produces a sound pressure wave that the ultrasound device on the endoscope picks up.
The researchers have tested their new device inside the gastrointestinal tract, producing in vivo images detailed enough to show blood vessels as well as the density of the tissue around them. With a clearer picture of what is going on inside the gastrointestinal tract, doctors could potentially spot colon and prostate cancers earlier.
The picture above shows simultaneous photoacoustic (a) and ultrasound (b) images of a rabbit esophagus showing the clarity and detail gained by combining the two imaging techniques (c).
-- Dave Wilson, Senior Editor, Vision Systems Design