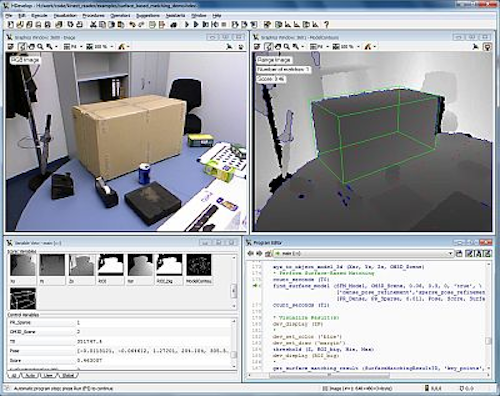 Microsoft's (Redmond, WA, USA) Kinect camera/sensor is being used by machine-vision technology supplier MVTec Software (Munich, Germany) to develop new, low-cost options for 3-D vision in industrial automation and research applications.
The Microsoft Kinect camera is a low-cost vision sensor originally developed for the Microsoft Xbox 360 gaming console. It combines an RGB camera (1280 x 1024 pixels @ 15 frames/s or 640 x 480 @ 30 frames/s) with an infrared (IR) structured light depth sensor. MVTec has tested the Microsoft Kinect camera with its Halcon 10 machine-vision software with the intention of combining Halcon and Kinect to develop 3-D applications for industrial tasks such as bin picking, packaging, and palletizing, as well as for research and development.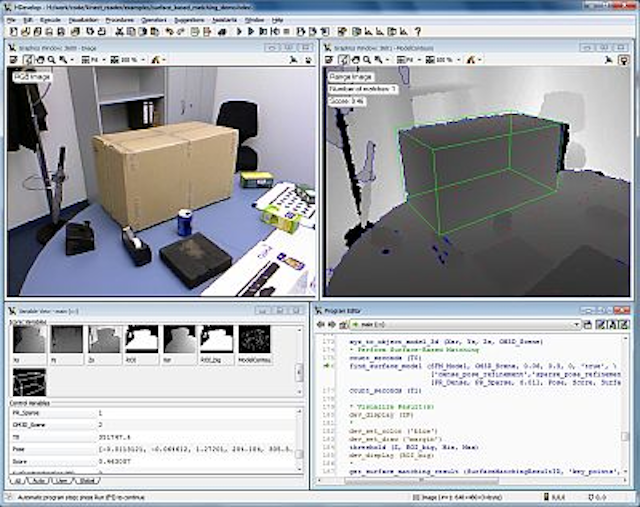 Halcon's integrated development environment HDevelop visualizes a 3-D matching application based on Microsoft Kinect.
The hardware independence of Halcon simplified the connection of the Kinect sensor, according to Dr. Markus Ulrich, manager of R&D at MVTec. He explains, "We implemented a simple Halcon interface, making use of the current beta version of Kinect's open source driver. On the basis of Halcon's standard calibration techniques, we transformed the depth image into metrical x, y, and z data without any problems."
After this step, the complete functionality of the Halcon library is ready to be applied, particularly operators for 3-D vision such as the surface-based 3-D matching tool.
SOURCE: MVTec Software GmbH

-- Posted by Vision Systems Design