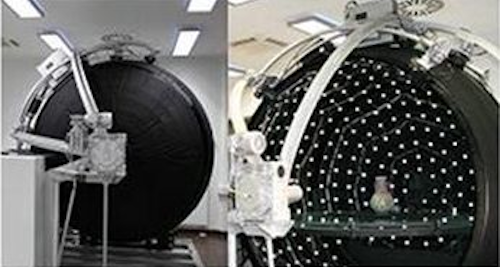 Engineers at Nachhaltige Energiesysteme Kaiserslautern (NEK; Kaiserslautern, Germany) have developed an imaging system that can be used to help reconstruct 3-D models of objects with up to 80-cm diameter and a weight up to 100 kg.
The so-called OrcaM system was created in cooperation with the Augmented Vision research group under the guidance of Professor Didier Stricker at the Deutsche Forschungszentrum für Künstliche Intelligenz (DFKI; Kaiserslautern, Germany).
The system is based on the use of structured light, whereby an object to be reconstructed is illuminated by special patterns. Based on the deformation of such patterns, which are acquired by seven cameras, the vision system can calculate the depth and surface information of the object.
The processing of the individual images and the reconstruction of the 3-D geometry of the object to sub-millimeter accuracy is performed using specialized software developed at DFKI.
The resulting 3-D models can then be used in digital media like the web and computer games, or by museums who might wish to create duplicates of precious objects.
-- By Dave Wilson, Senior Editor, Vision Systems Design