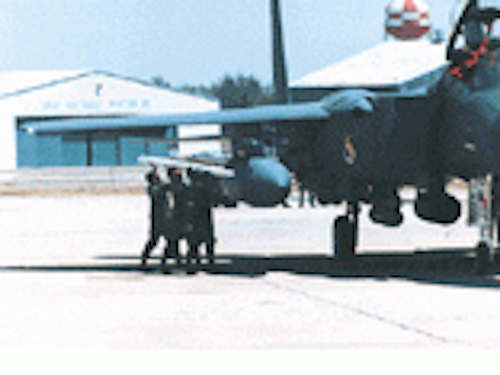 Networked workstations analyze smart weapon systems
By John Haystead, Contributing Editor
To evaluate smart weapon systems at military test ranges, the US Army is using a Mobile Data Reduction and Analysis Facility (MDRAF) as a test and analysis center. Instead of shipping test data to laboratories for analysis, MDRAF engineers work on-site, identifying and correcting any problems with the test site data- collection system as it is running.
Comprising a suite of workstations and data-storage and image-processing equipment contained within a 48-ft trailer, the MDRAF collects and examines the electromagnetic and thermal signatures radiated from military targets. The MDRAF then evaluates how smart weapons perform against these targets during flight tests. Weapons developers use this information to improve the capabilities of sensor systems.
Built by TASC (Ft. Walton Beach, FL), MDRAF supports smart-weapons testing of infrared (IR), radar, microwave, laser, and video sensors. After a flight test, recorded sensor test data are sent to the MDRAF in optical disk or video tape format for analysis at one of six operator stations. According to Kirk Weeks, TASC`s manager of systems technologies, the beauty of the MDRAF system lies in its modularity and flexibility (see "Networked workstations process multiple data types").
Video data analysis
In a typical optical sensor test, a smart weapon is mounted on a test aircraft and flown toward a mobile target. As it approaches, the sensor identifies the target and generates a cross hair on the weapons display. At the MDRAF, analysts review a video of the encounter to evaluate how the sensor identified the target, its accuracy, probability, and threshold of detection.
Working at Silicon Graphics Indigo II workstations, analysts control the speed and motion of the video while performing analysis functions on menu-driven overlay screens. Using a customized version of Visual Numerics (Houston, TX) PV-Wave software, they isolate frames of data containing cross hairs, marking the position of the cross hair on the screen and the position of the target. Software then translates pixel data into relative x-y position information and compares the distance between the two elements against a preprogrammed vulnerability-assessment model.
Other software-analysis tools include a Radar Calibration Analysis and Presentation Software System (RCAPSS) and Thermal Image Processing Software (TIPS) designed for IR image processing. The RCAPPS and TIPS currently run only on the VAX and Silicon Graphics workstations, but could be ported to PCs, according to Weeks.
Microwave radar
To provide the data-transfer rates needed for microwave radar signature calibration and processing, two Alpha workstations are clustered via a Turbo channel connection with a Digital Equipment Corp. (DEC; Maynard, MA) VAX4000/90. In operation, microwave radar data are downloaded from an optical disk through the DEC 4000/90 to the RAID array. This is simultaneously accessed by two VAX Alpha workstations. While one station performs calibration functions, the other generates uncalibrated Inverse Synthetic Aperture Radar (ISAR) images.
A typical microwave radar profile includes a 360 polar plot of the target vehicle depicting its radar signature from the center axis to the outside of plot. A composite ISAR image plot can then be created by overlaying radar images to give a single snapshot image of reflected target energy.
The MDRAF team compiles databases of each test. In the case of target-signature analysis, this includes photo graphing the vehicle being profiled. These photographs are then digitized and correlated with information including radar type, IR sensors used, vehicle configuration, and type of camouflage (see Fig. 1).
Weather conditions are another parameter critical to properly assessing target-signature data. To incorporate these data into the MDRAF system, a PC is dedicated to processing meteorological data collected at two Campbell Scientific (Logan, UT) meteorological stations. Data such as wind speed and direction, rain rate, barometric pressure, dew point, and solar flux can then be used to better model weapons data.
Multiple data types
Often smart weapons incorporate multiple microwave and infrared sensors to acquire the same target data. The performance of these sensors and the combined signature profiles of potential targets must be analyzed in parallel. For this type of testing, two DEC Alpha workstations handle micro wave data, while a Silicon Graphics Indigo II performs infrared processing with PV-Wave software.
Recently, the MDRAF added scene-rendering capability to incorporate three-dimensional terrain elevation data with draped visual imagery (see Fig. 2 on p. 40). Using MultiGen software on a Silicon Graphics Onyx-2 workstation, the system locates and displays target positions on a virtual test range using time-space position information supplied by a global positioning system in a latitude/longitude coordinate system.
A mobile trailer, filled with networked work- stations, is evaluating weapon systems at military test ranges.
FIGURE 1. For target-signature analysis, military vehicles are photographed and digitized. Models are then developed that can be used with information from radar and IR sensors to rapidly identify the vehicle on the battlefield.
FIGURE 2. Adding scene rendering using 3-D terrain elevation data on a Silicon Graphics Onyx-2 workstation allows operators to displays target positions on a virtual test ranges.
Networked workstations process multiple data types
To analyze stored video data, the Mobile Data Reduction and Analysis Facility (MDRAF) uses two 8-mm, U-matic, and S-VHS videotape units. A video LAN controller, connected to a Silicon Graphics (Mountain View, CA) Indigo II workstation over a serial port, manages three of the video units, while the others are used to duplicate video data. VMS-formatted digital data are fed into one of two Digital Equipment Corp. (Maynard, MA) Alpha workstations. A RAID unit stores the test data for analysis at one or more of these workstations or on one of two Pentium 100 PCs.
To download data recorded from high-data-rate sensors onto high-density digital recorders (HDDRs), a Microvax is interfaced to a 28-track HDDR recorder and playback system and a dedicated custom-built 4-Gbyte, 10-12-Mbit/s RAID. In addition to both 5 1/4- and 12-in. optical drives, the MDRAF also has 9-track tape players and a number of 4- and 8-mm digital storage devices.
The MDRAF also has a radio modem that downlinks global-positioning-system (GPS) information at a 1-Hz update rate from up to eight different test aircraft and target vehicles. These data and information from the MDRAF`s own GPS base station are fed to a Pentium 100 computer that generates a display of test operations as they occur.
Future planned upgrades include a dual 200-MHz Pentium PC with 4.6-Gbyte Pinnacle optical drive, dual 4-Gbyte hard drives to process microwave signature data, and a CD-ROM jukebox system for data distribution.
In the Mobile Data Reduction and Analysis Facility (MDRAF), all the analysis workstations are linked via a 10-Mbit/s Ethernet LAN and data files transferred between systems using standard file-transfer protocols. This allows multiple data types to be integrated into the system.