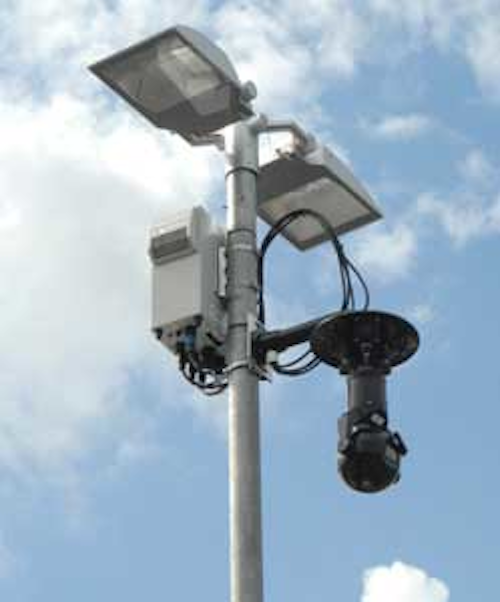 In major cities across the world, closed circuit television (CCTV) cameras are deployed as a deterrent to criminals and an aid to investigators of crime scenes. Many of these systems, especially those employed by private companies, use fixed stationary cameras that each view a specific area of interest. Images from these cameras are transmitted over wired or wireless networks to analog or digital video recorders that compress and store the images. Should suspicious or criminal activity occur, the system operator can retrieve a series of time-stamped images that relate to the event.
Although security systems have proven effective, their lack of image-processing capability required storing large amounts of data to be analyzed later by human operators. In many criminal situations, however, it is necessary to process and analyze such data dynamically so the proper authorities can be immediately alerted.
Recognizing this, Viseum (Chatham Maritime, UK) has developed a CCTV camera system known as the Intelligent Moving Camera or Viseum IMC that integrates off-the-shelf pan/tilt/zoom (PTZ) camera hardware with proprietary image-processing software to perform this task (see Fig. 1). To digitize a line of site 360° field of view (FOV) of the scene, the Viseum IMC employs six PAL video format cameras, each of which digitizes an FOV of approximately 61°.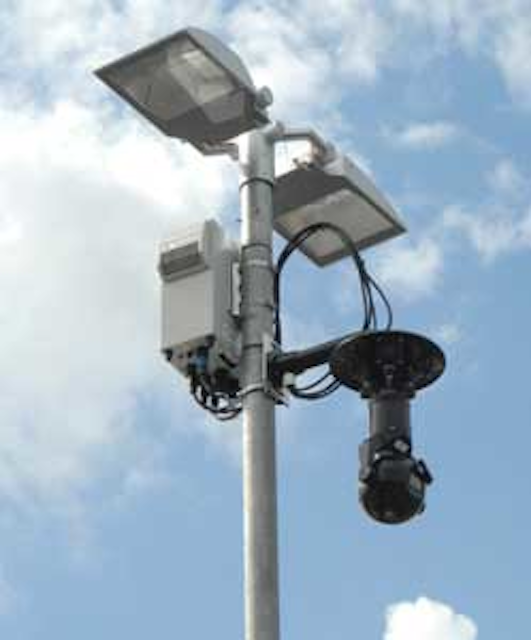 Viseum's IMC uses six PAL cameras and an integrated pan/tilt/zoom camera to first isolate and then capture high-resolution images.
Data from each of these cameras are then fed to an ETX video digitizer board from Active Silicon (Iver, UK). Based on the computer on module (COM) Express mezzanine standard, this board digitizes all six video signals and transfers the image data over a PCI Express interface to an ETXexpress-PC module from Kontron (Eching, Germany). Featuring an Intel Core 2 Duo processor, with 2 Gbytes of host memory, and interfaced to a 2-Tbyte hard drive, the module is used to dynamically analyze the video from all seven cameras and record compressed video data to the hard drive.
To detect whether any motion has occurred in the 360° FOV, frame subtraction isolates any possible image sequences. Should such an occurrence be detected in these low-resolution images, RS-422 serial data from the PC module are then used to control the motion of a MIC400 PTZ camera from Bosch (Gerlingen, Germany) mounted under the six PAL cameras.
Once the PTZ camera is moved into position, the MIC400 built-in 36X optical zoom isolates features within the image of interest at higher resolution. Image data from this camera are also digitized by the ETX video digitizer board and stored in memory. Using Viseum's Video Content Analysis software, all events are recorded together with the relevant information necessary to search for them. Extracted data regarding these images such as the size, shape, time, speed, and location of objects within are also stored to allow the operator to more rapidly locate any data of interest.
The system also employs a WAN cellular/WiMAX router from Digi Connect (Minnetonka, MN, USA), which provides secure wireless connectivity (see Fig. 2). Using the router, the operator can remotely search and view data from the Viseum IMC using a Windows-based interface from a host PC.

Once captured from a number of cameras, stored image data can be remotely viewed over a secure wireless network.
The camera has already been deployed in the UK with great success, according to Viseum's managing director Stuart Thomson. "In Richmond, the borough's first Viseum system captured evidence of criminals donning hoods and black gloves to try and commit crimes anonymously. Despite images being captured from over 150 m away, police were able to identify and subsequently prosecute the suspects," he says.
More Vision Systems Issue Articles
Vision Systems Articles Archives