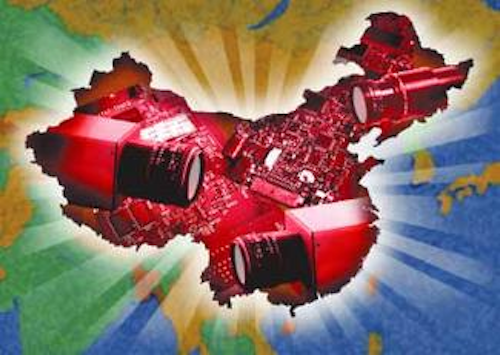 George Kotelly, Editor in Chief
georgek@pennwell.com
The majority of talks presented at the 11th Annual Automated Imaging Association (AIA; Ann Arbor, MI; www.machinevisiononline.org) Business Conference in Orlando, FL, last February, focused on the expanding and potentially lucrative machine-vision market conditions in Asia-Pacific, in general, and in China, in particular. Expert speakers offered a variety of national and international business information that intrigued the nearly 150 attendees (vs. 126 in 2002).
The conference attracted international visitors from Canada, England, France, Germany, Italy, Israel, Japan, and The Netherlands, who represented companies that spanned all aspects of machine-vision and image-processing technologies, products, applications, and research. As usual, this conference continued to provide networking opportunities for industry executives, technologists, and professionals and offered them new business insights, contacts, and relationships on both local and worldwide levels. The major business theme of the conference centered on how China represents a huge machine-vision market, both as a consumer and a producer, and how several industry companies are already exploring business opportunities there and throughout the Asia-Pacific region.
Declaring that sales of computers, telecommunication devices, and consumer electronics were sluggish because of decreased demand and oversupply, Sung Won Sohn, executive vice president and chief economist at Wells Fargo Bank (Minneapolis, MN; www.drsohn.com), in his "Global Economic Outlook" described a semiconductor product and demand shift to an emerging Asian market. In the United States, said Sohn, the business sector has lost market confidence and is delaying the purchase of goods because of uncertain local and foreign commerce conditions.
He noted that US industrial production rose 0.7% in January 2003. This increase reversed December 2002's revised decline of 0.4% and was 2.0% above its level in January 2002. Meanwhile, industry demands for selling and manufacturing electronics products in Asia are soaring. By offering low-cost labor, less-expensive equipment and technology, and cheaper factories and engineering, China, Hong Kong, and Taiwan are experiencing widespread economic success as more and more American and European companies are moving their sales, distribution, and manufacturing activities there. According to Sohn, China will become a "super" economic power during this decade.
Also in agreement about China was Ian McEvoy, president of Universal Instruments Corp. (Binghamton, NY; www.uic.com). In his presentation, "Machine-vision and the assembly equipment market," McEvoy repeated that "China is 'it' for this decade in manufacturing." The United States is better in innovating, marketing, designing, and interfacing, said McEvoy, but financial skills are moving to Hong Kong, and intellectual properties are going to China.
Rafi Amit, chief executive officer of Camtek Ltd. (Migdal-Haemek, Israel; www.caamtek.co.il), offered sage advice in his talk "Seizing new market opportunities." His guidelines included reduce expenses, implement core technologies into winning products, adapt strategies to varying business conditions, and focus on Asia, especially China and Taiwan.
Jay Lee spoke on "Machine vision and e-manufacturing in China." He is Wisconsin Distinguished and Rockwell Automation Professor at the University of Wisconsin-Milwaukee College of Engineering and Applied Science (Milwaukee, WI; www.imscenter.net) and Honorary Professor and Codirector of the Industrial Innovation Center at the Shanghai Jiao Tong University in China.
The megatrends evolving in China, says Lee, include China becoming a global manufacturing base because of the abundance of quality engineers and low-cost labor and materials, equipment vendors following their customers to China for supply-chain reasons, equipment vendors sourcing components and solutions there, vendors developing local customers and using China as an export base to Asia and other worldwide regions, and companies setting up local research-and-development groups. To further drive competitive growth, says Lee, Chinese companies are now export-focused, implementing quality and fast production programs and receiving government investments in an "Innovated in China" rather than a "Made in China" program. Current machine-vision activities cover IC wire bonding, fruit sorting and processing, automotive-parts inspection, and security and surveillance.
Doing business in China, Singapore, and Japan was the theme for a talk offered by John Stack, president and chief operating officer at Edmund Industrial Optics (Barrington, NJ; www.edmundoptics.com/vs). Based on his company's ventures in those countries, Stack described the individual country's business expectations, practices, and styles. In sum, said Stack, technology in China is poorly controlled and highly prized by the government, so protect it. Singapore is the most westernized country in Asia, its business models closely resemble those in Silicon Valley, and its prices are negotiable. Business decisions in Japan are based on long-term relationships and made by a group after some deliberation.
Chee-Kiong Goh, director of the Chicago Centre of the Singapore Economic Development Board (EDB), extolled the advantages of Singapore as a global machine-vision access hub to the Asia-Pacific market for business and investment by American companies. The Singapore area now represents the interests of more than 6000 multinational companies and serves 2.8 billion people within a seven-hour flight. The EDB has recently signed international business cooperation agreements with the US government.
During the conference, the 2003 Automated Imaging Achievement Award was presented to Perry West, founder and president of Automated Vision Systems Inc. (Los Gatos, CA; www.autovis.com). The award honors an industry leader for outstanding contributions in promoting market acceptance of industrial or scientific imaging. With more than 20 years of experience in the machine-vision industry, West works on application development, system design and development, business opportunities, and education and training.
In another announcement, the AIA named John Stack, president and chief operating officer at Edmund Industrial Optics and a member of the AIA board of directors for two years, president for 2003—2004.
As he has done for the past 10 years, Nello Zuech, president of Vision Systems International (Yardley, PA; vsii@aol.com), presented some of the economic downturns discussed in the soon-to-be-published 2002 AIA North American Machine-Vision Market Survey And Forecast Report. He reported that the North American 2002 machine-vision market revenues for OEM merchants were $1.24 billion, a decrease of 15.4% over 2001 totals. Units shipped in 2002 reached 34,677, a drop of 16.8% from 2001 figures.
Interface standards
A presentation and a panel discussion on camera interfacing, "The pros and cons of Camera Link, FireWire, and Gigabit Ethernet" involved Jason Mulliner, vision marketing manager at National Instruments (Austin, TX; www.ni.com); Jerry Fife, senior product manager at Sony Electronics Inc. (Park Ridge, NJ; www.sony.com/videocameras); and John Veith, director of product management and marketing at Dalsa Corp. (Waterloo, ON, Canada; www.dalsa.com). Promoting Camera Link, Mulliner emphasized its lower cost, flexibility, ease of use, serial enhancements, smaller connectors, and defined data configurations, but noted it is still not plug-n-play and is limited in cable lengths. Fife reviewed the numerous benefits of FireWire, such as autoreconfiguration, plug-and-play, hot-pluggable, high throughput, deterministic, small diameter cable, isochronous timing, and as many as 63 connected devices in a network. Veith supported Gigabit Ethernet with its attributes: able to carry 80 million 10-bit pixels/s of camera output, readily available connectors and lengthy cables, proven noise immunity and reliability, off-the-shelf PC adapter cards, and commodity pricing of components. The machine-vision and image-processing industry will eventually establish one as the leading technology.