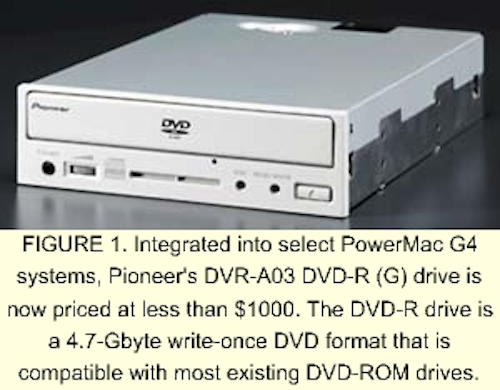 Read-writeable digital versatile disks are expected to be the medium of choice for image-storage systems.
By Andrew Wilson,Editor
The storage market is projected to grow to $100 billion by 2005, according to Jim Rothnie, senior vice president, product management, at EMC (Hopkinton, MA). Fueled by the increased demands of medical-imaging and remote-sensing developers who require low-cost, high-capacity storage systems, optical-memory media and drive manufacturers are incorporating multiple layers and surface-array recording techniques into their latest generation of products. These technologies are making it possible, for example, to store as much as 25 Gbytes on a single digital versatile disk (DVD).
"Optical storage systems provide data-access times that are an intermediate solution between a hard disk drive and a tape drive," says Masud Mansuripur, professor of optical sciences at the University of Arizona, Optical Science Center (Tucson, AZ). Access time to start retrieving a random block of data typically ranges from less than 10 ms for a hard disk drive to 30 to 50 ms for an optical disk drive and several seconds for a tape drive. "Thus, optical drives become an important link in the chain as data are staged up and down between CPU, memory, and storage," he adds.
In the race to add more capacity to optical drives, DVD drives are quickly replacing CD-ROM drives as the standard optical storage device of the computer industry. According to research-firm Disk/Trend (Mountain View, CA), shipments of DVD-ROM drives are predicted to surpass those of CD-ROM drives this year, with sales growing to nearly 80 million units. Similar to factors affecting the sales of computer peripherals in the image-processing market, the adoption of DVD drives comes from the growing availability of consumer DVD titles. By next year, according to research-firm Infotech Research (East Hannover, NJ), sales of DVD titles are expected to surpass those of CD-ROMs.
DVDs and CD-ROMs are both 120 mm in diameter and 1.2 mm thick. But, whereas a CD can store 650 Mbytes, a single-layer DVD can hold 4.7 Gbytes. In fact, a double-sided, double-layer DVD can store as much as 17 Gbytes of data, or the equivalent of 25 CD-ROMs.
Different DVDs
Founded in 1995 under the original name DVD Consortium, the DVD Forum (Tokyo, Japan) now specifies six DVD formats. These are DVD-R, DVD-ROM, DVD-RAM, DVD-RW targeted at computer-based applications, and the DVD-Audio and DVD-Video formats developed primarily for the entertainment industry. While DVD-R and DVD-ROM provide write-once, read-many capability, DVD-RAM and DVD-RW offer write-many, read-many capability.
In addition, another rewriteable standard, DVD+RW, has been endorsed by Hewlett-Packard (Palo Alto, CA), Verbatim (Charlotte, NC), Philips Electronics (Eindhoven, The Netherlands), Ricoh (West Caldwell, NJ), Sony (Park Ridge, NJ), Thomson (Circleville, OH), and Yamaha (Buena Park, CA). Despite the numerous standards, many of today's optical drives can read a number of these different formats.
According to Jim Taylor, author of DVD Demystified (www.dvddemystified.com), DVD-R uses organic-dye technology, like CD-R, and is compatible with most DVD drives and players. "In early 2000, the format was split into an authoring (A) version and a general (G) version, he says, "with the general version incorporating future ability to write DVD-RAM." Whereas DVD-R (G) is intended for home use, DVD-R (A) is intended for professional development.
In October 1997, Pioneer (Long Beach, CA) released and sold 3.95-Gbyte DVD-R (A) 1.0 drives for $17,000 (see Vision Systems Design, Feb. 1998, p. 52). Pioneer's current DVR-A03 DVD-R (G) drive is priced at less than $1000. Integrated into select PowerMac G4 systems, the DVD-R drive comes in a 4.7-Gbyte write-once DVD format that is compatible with most existing DVD-ROM drives. In operation, the drive can write and read DVD-R, CD-R, and CD-RW media, as well as CD-ROM and DVD-ROM disks (see Fig. 1).
"Unlike CD-ROM drives, which took years to move up to 2X, 3X, and faster spin rates," says Taylor, "the data-transfer rate from a DVD-ROM disk at 1X speed is roughly equivalent to a 9X CD-ROM drive." Although DVD-ROM drives spin slower than CD-ROMs, data are packed closer together, so throughput is substantially better than a CD-ROM drive at an equivalent spin speed. In addition, while a 1X CD-ROM drive has a maximum data rate of only 150 kbytes/s, a 1X DVD-ROM drive can transfer data at 1350 kbytes/s, which is just more than the speed of an 8X CD-ROM drive.
The latest DVD-ROMs are capable of transferring data at much faster rates. The SD-M1502 DVD-ROM from Toshiba (Irvine, CA), for example, operates as a 16X maximum DVD and achieves a data-transfer rate of 21.6 Mbits/s and a random DVD seek time of 95 ms (see Fig. 2). With an AT Attachment Packet Interface (ATAPI), the SD-M1502 uses Toshiba's variable-speed playback that allows the drive to start reading data before the disk speed reaches any specific rotational rate. When used with CD-ROMs, the drive's performance at 48X brings the SD-M1502 up to the same performance level as that for CD-ROM drives. The drive can also be used to read CD-RW disks at 20X rates.
Rewriteable DVD
The three standards used to record data to DVDs—DVD-RAM, DVD-RW, and DVD+RW—can all read DVD-ROM disks. Unfortunately, different types of disks are used for recording, and each different standard is currently competing for a share of the rewriteable DVD market. According to Taylor, DVD-RAM has a market head start of about three years.
DVD-RAM drives provide all the benefits of DVD-ROM drives with the added advantage of rewriteability. The DVD-RAM best suits applications such as data backup, document archiving, and multimedia titles and presentations; it also allows rewriteable storage of 2.6 to 5.2 Gbytes on one disk. By using phase-change technology, in which a laser heats the inner surface of the disk for a magnetic charge, it permits data stored on DVD-RAM disks to be written and rewritten hundreds of thousands of times.
The LF-D201U DVD-RAM drive from Panasonic (Secaucus, NJ), an external drive, is typical of the DVD-RAM drives that target the computer market. Featuring a single-sided recording capacity of 4.7 Gbytes, the drive incorporates built-in error correction, and wobbled track recording, it features 75-ms seek time, and a sustained data-transfer rate of 1385 kbits/s (see Fig. 3). The drive is also capable of reading data from DVD-ROM and CD-ROM media.
Developed by Pioneer and based on DVD-R technology, DVD-RW differs from DVD-RAM in that it records data sequentially, whereas DVD-RAM provides random access to recorded data. Also known as DVD-Rewriteable, DVD-RW is a rewriteable version of DVD-R. Offering 4.7-Gbyte capacity per disk, DVD-RW is designed as an authoring tool, is suited for archiving data, and is rewriteable up to 1000 times. This technology, like CD-RW, is expected to be marketed in consumer DVD players from companies such as Pioneer and Zenith (Lincolnshire, IL).
Predicted to become available soon, DVD+RW has been endorsed by Hewlett-Packard, MCC/Verbatim, Philips Electronics, Ricoh, Sony, Thomson, and Yamaha. However, the DVD Forum does not support it. At last November's Comdex trade show in Las Vegas, NV, Hewlett-Packard, Philips Electronics, and Ricoh displayed prototype DVD+RW drives. To demonstrate the convergence possibilities of the DVD+RW format, a real-time recording was made on a consumer DVD+RW video recorder and played back in DVD-ROM drives installed in both PC and consumer DVD video players.
Although critics of DVD+RW have questioned the manufacturers' ability to deliver product on the same time schedule as competing formats, the seven companies have echoed the opinions of industry experts: consumer demand for rewriteable DVD is anticipated to begin to grow in late 2001 at about the same time that DVD+RW players, drives, and media are slated to become available.
Combination drives
"A big problem is that none of the writeable formats is fully compatible with other drives and players, " says Taylor. "As time goes by, the formats will become more compatible and more intermixed. For example, new video recorders from Pioneer combine DVD-RW and DVD-R, while DVD-R recorders from Pioneer can write to CD-R and CD-RW disks. Future DVD-RAM drives will write to both DVD-R and CD-R/RW disks. Toshiba, Panasonic, and Ricoh released combination DVD-ROM/CD-RW drives near the end of 1999," he adds.
Ricoh announced such a combination drive—the MP9120A—last year. As a CD-R/RW/DVD-ROM, the drive features a 12X CD-R and a 10X CD-RW recording speed, as well as 32X CD-ROM and 8X DVD-ROM read speeds. Two laser diodes incorporated into a single laser pick-up provides this combined functionality, according to Takayuki Kuroshima, marketing and business communications manager for Ricoh's disk media and systems center. Two months ago, however, the company announced it would be withdrawing from the US market and would no longer be manufacturing these products in the United States.
To guarantee compatibility with DVD-R, DVD-RW, and DVD-RAM re-writeable standards, the DVD Forum has developed a DVD "Multi" logo that guarantees compatibility among different drives. As a result, soon-to-be announced DVD Multi players and recorders will be able to read and record data, respectively, using all three formats.
_________________________________________
Company Information
Due to space limitations, this Product Focus does not include all of the manufacturers of the described product category. For information on other suppliers of DVD drives, see the 2001 Vision Systems Design Buyers Guide (Vision Systems Design, Feb. 2001, p. 81).
Disk/Trend
Mountain View, CA 94043
Web: www.disktrend.com
DVD Forum Secretariat
Tokyo 105-0012, Japan
Web: www.dvdforum.org
EMC
Hopkinton, MA 01748
Web: www.emc.com
Hewlett-Packard Co.
Palo Alto, CA 94304
Web: www.hp.com
Infotech Research
East Hanover, NJ 07936
Web: www.infotechRi.com
Panasonic
Secaucus, NJ 07094
Web: www.panasonic.com/storage
Philips Electronics
Eindhoven, The Netherlands
Web: www.philips.nl
Pioneer New Media Technologies
Long Beach, CA 90810
Web: www.pioneerelectronics.com
Ricoh
West Caldwell, NJ 07006
Web: www.ricoh-usa.com
Sony
Park Ridge, NJ 07656
Web: www.sony.com
Thomson
Circleville, OH 43113
Web: www.thomson-multimedia.com
Toshiba America Information Systems
Irvine, CA 92718-1697
Web: www.toshiba.com
University of Arizona
Optical Science Center
Tucson, AZ 85721
Web: www.arizona.edu
Verbatim
Charlotte, NC 28262
Web: www.verbatim.com
Yamaha
Buena Park, CA 90620
Web: www.yamaha.com
Zenith
Lincolnshire, IL 60069
Web: www.zenith.com