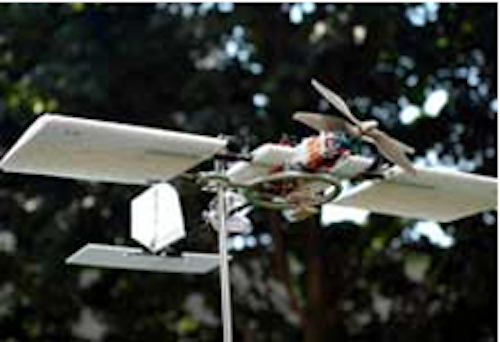 Researchers at theOffice of Naval Research (ONR; Arlington, VA, USA) are studying the flight of birds in the hope of using what they learn to help with the development of small unmanned aerial vehicles.

An ONR-funded, five-year Multidisciplinary University Research Initiative (MURI) program is examining how the birds fly at high speeds through complex environments, such as forests or urban settings.

To do so, researchers have set up an artificial forest with tall pipes serving as trees at Harvard University's Concord Field Station. Both birds and a UAV developed at Massachusetts Institute of Technology (MIT) have been wired with small digital video cameras and the images from them compared.

The researchers believe that in doing so, they may be able to develop a small aircraft that can navigate obstacles in very complex and unstructured surroundings, while maintaining speeds as fast as 5 meters per second.

The MURI involves researchers and engineers from MIT, Harvard University, Carnegie Mellon University, New York University and Stanford University.

A video of the small UAVs in flight can be seen here.

UAVs equipped with cameras are being put to a variety of uses. Here are five of the top stories on the subject that Vision Systems Design has recently published on the subject.

1.UAV captures 3-D images of buildings

Engineers at the University of Granada (Granada, Spain) are using UAVs to produce 3-D models of historical buildings.

2.Small UAV uses hyperspectral imager

Headwall Photonics' (Fitchburg, MA, USA) Micro-Hyperspec imaging sensor is being successfully deployed onboard small commercial unmanned aerial vehicles (UAVs) to help agriculturalists monitor vegetation over wide areas.

3.Vision-guided laser beaming powers remote vehicles

Engineers at LaserMotive (Seattle, WA, USA) have developed a laser power beaming system to power unmanned aerial vehicle (UAVs).

4.Cameras take flight on UAVs to help soldiers spot suspicious activity

An unmanned aerial vehicle (UAV) developed by a team of engineers from Middlesex University (London, UK) could help soldiers to spot hidden dangers during military operations.

5.UAVs to benefit from zoom objective with deformable mirrors

Unmanned aerial vehicles (UAVs) deployed on landscape analysis missions carry optical measuring equipment that must operate free of chromatic aberration. To address this need, researchers at the Fraunhofer Institute for Photonic Microsystems IPMS (Dresden, Germany) have designed an all-reflective zoom objective with deformable mirrors.
-- Dave Wilson, Senior Editor,Vision Systems Design