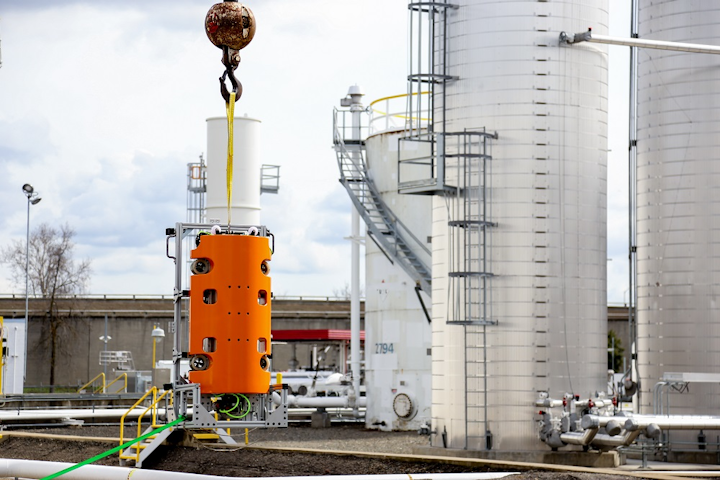 In this week's roundup from the Association for Unmanned Vehicle Systems International, which highlights some of the latest news and headlines in unmanned vehicles and robotics, the FAA increases its involvement in drone safety procedures, an autonomous robot inspects diesel storage tanks, and drone flights help preparations for flood damage.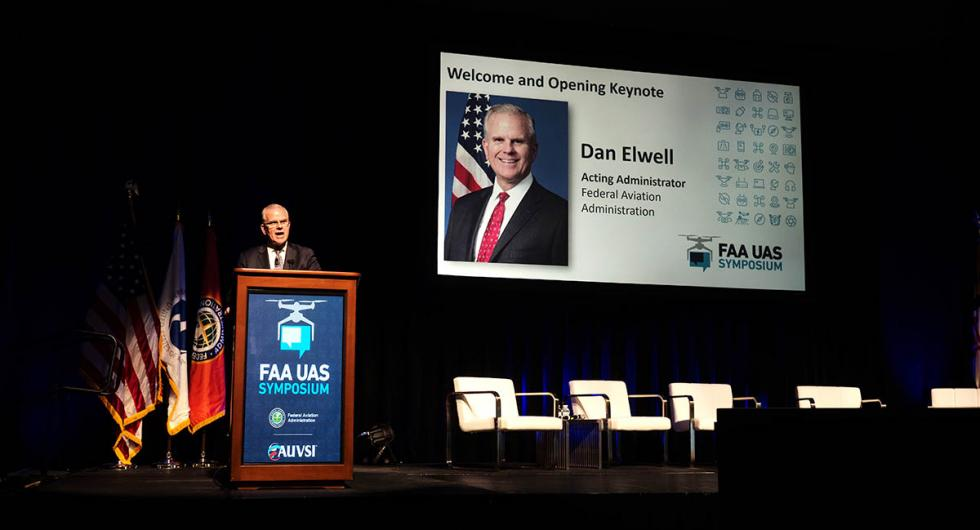 FAA seeks new industry partners, announces drone safety push at UAS symposium
The Federal Aviation Administration announced Monday it will partner with qualified commercial companies to perform drone integration safety work at the FAA's UAS test sites.
"The FAA intends to bridge the gap between industry and the test sites to tackle some of our most difficult technical and operational challenges," Acting FAA Administrator Dan Elwell announced at the opening session of the FAA UAS Symposium in Baltimore, hosted by AUVSI.
A broad agency announcement released Monday says applicants must be able to match the federal funds they request through this program — overall, the agency has pledged $6 million to perform the work.
The FAA is seeking work on a host of integration activities, including geofencing; sense and avoid capabilities; beyond visual line of sight operations; nighttime operations; operations over people, and more.
A white paper package submission is due from applicants by June 28, with full proposals to follow by July 31 the successful applicants. The FAA expects to award contracts by Sept. 30, 2019.
"These partnerships will help us tackle some of the most pressing operational and technical challenges," Elwell said. "We want to integrate, not segregate ... we seek to enable, not to impede."
Safety first
Elwell also announced National Drone Safety Awareness Week, a planned series of nationwide events focused on the safe operation of drones.
"We want everyone in on the conversation," he said.
AUVSI will be a key partner in the week, including through Know Before You Fly, the public education campaign started by AUVSI, the Academy of Model Aeronautics and the FAA.
"We're thinking outside the box," Elwell said. " We want to be more than the regulator" and to be an enabler.
Drone safety is actually the cornerstone for integration into the airspace, several speakers said on Monday, including Elwell.
"As we move toward integration, it's not the stuff of technology, nor development, nor application ... it remains all about safety," he said. "Safety should remain fundamental to our collective foundation. Make no mistake, that foundation is safety. If it's not safe, it's not going to fly."
Remote identification — that is, being able to identify the operator of any drone — is one way to help achieve safety and is critical to allowing more complicated operations such as flights over people and package delivery and even urban air mobility, or flying taxis.
"Without remote ID, there will be no safe, secure integration into the National Airspace System," said Jay Merkle, executive director of the FAA UAS Integration Office.
"I think there's broad agreement that we need to get that [remote ID] done as soon as possible," AUVSI President and CEO Brian Wynne said in an afternoon panel discussion on the FAA reauthorization bill.
He noted that later this week will see the first meeting of a new Blue Ribbon Task Force on counter-UAS efforts at airports, a safety feature that could rely on remote ID to be effective. Wynne said airport operators need to know the difference between rogue, unauthorized drones and those that are supplying critical services such as airplane fuselage inspection.
Earl Lawrence, executive director of the FAA Aircraft Certification Office, said the entire industry must "fully embrace the safety culture. That is the only thing that is going to keep this industry alive, otherwise you are going to see regulation like you have never seen it before."
Day two
Michael Chasen, the CEO of PrecisionHawk, was the morning keynote on the second day and said the industry is poised for exponential growth. The military drone market is expected to be worth $50 billion by 2025, the consumer market will hit $20 billion in the same time, and the commercial market is "just getting started," he said.
His own company is experiencing 300 percent growth this year and isn't alone. Chasen said the industry needs to create technologies that can keep drones in the air longer so they can do meaningful work, and do so safely, and create policies that allow for current and future use cases.
PrecisionHawk, drawing on its experience flying beyond line of sight for an FAA pilot program, is now developing a drone that can fly more than 30 miles away from its base and acoustically detect other aircraft, automatically getting out of the way if need be.
"We have started to see mass deployments of drones, today," for commercial work, he said. While they may not be a common sight in the air at the moment, "I can tell you we are right there on the precipice."
The conference continues at the Baltimore Convention Center through Wednesday.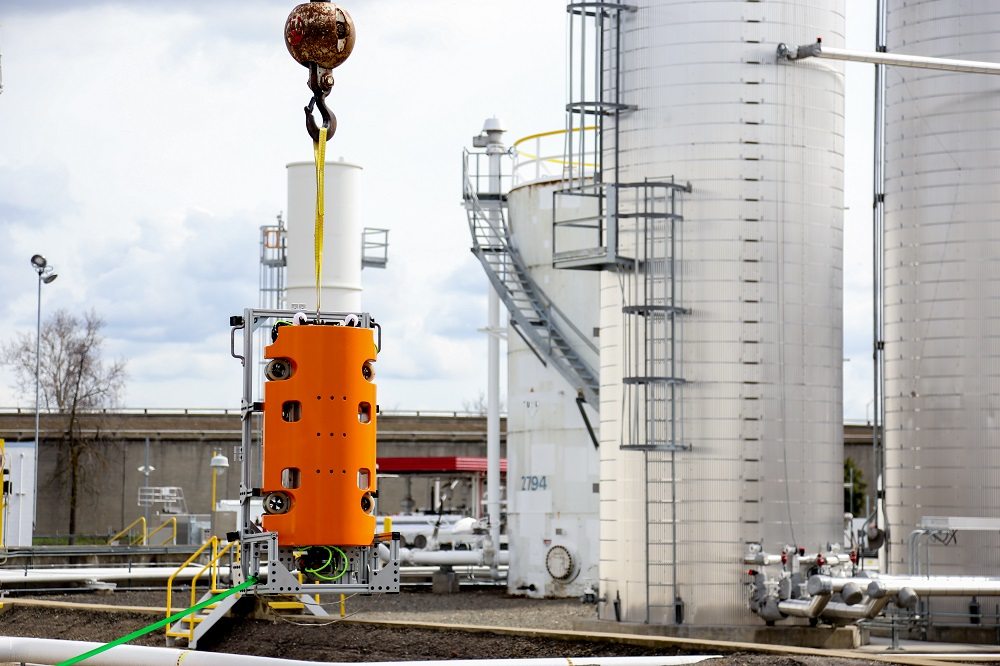 Phillips 66, Square Robot, Veritank successfully complete robotic inspection
Diversified energy manufacturing and logistics company Phillips 66, Square Robot Inc. and Veritank Inc. have announced that they recently successfully deployed an autonomous robot that safely performed its first in-service inspection of the interior of an aboveground diesel storage tank.
Designed and manufactured by Square Robot, the autonomous robot is allowed to conduct inspections while the tank is in-service and filled with product, thanks to receiving National Electric Code Class 1, Division 2 (C1D2) certification.
The robot is also capable of capturing high-clarity visual images of the interior, and providing insight into the tank's sediment levels and coating condition.
"We continue to find immense value in being able to better understand the internal condition of our tanks while they remain in service," says Todd Denton, general manager, Midstream Operations, Phillips 66.
"We see numerous applications for this service and look forward to its continued deployment across our portfolio."
The entities note that Veritank's service to evaluate tank bottom integrity without draining product saves "significant expense," and also reduces the need for personnel to enter tanks.
"The ongoing collaboration with the Phillips 66 team of inspection and safety experts has been invaluable during the testing and qualification phase," says Clint Collins, CEO of Veritank.
"As we launch and commercialize this new service offering, it is paramount that we maintain our focus on safety and install robust deployment processes while continuing to find new ways to provide value-added services to tank owners and operators."
Airbus Aerial, Swiss Re Corporate Solutions partner to help companies identify flood risks using UAS
Airbus Aerial and Swiss Re Corporate Solutions are partnering to help companies efficiently identify flood risks and more accurately predict weather-related flood damage.
Through the collaboration, Airbus Aerial's drone imagery and data will power FLOAT, the flood assessment tool of Swiss Re Corporate Solutions.
"We are very excited to announce our collaboration with a global leader in the commercial insurance market, and to be able to offer this unique solution to Swiss Re Corporate Solutions' clients around the world," says Jesse Kallman, president of Airbus Aerial, from the company's Atlanta headquarters.
The commercial insurance arm of the Swiss Re Group, Swiss Re Corporate Solutions' FLOAT helps companies assess the flood risks of plants and other facilities in a cost-efficient way.
FLOAT uses UAS to capture "highly accurate, location-specific elevation data." The collected data-set is transformed into a realistic visualization of the facility, which includes a precise interactive simulation that shows potential vulnerabilities and low-points.
FLOAT was developed by Swiss Re Corporate Solutions' Risk Engineering Services team, which used its industry expertise that covers several lines of insurance, including property.
"FLOAT is an innovative and cost-effective service that clearly shows clients where they are at risk for flood, so they can take steps to better protect themselves," says Philip Brandl, manager, Risk Engineering Services, EMEA at Swiss Re Corporate Solutions.
Share your vision-related news by contacting Dennis Scimeca, Associate Editor, Vision Systems Design

To receive news like this in your inbox, click here.