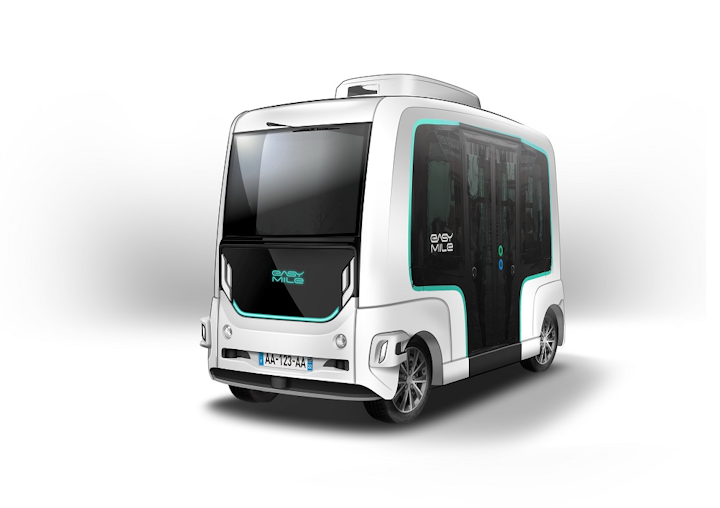 In this week's roundup from the Association for Unmanned Vehicle Systems International, which highlights some of the latest news and headlines in unmanned vehicles and robotics, a new autonomous vehicle doesn't require a human supervisor on board, Amazon updates its delivery drone design, and mapping oyster reefs via drone.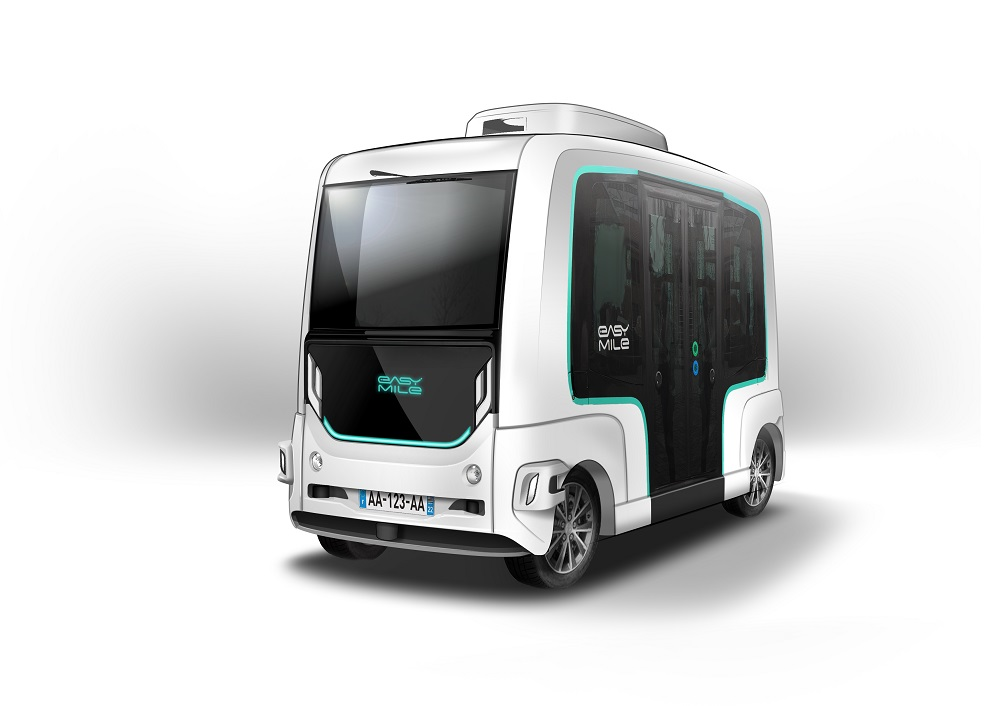 EasyMile launches driverless shuttle capable of being remotely supervised
EasyMile has announced the launch of its new EZ10 electric driverless shuttle, which is the first such vehicle in the world ready to operate without an on-board attendant, according to EasyMile.
With most driverless operations including one or two attendants on board the vehicle, EasyMile has spent the last eight months conducting one of the first deployments in the world that relies purely on a remote supervisor. The shuttle is supervised by a fully trained supervisor from a remote control center, who uses a real-time data stream to monitor the autonomous vehicle, and ensure communication with passengers.
"EasyMile's technology has now reached a maturity and reliability level that allows us to deploy EZ10 shuttles without an attendant on board," says Gilbert Gagnaire, founder and CEO of EasyMile.
​"Right now they are mostly used in controlled environments, but as our software progresses they will be able to run in more complex environments. Passengers' feedback has been very positive on all our tests and the legislation around the world is now coming together to enable this step forward."
EasyMile first launched its EZ10 shuttle back in April 2015. Capable of carrying up to 15 people, the shuttle complements existing transport services, and provides an answer to First Mile and Last Mile challenges.
Equipped with an automated inbuilt ramp and ADA (Americans with Disabilities Act) compliant wheelchair anchor points, the shuttle is easily accessible for people with reduced mobility.
Fully electric, the shuttle is also designed to not only improve air quality, but also reduce noise pollution. The EZ10 also has more accurate vision even in challenging weather conditions, thanks to its sensor set being redesigned and optimized.
To date, the EZ10 shuttle has been deployed in more than 230 sites across 26 countries.
Amazon unveils latest Prime Air drone design
During Amazon's re:MARS Conference (Machine Learning, Automation, Robotics and Space) in Las Vegas, the company unveiled its latest Prime Air drone design.
Amazon has been actively working to build fully electric UAS that can fly up to 15 miles and deliver packages under five pounds to customers in less than 30 minutes. The company says that with the help of its fulfillment and delivery network, it expects to scale Prime Air "both quickly and efficiently," using the UAS to deliver packages to customers within months.
Amazon's newest drone design is equipped with advances in efficiency, stability and safety. The UAS also "advances the state of the art," Amazon says, thanks to its hybrid design, and ability to perform vertical takeoffs and landings like a helicopter.
Amazon says that the UAS is also efficient and aerodynamic like an airplane, and can easily transition between the vertical-mode and airplane mode.
The UAS is also fully shrouded for safety, and is efficient in flight due to the shrouds also being the wings.
According to Amazon, the UAS is more stable and capable of operating safely in more gusty wind conditions, thanks to being controlled with six degrees of freedom, as opposed to the standard four.
"We know customers will only feel comfortable receiving drone deliveries if they know the system is incredibly safe," Amazon says. "So we're building a drone that isn't just safe, but independently safe, using the latest artificial intelligence (AI) technologies."
Amazon says that some UAS are autonomous but not able to react to the unexpected, as they rely on communications systems for situational awareness. The company says that if the flight environment of its drone changes, or the drone's mission commands it to come into contact with an object that wasn't there previously—it will refuse to do so—it is independently safe.
Amazon explains this by considering two of the drone's main delivery stages: in transit to a destination, and when approaching the ground.
Amazon says that its UAS need to be able to identify static and moving objects coming from any direction. With this in mind, Amazon uses diverse sensors and advanced algorithms, such as multi-view stereo vision, to detect static objects like a chimney. The UAS uses proprietary computer-vision and machine learning algorithms to detect moving objects such as a paraglider or helicopter.
For the UAS to descend for delivery, Amazon says that it needs a small area around the delivery location that is clear of people, animals, or obstacles, so it determines this by using explainable stereo vision in parallel with sophisticated AI algorithms trained to detect people and animals from above.
"A customer's yard may have clotheslines, telephone wires, or electrical wires. Wire detection is one of the hardest challenges for low-altitude flights," Amazon says. "Through the use of computer-vision techniques we've invented, our drones can recognize and avoid wires as they descend into, and ascend out of, a customer's yard."
Amazon notes that it is also "thrilled" about the potential environmental impact that its UAS can have, as Prime Air is one of several sustainability initiatives to help achieve Shipment Zero, which is Amazon's vision to make all Amazon shipments net zero carbon, with 50 percent of all shipments net zero by 2030.
"When it comes to emissions and energy efficiency, an electric drone, charged using sustainable means, traveling to drop off a package is a vast improvement over a car on the road," Amazon says.
While most people go to the store now when they need an item, Amazon says that a service like Prime Air will allow consumers to order from home and stay home, which reduces emissions, and leads to significant savings on fuel usage.
"Our drones are safe, efficient, stable, and good for the environment. We know customers have high standards, so we set a high bar for Prime Air. And we're excited to be nearing our goal," Amazon says.
Embry-Riddle, UCF partner to examine how UAS can be used to map oyster reefs
With a focus on 21 oyster reefs near Edgewater, Florida, Embry-Riddle Aeronautical University and the University of Central Florida (UCF) have partnered to develop methodologies for remotely mapping regions that are difficult, and expensive, to monitor on site.
The goal of the research is to utilize UAS to collect different types of information while surveying the reefs, without ever visiting the locations in person.
If the project is successful, it would represent progress, signaling a clear change in the way environmental data has traditionally been collected, according to Dr. Dan Macchiarella, professor of Aeronautical Science.
"The alternative to remotely sensing is to physically travel to a location, and in the case of oyster beds, many are located in hard-to-access areas, like the middle of mangrove tree stands," Macchiarella says.
"There are other applications for remote sensing to sample wildlife, too, including using the technology to locate fish nests in remote river locations."
The project is Embry-Riddle's first partnership with UCF's National Center for Integrated Coastal Research. The entities note that while this technology is centered on coastal mapping, it can also be used for other applications, such as monitoring elephant herds in Tanzania, as part of an anti-poaching program.
The entities also note that UAS images are currently 60 times more detailed than even the best visual data captured by Google Earth, so possibilities will continue to expand in the U.S. as the FAA moves toward "effective integration of UAS into the National Airspace System."
"In the future, more and more environmental-monitoring tasks will be accomplished using UAS, due to the inherent mobility, aerial perspective and cost efficiencies of these systems," Macchiarella says.
Share your vision-related news by contacting Dennis Scimeca, Associate Editor, Vision Systems Design

To receive news like this in your inbox, click here.