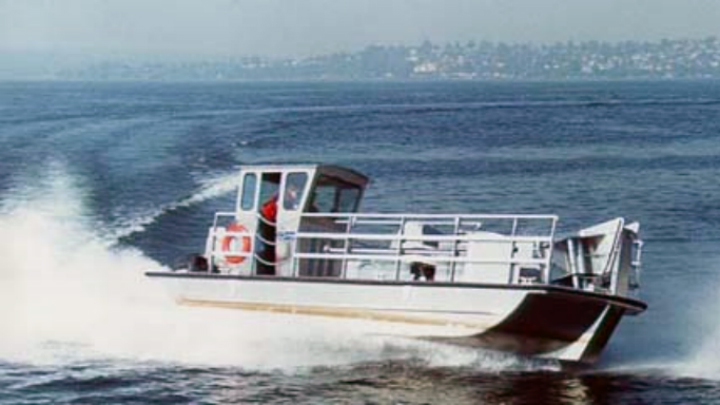 In this week's roundup from the Association for Unmanned Vehicle Systems International, which highlights some of the latest news and headlines in unmanned vehicles and robotics, a utility inspection is carried out at extreme beyond visual line of sight distance, Fetch Robotics attracts new Series C funding for autonomous mobile robot development, and Sea Machines Robotics plans to install autonomous command systems on oil spill response sea vessels.
Soaring Eagle Imaging, Censys Technologies perform BVLOS utility inspection following Hurricane Barry
Soaring Eagle Imaging (SEI), a professional aviation organization, recently performed a 51-mile beyond visual line of sight (BVLOS) utility inspection in just six hours using Censys Technologies Sentaero v2VTOL following Hurricane Barry, which made landfall in Louisiana on July 13.
Over the course of three missions, a single crew captured 51 miles worth of detailed information, which allowed the scope of damage and corresponding locations to be identified, which helped facilitate quick repairs.
"I'm ecstatic to see a great partner and customer of ours employ our technology with such an emphasis on safety to deliver exceptional value to energy asset owners," says Censys CEO Trevor Perrott.
"I'm grateful to the FAA for approving the operation without requiring remote visual observers, as yesterday shows BVLOS can be executed safely and economically."
A partner and customer of Censys Technologies, SEI uses UAS for a variety of inspection applications to serve a number of enterprise clients. The company has a demonstrated track record of safe operations, which is reflected in the 17 emergency BVLOS waivers that it has been granted in the past.
SEI began conducting BVLOS flights using a Censys Technologies Sentaero v2VTOL with no remote visual observers once it was determined that these flights could be conducted safely.
"SEI is now positioned to safely perform BVLOS operations as a 'normal' daily mission," says Soaring Eagle Imaging CEO William Paden.
"The experience gained during training and field missions prove SEI teams are exceptionally proficient in the tasks required to safely conduct these types of operations."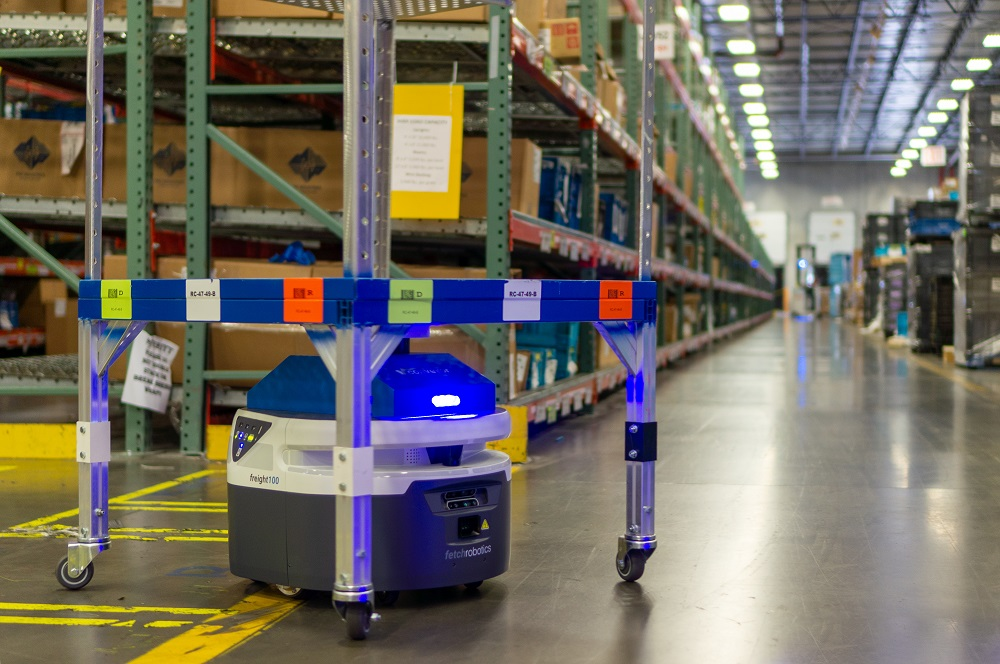 Fetch Robotics to use latest round of funding for international expansion among other things
Autonomous Mobile Robot (AMR) developer Fetch Robotics has announced a Series C round of funding that resulted in $46 million.
The funding will be used to help Fetch Robotics expand internationally, meet accelerating customer demand, and to facilitate ongoing research and development.
"Customers have responded enthusiastically to our unique Cloud Robotics solution, and we're responding by securing the funds we need to continue growing and enhancing our offerings," says Melonee Wise, CEO of Fetch Robotics.
"The competitive pressures for excellence in logistics have never been greater. Our Autonomous Mobile Robots and cloud platform enables our customers to meet their customers' demands while meeting their own financial objectives."
According to Fetch Robotics, its Fetch Cloud Robotics Platform is the only cloud-driven AMR technology on the market that addresses material handling and data collection for warehousing and intralogistics environments. The company says that cloud robotics is "revolutionizing automation by bringing the kind of speed, agility and cost advantages that cloud computing brought to IT."
One company that is utilizing Fetch Robotics' technology is Universal Logistics Holdings Inc., which provides customized transportation and logistics technologies. The company has a one million square-foot logistics facility in Smyrna, Tennessee that serves the nearby Nissan Motors plant, which is the largest auto manufacturing facility in North America.
The greater metropolitan area where Smyrna resides has one of the lowest overall unemployment rates in the United States at just 2.4 percent, which makes it hard to meet the demand for logistics workers, which leads to chronic under-staffing situations.
This has resulted in Universal's need for flexible, reliable and cost-effective automation technologies that can perform low-level tasks such as pushing carts with parts and sub-assemblies over long distances. 
"In Smyrna as in many markets we serve, we face chronic labor shortages, at times in excess of 10% of our required staff, which puts significant pressure on everyone from the workers on the floor to senior management," explains Universal CEO Jeff Rogers.
"The Fetch Robotics system provides an answer to our problem. Because the system installs so quickly – we had it fully operational in less than a week – we're able to boost output and manage our costs. And our workers like it because the robots take on the less interesting, more laborious tasks. With Fetch, our employees can focus on the revenue-generating tasks that are more fulfilling and more valuable."
To automate several key processes in the warehouse, Universal is using 10 Fetch CartConnect robots in combination with 40 carts at the Smyrna facility. This allows Universal to meet its targets while reducing the constant need to ask associates to work overtime.
Universal has also been able to minimize its upfront investment and realize an attractive return on investment thanks to opting for the Fetch Robots-as-a-Service (RaaS) monthly fee model.
"Thanks to the short time from delivery to operation and the pay-as-you go approach, we've seen an immediate financial benefit from the Fetch deployment," says Lee Weisenberger, managing director of IT at Universal.
"This is a model we can easily roll out to many additional facilities."
Sea Machine Robotics, MARAD to showcase how autonomous tech can increase safety of marine oil-spill response ops
Sea Machines Robotics and the U.S. Department of Transportation's Maritime Administration (MARAD) have entered into a cooperative agreement to showcase how Sea Machines' autonomous technology can be used to increase the safety, response time and productivity of marine oil-spill response operations.
On-water exercises will be conducted once Sea Machines equips a Marine Spill Response Corp. (MSRC)-owned MARCO skimming vessel—manufactured by Kvichak Marine Industries—with its SM300 autonomous-command system. Sea Machines will train MSRC personnel on how to operate the system.
Sea Machines and MSRC will perform simulated oil-spill recovery exercises in the harbor of Portland, Maine on Aug. 21, before an audience made up of government, naval, international, environmental and industry partners.
"Autonomous technology has the power to not only help prevent vessel accidents that can lead to spills, but can also facilitate better preparedness; aid in safer, efficient, and effective clean-up," explains CEO Michael G. Johnson, Sea Machines.
"We look forward to working closely with MARAD and MSRC in these industry-modernizing exercises."
Equipped with a MARCO filter belt skimmer to recover oil from the surface of the water, the skimming vessel usually operates in coastal or near-shore areas. Once the MSRC vessel is equipped with the SM300, it will have a number of new capabilities, including remote autonomous control from an onshore location or secondary vessel, collaborative autonomy for multi-vessel operations, and obstacle detection and collision avoidance.
"Our number one priority is the safety of our personnel at MSRC," says John Swift, vice president, MSRC.
"The ability to use autonomous technology – allowing response operations to continue in an environment where their safety may be at risk – furthers our mission of response preparedness."
Sea Machines notes that it enables minimally manned and unmanned autonomous operations, which allows operators to respond to spill events 24 hours a day, seven days a week depending on recovery conditions, even when crews are not available or restricted. These configurations reduce, or eliminate, exposure of crewmembers to toxic fumes and other safety hazards.
Share your vision-related news by contacting Dennis Scimeca, Associate Editor, Vision Systems Design

SUBSCRIBE TO OUR NEWSLETTERS